Celebrities
Hamza Ali Abbasi All Set to Marry Naimal Khawar and Social Media Cannot Keep Calm
Hamza Ali Abbasi and Naimal Khawar Khan's wedding news came as a huge surprise to most of the people. Hamza Ali Abbasi stated to give his fans some details about his reason to marry Naimla Khawar Khan.
Hamza Ali Abbasi and Naimal Khawar's surprise wedding news has been doing rounds on the internet for the past few days. This came as a surprise for most of the people as no one had an inkling of their relationship in advance. In today's time and age, when no one can escape the media and public Hamza Ali Abbasi and Naimal Khawar's wedding news was unbelievable for many people. At first, some people dissed it as a rumor but the wedding invitation cards put a rest to all the rumors. As Hamza Ali Abbasi was performing the ritual of hajj and Naimal Khawar was busy completing her acting projects, nothing came from the couple. Now that Hamza Ali Abbasi has finally come up with a rather longs statement about his wedding many details are somewhat clear.
Yup, its true. P.S Massive respect to Naimal for being ok with a Ganja me on Nikkah pic.twitter.com/8z9Uns0xo3

— Hamza Ali Abbasi (@iamhamzaabbasi) August 21, 2019
Hamza Ali Abbasi also shared the same facebook post on his active social media accounts with a cheeky caption, 'Yup, its true. P.S Massive respect to Naimal for being ok with a Ganja me on Nikkah'
In the photo shared by Hamza Ali Abbasi, the couple can be seen rowing a boat on some unidentified lake.
Grateful for the flood of invites on TV shows to talk abt our "Love Story", but as disappointing as it sounds thr is none. We were just frnds for 2 yrs & recently Allah put it in my heart to ask her to marry me for reasons i mentioned and she said yes... Thts the entire story https://t.co/lTl2xCVDYi

— Hamza Ali Abbasi (@iamhamzaabbasi) August 21, 2019
Some quick facts about the bride and groom
Hamza Ali Abbasi's name does not need much introduction. He did his bachelors in International Relations from Unites States and did his masters in the same discipline from Quaid-e-Azam University, Islamabad.
Hamza Ali Abbasi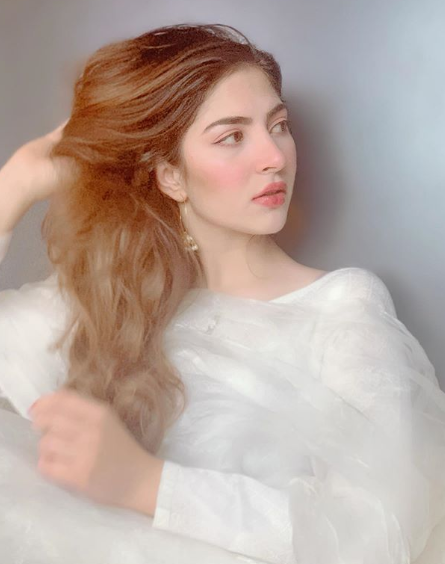 Naimal Khawar
Hamza Ali Abbasi was working as a CSS officer when he decided to quit the job and pursue his passion for film-making and acting. He has given many hit drama serials like 'Pyaray Afzal'and 'Mann Mayal'. 
Hamza Ali Abbasi has also worked in various Pakistani films such as Jawaani Phir Nahin Aani and Parwaz Hai Junoon. Hamza Ali Abbasi also has a keen interest in politics and is vocal about political and social issues in Pakistan.
Naimal Khawar who made her debut with Shoaib Mansoor's film 'Verna' is currently playing the role of Izza in the famous drama serial 'Anaa.' She was born to a Persian mother and Pukhtoon father in Islamabad. After completing her early education in Islamabad, Naimal decided to pursue her education in visual arts and painting from the National College of Arts, Lahore. She is an opinionated talented woman who has strong views about women empowerment.
Everyone is interested in Hamza Ali Abbasi and Naimal Khawar's love story
According to the statement issues by Hamza Ali Abbasi, he and the Verna actress Naimal Khawar were just friends. It was a platonic friendship that sprawled over two years. According to Hamza, he was going through turbulent times concerning his relationship with Allah. He asked his friend Naimal Khawar Khan to marry and join him on the path of righteousness to which she joyously agreed. According to Hamza Ali Abbasi, they are now inseparable and he is looking forward to spending a lifetime together with Naimal in pleasing his Lord.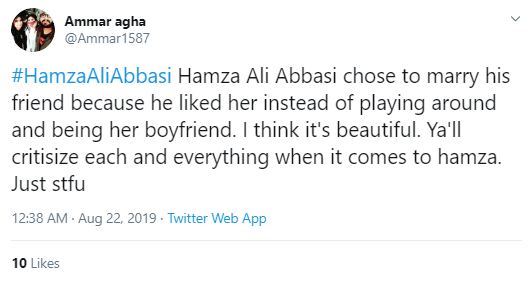 Just stfu said one user.
Hamza Ali Abbasi is a huge star in Pakistan and Naimal Khawar has also made name for herself through promising projects like 'Verna' and 'Anaa', people are looking forward to hearing more from their side. According to the groom-to-be Hamza Abbasi, many television shows have contacted him to share his love story but there is not much to it. They were just platonic friends who decided to get married after a friendship of two years.
The wedding will be a simple affair
The wedding is stated to be a small and simple affair with close friends and family. The Nikkah ceremony will take place on August 25th, 2019 while the Valima will take place on August 26th, 2019. Not many details of the pre-wedding celebrations have been shared yet. However, Naimal Khawar posted a picture in white lehenga on the same day when the wedding cards made to the social media. This has left people wondering if it is from one of her pre-wedding events.
Social Media reactions
Due to Hamza Ali Abbasi's strong social media presence regarding his views, social media reactions were mixed.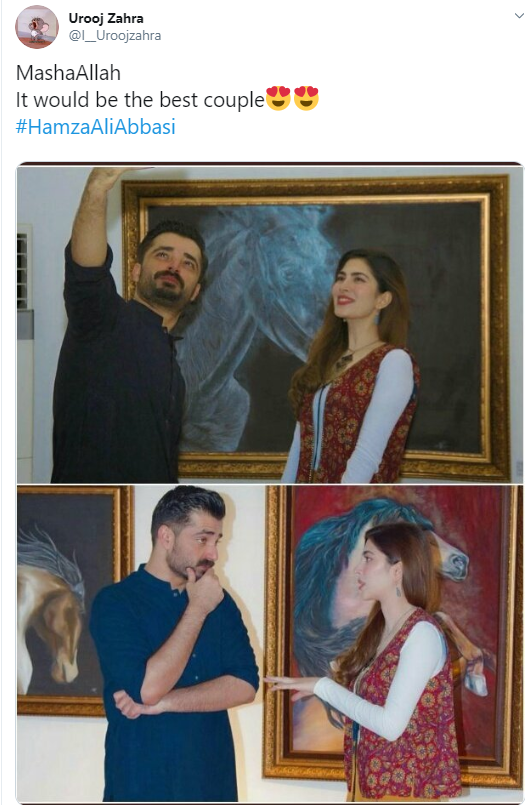 Best couple, said one user.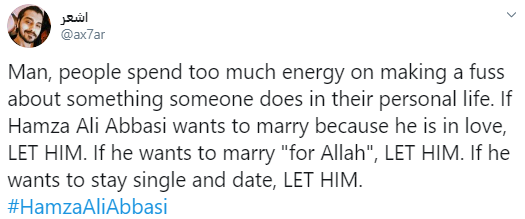 Let 'em be happy, said another.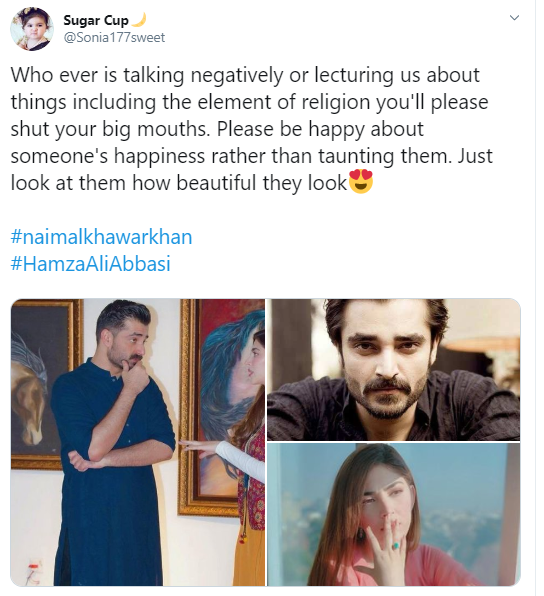 People could not stop comparing them to Yasir Hussain and Iqra Aziz.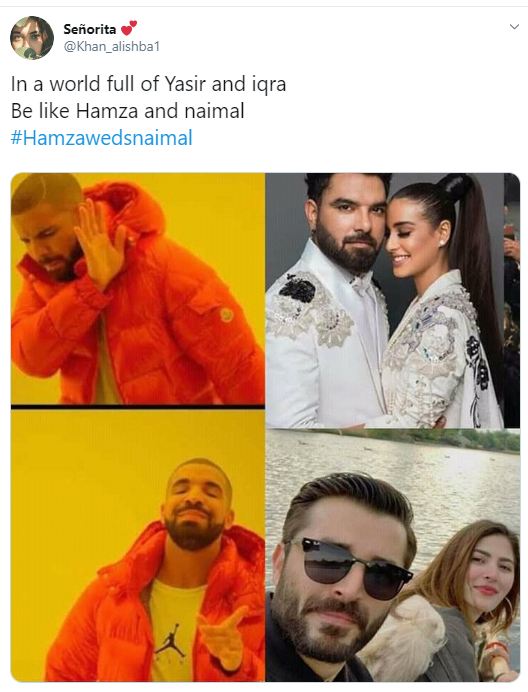 Since both Hamza and Naimal Khawar have a strong fan base, some people crushing over them were also disappointed.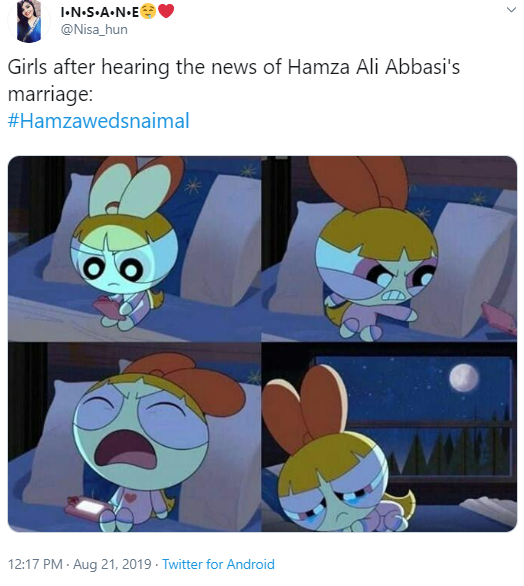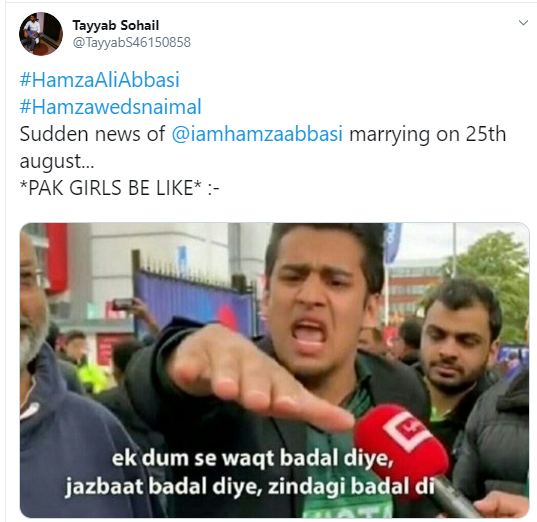 Their fans also have a hashtag #Haimal for the wedding.


The post was too long for some people to fathom.



Some people also took Hamza's statement hypocritical.
Hamza Ali Abbasi is such a romantic; I too want a partner who keeps telling me they don't love me and do not want a relationship with me and are only getting married to me because they think Allah wants them to get married

— Ghaura (@ghauraghaura) August 21, 2019
The constant wedding discussion on social media has also irritated some people. First, it was Pakistani cricketer Hassan Ali and now it is Hamza Abbasi and Naimal Khawar. Not to forget that cricketer Imad Wasim is also set to tie the knot.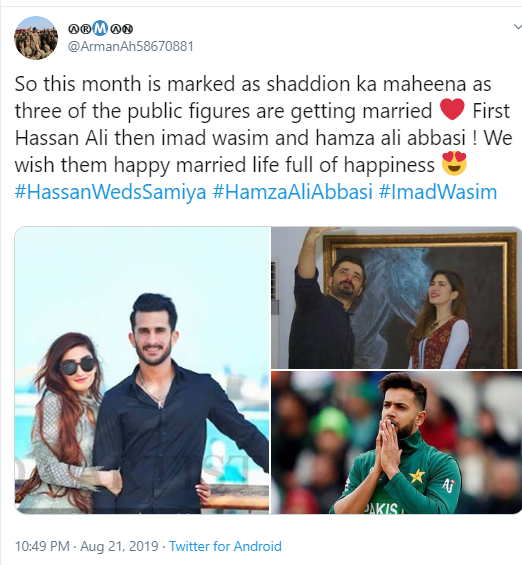 Keeping all views aside, Hamza Ali Abbasi and Naimal Khawar Khan's wedding is one of the most highly anticipated weddings of the year in Pakistan. Both have received the love of the people not only due to their extremely good looks but also due to their brains. While Hamza Ali Abbasi has also been surrounded by the controversies, Naimal Khawar has been in the industry for a short time. The young actress who had once refused never to do item songs shares the views with her husband-to-be Hamza Ali Abbasi who also has a disdain for objectifying women. Although the wedding is expected to be small, everyone is eager to see how these good-looking people look on their big day.