Halle Bailey is Ariel in Disney's live-action 'The Little Mermaid'
By Masala.com Reporter Thursday, 04 July 2019
Halle Bailey will soon be singing under the sea! She has been selected as Ariel in Disney's new live-action "The Little Mermaid"
Bailey, who with her sister forms R&B duo Chloe x Halle, has bagged the starring role in Disney's live-action remake of The Little Mermaid. She is set to play the role of Ariel, the rebellious daughter of King Triton who longs to live on dry land. The decision was made yesterday, and the talented actress notified later Wednesday morning.
Mermaid is hoping for a seriously star studded cast and rumors have it that the production team is in talks with Melissa McCarthy, Jacob Tremblay and Awkwafinain to star and lend their voices to other live-action and CG parts. Rob Marshall is the director and an early 2020 production start is being planned.
For the new version of the fairy tale, Menken will collaborate with Lin-Manuel Miranda on the music. Marc Platt is producing the film. He previously worked with Marshall on Mary Poppins Returns and was the executive producer for Guy Ritchie's live-action Aladdin remake. Mermaid is jointly produced by Marshall and John DeLuca as well as Miranda.
Bailey, 19, is best known as one-half of Chloe x Halle, who signed to Beyoncé's Parkwood Entertainment label after gaining popularity and building her reputation with her YouTube covers. The Chloe x Halle Twitter/Instagram account took to her Twitter account to say it was a "dream come true." In a statement from director Rob Marshall he clarified: "After an extensive search, it was abundantly clear that Halle possesses that rare combination of spirit, heart, youth, innocence, and substance -- plus a glorious singing voice -- all intrinsic qualities necessary to play this iconic role,"
The film, produced by John DeLuca, Marc Platt and Lin-Manuel Miranda, will feature the iconic songs from the 1989 animated classic by Alan Menken and Howard Ashman, as well as new songs by Menken and Miranda.
Not everyone is as excited or enthused about the choice and commentators rushed to their social media channels to express their sentiments about the latest news:
"I don't want to be rude but Ariel was white," one Facebook comment on Buzzfeed's article read.
"This is dumb. What are they going to do, switch the race of every princess when it hits live action? The fact that this is a Danish story DOES mean a lot," another user contended, with reference to the original fairytale written by Hans Christian Andersen.
"The main character should be resembling the origins of the story."
On that contrary, Bailey was also the recipient of an influx of support and encouragement about her new project, with many fans rushing to her's and Disney's defense.
"If y'all are upset about her not being white, y'all are gonna be real pissed when you find out she's not actually a mermaid," one commentator penned.
"Y'all were fine with Beyoncé playing a lion, Ian McKellen playing a clock-person and Will Smith playing a blue genie, but a black mermaid is too hard to believe?" said another.
Halle and Chloe got a lot of support from their fraternity once they made the announcement.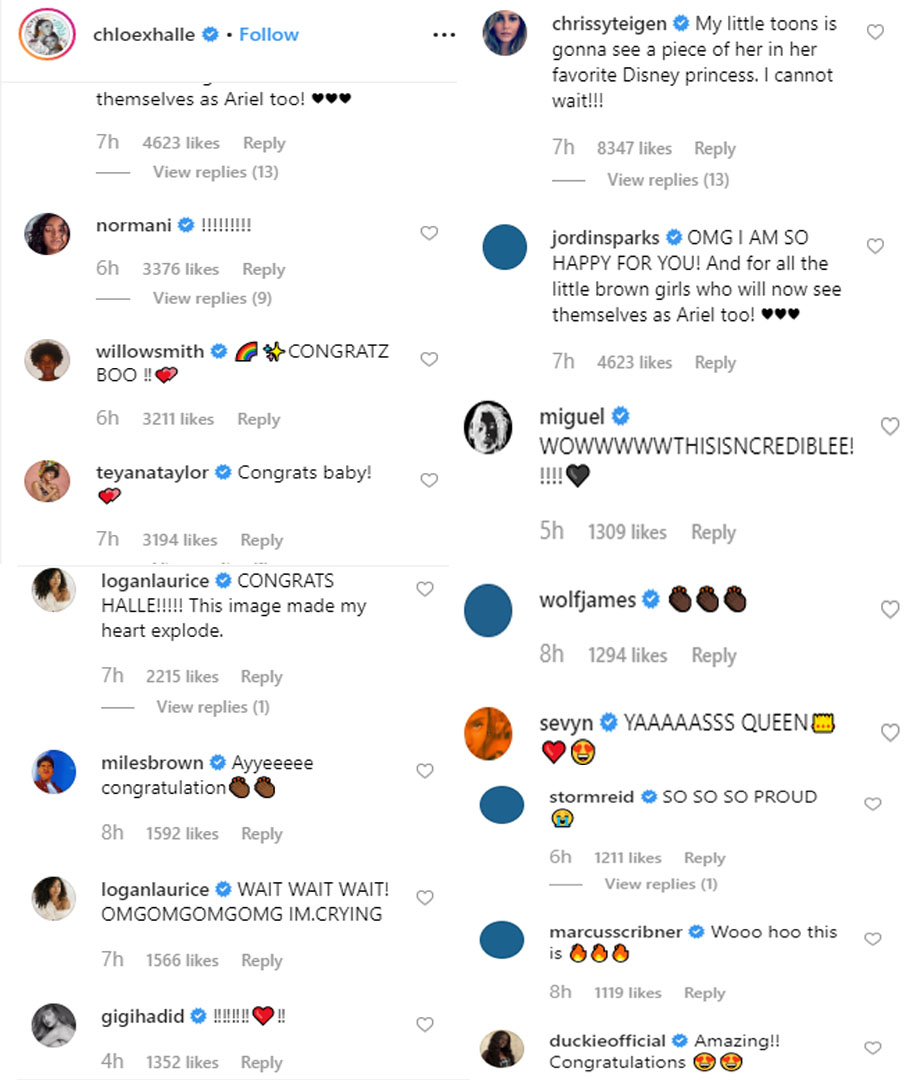 Spider-Man: Far From Home star Zendaya also took to Twitter to share her reaction to the news of Halle Bailey's casting, stating: "Here for thiiiissss!!"
Valerie Complex took to Twitter and wrote: "Disney has cast Halle Bailey as Ariel for the Little Mermaid live action film and I'm just here to see who will be mad. Because I know some of you will be and I'm excited!"
Bailey is the only actor Disney has confirmed as starring in the upcoming live-action remake. Are you excited for the release of Disney's latest project?
For all the latest Bollywood News and gossip, follow us on Twitter & Instagram, like us on Facebook and subscribe to our channel YouTube. New videos up every day!
Comments