Bollywood News
Gully Boy Movie Review: Ranveer Singh and Alia Bhatt's Movie Leaves You on a High!
Gully Boy Movie Review: Ranveer Singh and Alia Bhatt shine in this Zoya Akhtar directed film
Movie Name

Gully Boy

Director

Zoya Akhtar

Actor

Alia Bhatt, Ranveer Singh, Siddhant Chaturvedi, Kalki Koechlin

Rating

Rating 4/5 Stars
Rating - 4/5 stars
A man sits silently, locked in the darkness of a car as the world outside blares and glitters under the glow of the night sky and fairy lights. It's a defining moment. One where the man is determined to fight the social dictums to swap his unglamorous life for a more celebrated one.  There are no words spoken. Yet, a lot is said.
Therein lies the beauty of director Zoya Akhtar's work.
At another, a bus ride filled with regular commuters turns into so much more for a man and a woman and their love. Zoya and her writer Reema Kagti are indulgent in their storytelling. It's predictable and sluggish in parts, with one lady slowing down the proceedings immensely by attempting to ruin a childhood romance. Yet, they manage to uplift the narrative by weaving together many interesting characters.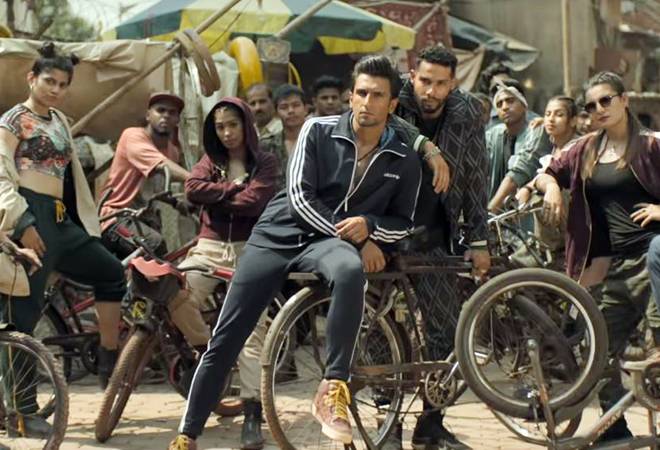 Ranveer Singh and Siddhanth Chaturvedi in a still from 'Gully Boy'
Jay Oza also steps in with his vivid frames, thus keeping the pulse and pitch intact. From the long shots that capture how the slums sit next to the high-rises to the dimly-lit shots that paints life under the streetlights, he fills the frames with passion and promise. While Gully Boy is a templated story of the underdog, one that'll bear numerous similarities to Hollywood's 8 Mile, it'll still manage to strike a chord and hold its own.
"We are no slumdog," announces a rapper, almost echoing protagonist Murad's (Ranveer Singh) determination to own his meagre life in the Mumbai slums and not fight it.
Wear your weakness as your badge of honour, his mentor tells him, thus, empowering him to shake off his shame. Barring a glossy music track that stitches together clichéd, polaroid shots of people from the slums, Zoya has designed, very skillfully, not to highlight the Hollywood stereotype of life in the shambles. She has, in fact, kept the story clean and untouched by the grime.
Instead, she banks on the emotional conflicts that simmer and explode, within those box-sized enclosures, even as they turn into perfect photo-ops for eager tourists the next morning. And how the loud, hard-hitting outbursts between people fizzle out just as suddenly, without explanation.
Ranveer Singh wraps his head around the vulnerabilities of Murad and his desires with aplomb. Not a tone or expression is out of place. The shot where he explodes into rap after being shunted away from a night club for not "fitting in" is exceptional. And as the camera flips from the inside to the outside, the sounds are muted and pumped up to reflect his exploding mind.
But it's Siddhant Chaturvedi who manages to outshine Ranveer as he takes on as his rap guru - MC Sher. His opening act, where he slays a guy for booing a female singer out of the stage, is phenomenal and will give you goosebumps. Unfortunately, the script doesn't allow him to shine.
Vijay Varma as Murad's gully pal is another remarkable character. Their strong bond despite contradictory life choices is captured exceptionally. One moment when they go at each other, only to realise their realities are the same but their approaches different will leave you in tears.
Vijay Raaz puts out an electrifying act, making us hate his unapologetic decisions but equally empathetic to his struggles and rejection.  Kalki is effortless as the music manager and plays the midnight Banksy-inspired graffiti star while Sheeba Chaddha is upright as Safeena's righteous mother and Amruta Subash steps in as Murad's harassed mother.
Alia Bhat adds spunk to Safeena and refuses to take things lying down. "Don't question the good things in life," she tells her man when she prioritizes her profession above him. Alia's fierce and fun, especially, when she calls "the other woman" an "octopus". Unfortunately, Gully Boy isn't her film.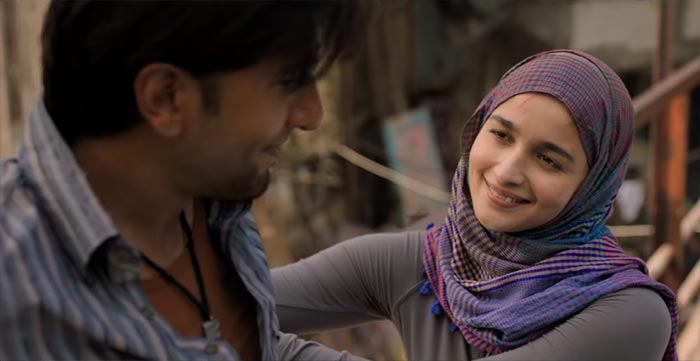 Alia Bhatt as Safeena in 'Gully Boy'
Music unifies people, and that's what Zoya celebrates, unleashing the Apna Time Aaega anthem on us just before the curtains roll down. Let's just say, it left us on a high!