Bollywood News
Good Newwz Trailer Review: Kareena Kapoor Khan, Akshay Kumar's Upcoming Film is Sure to Attract Crowds
Good Newwz Trailer Review: Kareena Kapoor Khan and Akshay Kumar mark their on-screen return together after 10 years, after they last starred in Kambakkht Ishq
Akshay Kumar and Kareena Kapoor Khan are two of the biggest stars of Bollywood so when news of them coming together once again, after Kambakkht Ishq, made headlines, fans were over the moon. Marking their return to the screen together after 10 years, Akshay and Kareena are all set to star in a much-awaited film, Good Newwz, produced under Karan Johar's banner, Dharma Productions. Apart from Akshay and Kareena, the film also stars Diljit Dosanjh and Kiara Advani in titular roles and it revolves around the story of 2 couples, eager to have babies.
The trailer of Good Newwz just dropped and it proves that this is one film that fans MUST watch in cinema halls. The on-screen chemistry of Kareena and Akshay paired with epic punchlines and perfect comic timing is sure to make it one of the biggest films of this year. Diljit and Kiara add more to the comic element as the two couples get their babies mixed up in efforts to go through IVF. Apart from the struggles of getting pregnant, it also touches up on some of the things that women go through the course of these 9 months – which makes it seem like the makers are trying to pay attention to how women need care and comfort during this time.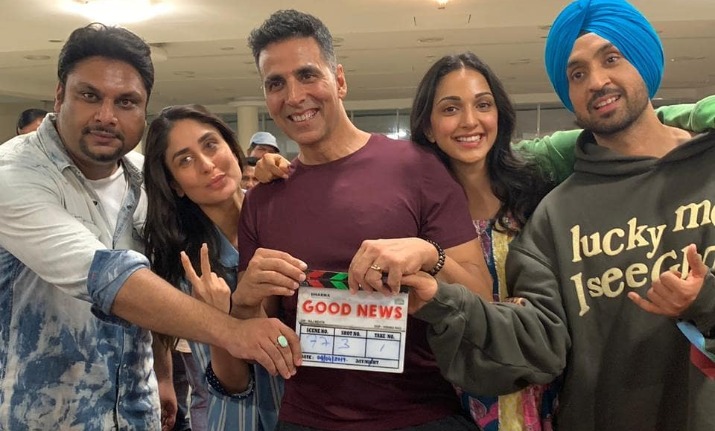 Kareena Kapoor Khan, Akshay Kumar, Kiara Advani and Diljit Dosanjh
Kiara Advani, Diljit Dosanjh, Askahy Kumar and Kareena Kapoor Khan
However, unlike most comedy films, this seems to have a rather emotional touch to it too as there are scenes where the stars are seen shedding a few tears. Could this be a loss of a baby? Or troubles in their relationship? One will have to wait for the film to release to find out. On the other hand, could this reunion of Kareena and Akshay prove to be as successful for Karan – who hasn't been having a good run in the industry since the last few months? Only time will tell. Till then, fans need to wait for December 27 for the film to hit theatres.