Fashion
Golden Globes 2020: 5 Worst Looks from the Night
Golden Globe Awards are host to some of the best dressed looks of the year. But many celebrities often get it wrong and we rounded up the worst dressed of the night
Just like every year, the Golden Globe Awards are host to some fabulous fashion. From floor-length gowns, to ruffles and feathers and dripping in jewels, to figure hugging frocks and well-tailored suits; the red carpet sees it all. While we are treated to some of the best looks of the year, the Golden Globe Awards were also host to some of the worst looks we have seen, some of which we would much rather unsee.
All the film fraternity and industry bigwigs came out and dressed to the nines as they graced the red carpet of the awards show but some ended up disappointing rather than making a lasting impression. The award show took place earlier today at The Beverly Hilton Hotel in Los Angeles, California to celebrate and award the artists for their contribution to the industry in the year gone by. The red carpet of these awards shows bring all the fashion, good and bad; to forefront and with that being said, we round up some of the worst looks of the night.
1.      Jennifer Lopez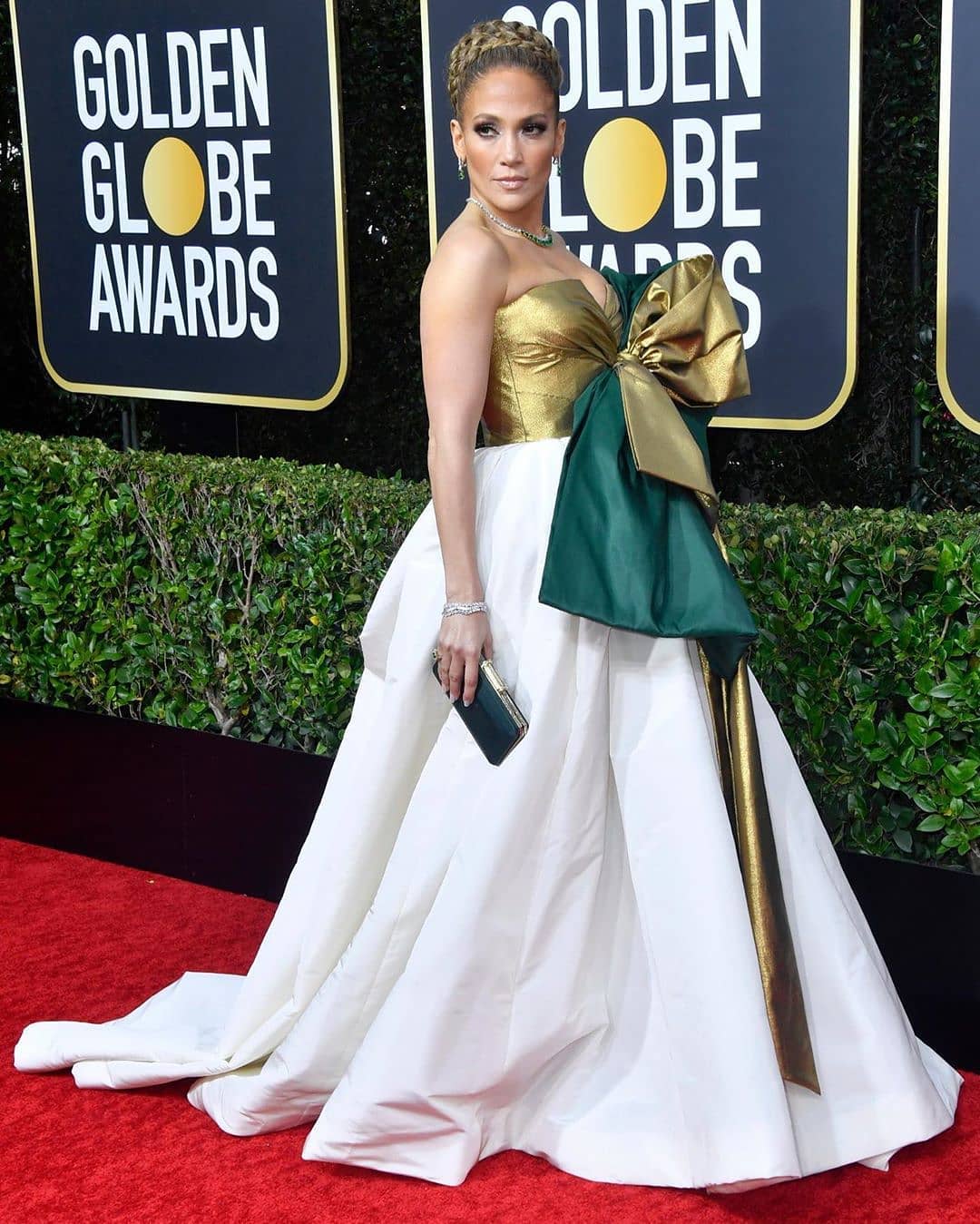 Now we'd love to say that this woman never disappoints, but seriously JLo, what were you thinking? It seems that Jennifer Lopez is still in the Christmas spirit as she graced the red carpet in a gift-inspired Maison Valentino gown which featured a huge bow at the front. The white, green and gold gown featured a short train and a strapless design. If that wasn't bad enough, the Jenny From The Block singer rounded off her look with a braided bun and her hair slicked back. She opted for smokey eyes and a nude lip and accessorized with a diamond strand and dainty earrings. While JLo's look commanded much attention on the red carpet, it merely failed to impress.
2.      Gweneth Paltrow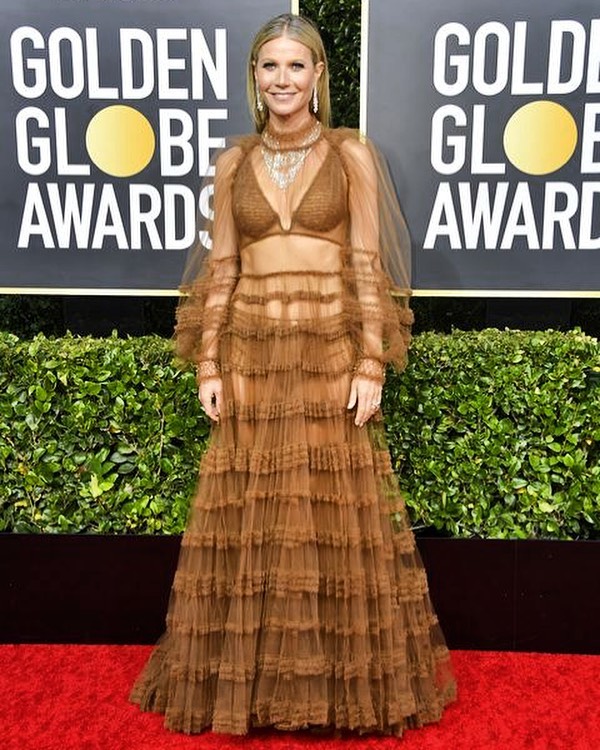 Don't get us wrong, we love this girl; but this brown gown, not so much! For The Golden Globes 2020, the actress opted for a floaty, decidedly see-through tulle Fendi gown from the pre-fall 2020 collection. The barely there dress covered her and revealed everything all at the same time. The dress and her look received a mixed bunch of reviews but we're pretty sure that this look wasn't in anyone's winning books. The actress teamed the dress with a statement neck piece worn under her dress which was coupled with some dangling diamond earrings. Overall, this look didn't move any fashion boundaries as far as we are concerned.
3.      Scarlett Johansson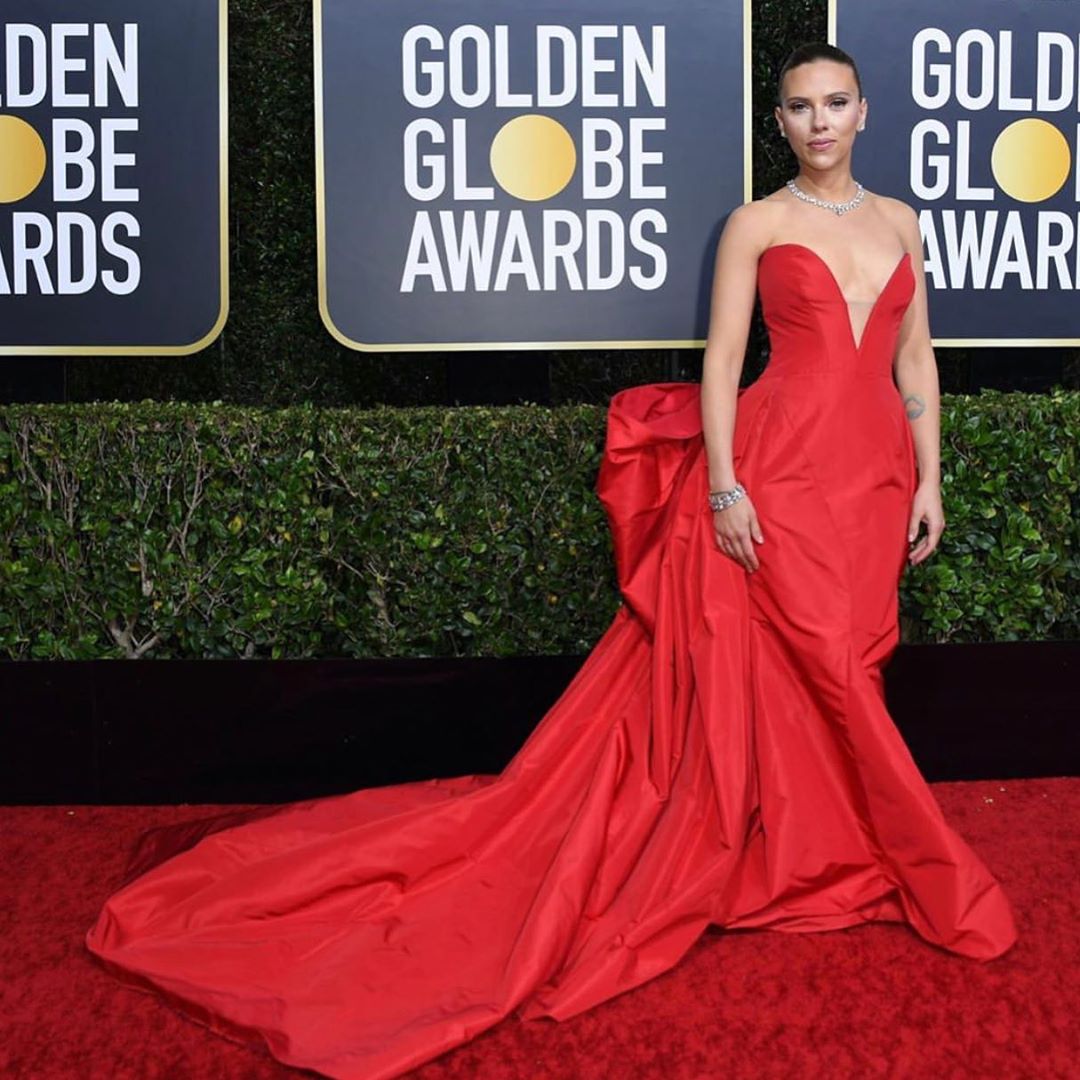 This one is truly a shocker because Scarlett Johansson usually never fails to impress. This time at the Golden Globe Awards 2020, Scarlett Johansson comes under our worst dressed celeb list and it hurts us to say the least. The actress graced the red carpet in a custom Vera Wang dress which featured a plunging neck line and a large bow a the back. The red satin gown also featured a long train but failed to hug her figure in the right places. Scarlett Johansson teamed the dress with a diamond neck piece and bracelet and opted to have her hair pulled back in a sleek bun. While her hair and makeup seemed to be in the right place, her overlook failed to make a statement.
4.      Charlize Theron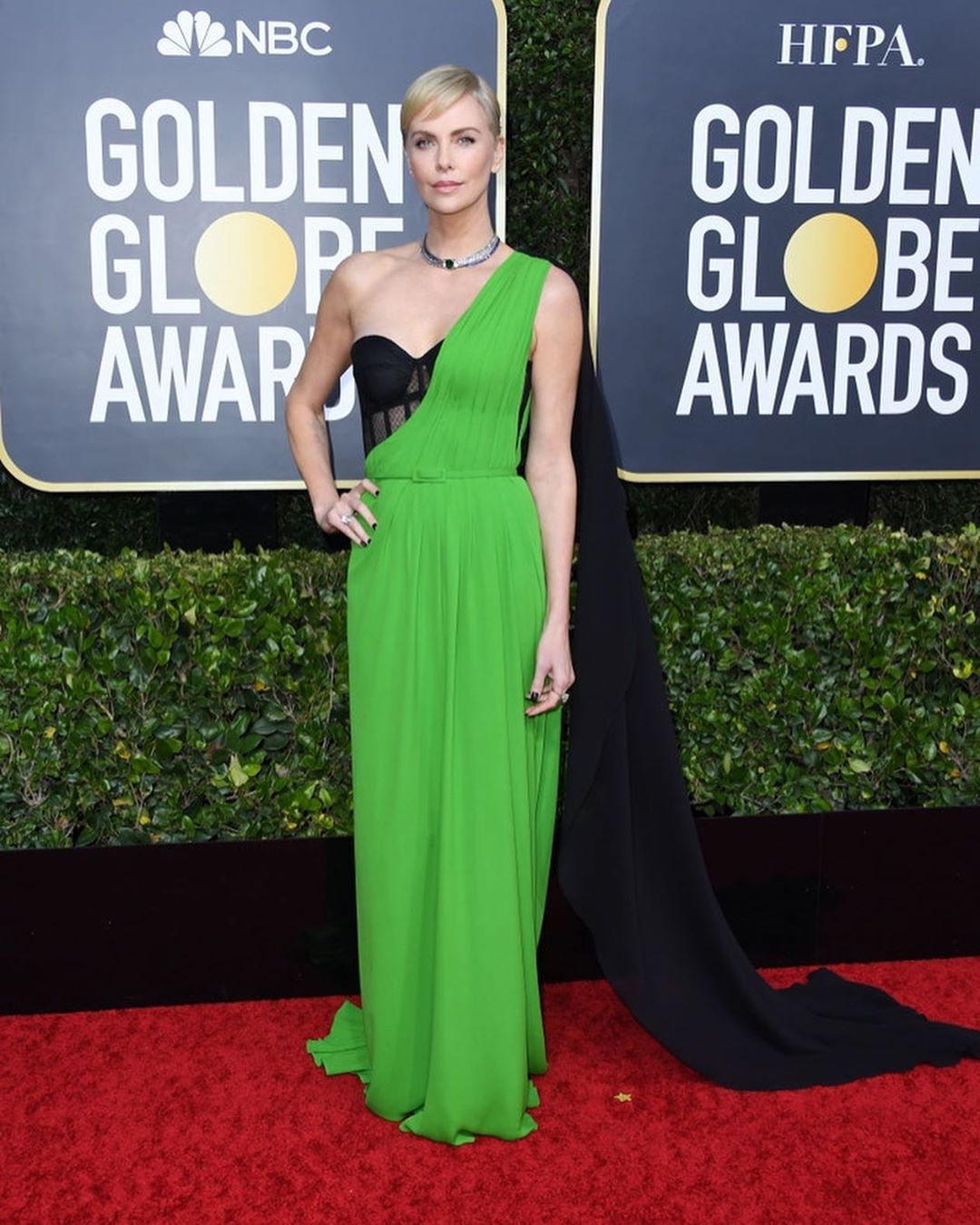 Girl, just no! We have no idea what this girl and her stylist were thinking. Charlize Theron thought this Dior couture gown would impress on the red carpet, but unfortunately it has the internet divided. While some have been impressed with this look, for others it became the butt of all jokes across social media. The Dior gown featured an off shoulder green layer which cinched at the waist with a belt and featured a black fabric which trailed at the back. A second layer featured a black corset with a mesh design. Charlize Theron accessorized with a black and silver necklace and minimal makeup. The only good thing about this look is the short hair she is rocking.
5.      Cate Blanchett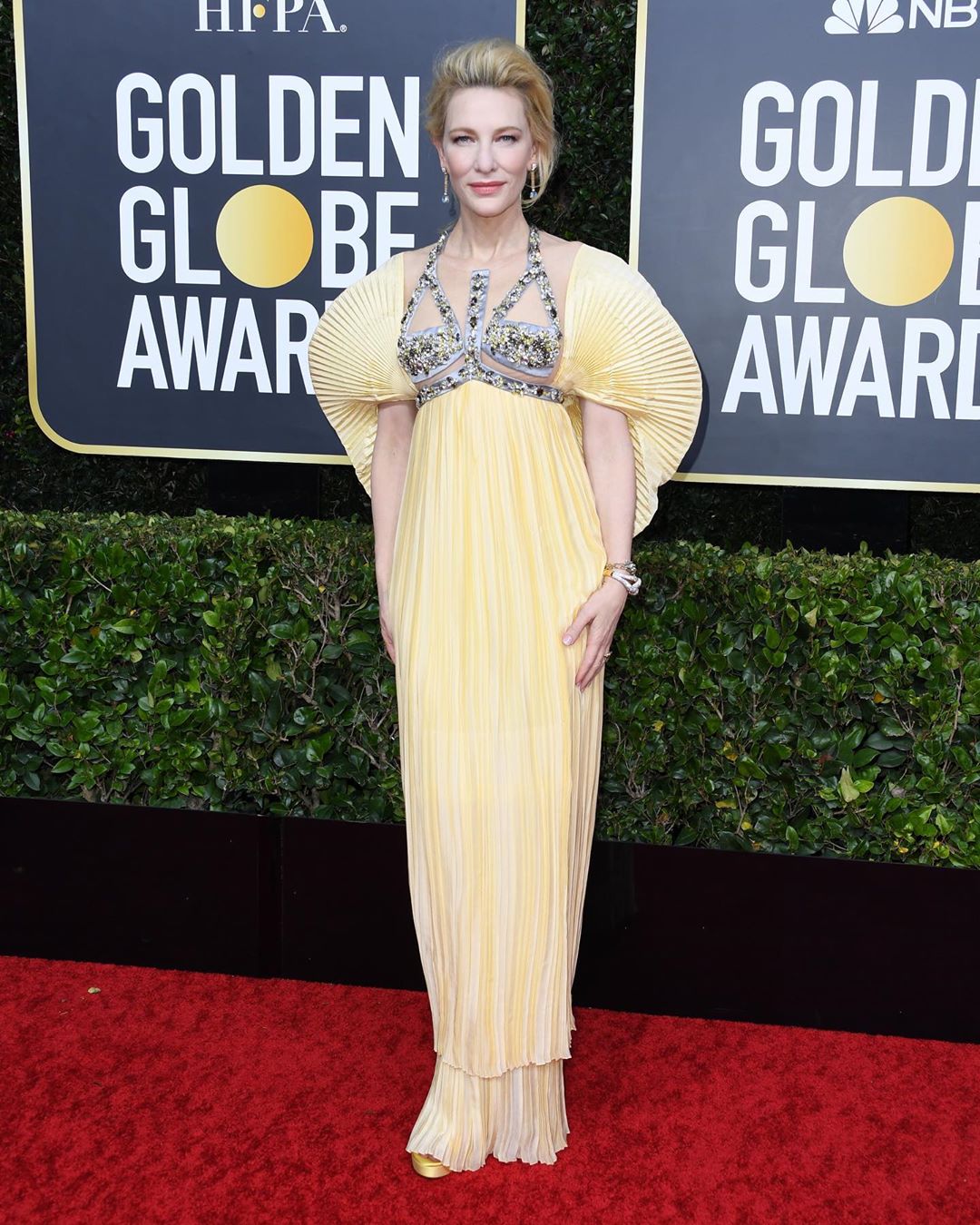 Cate Blanchett in this sorbet yellow Mary Katrantzou number was a big no and we're wondering why she didn't preempt the numerous memes that have been circulating on social media. The actress opted for a high fashion look with this pleated number in sorbet yellow from the Mary Katrantzou spring 20' gown. The dress featured some statement sleeves and an encrusted bodice which resembles something out of a Star Wars film. Many referred to her dress as a packet of chips while others simply stated that they hated the look. She teamed the look with a pair of matching heels and accessories and with her hair tied up, failed to impress on the red carpet this year.
Each year, the worst dressed looks become the butt of all jokes on social media platforms, and this year was no different. From funny memes, to hilarious comments, bad fashion always has a major moment post awards shows and fashion extravaganza events. At the end of any event, celebrities who get rated in the worst dressed categories should think twice before they hire the same stylist for the next event. After having looked at all these aforementioned looks, it is safe to say they will be going down in the history of worst looks of 2020!