Celebrities
Gigi Hadid Has Not Changed a Bit Since Her Childhood
Gigi Hadid, the American supermodel, often shares pictures from her childhood on her Instagram account.
Gigi Hadid started modeling at the age of two. However, the 24-year-old model has not been modeling only since then.  After her toddler days, Gigi Hadid decided to focus on her education and volleyball. She resumed modeling in 2011 and became the face of Guess once again since her childhood. Gigi Hadid often shares pictures from her childhood on her Instagram. Looking at those pictures, one can easily conclude that nothing has changed much and Gigi is still the same. Recently, she posted two black and white pictures. One was from her childhood while the other was a recent headshot. To be honest, one could hardly tell them apart if there was no makeup.
Gigi Hadid loved this picture so much that she went on to make it her display picture.
Gigi Hadid's Instagram followers which also included the famous celebrities instantly fell in love with her baby picture. The ace designer Marc Jacobs said, 'Beauty. Cutie' giving his view of both the photos. The Olympic ice skater Michelle Kwan said, 'Wow. Beautiful the day you were born.' British fashion designer Hayden Williams could not help saying, 'You've been a beauty your whole life basically.'
She also shared another picture from the days when she was only a few months old.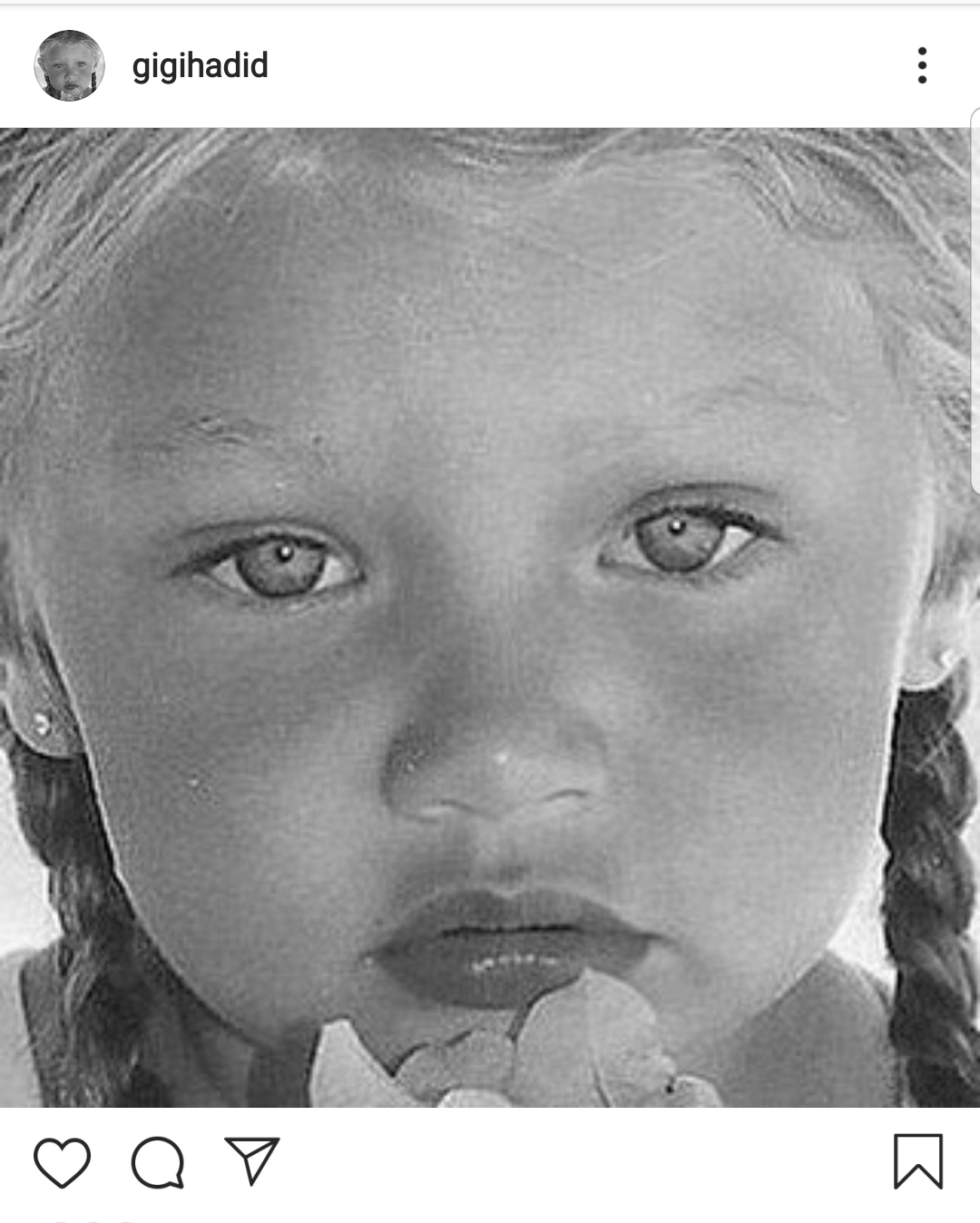 Gigi's adorable childhood pictures are quite a shift from her glamorous and bold avatar for Chanel Fashion Show which created rounds on the internet  just one day ago.
Gigi Hadid was born as Jelena Noura Hadid to a Dutch mother and Palestinian father. Gigi was the nickname given to her during school days. Interestingly, Gigi's mother was also called Gigi during her childhood. Currently, Gigi Hadid is one of the topmost models in the world and has worked with almost all leading brands in the world.  Although she is just 24, Gigi Hadid already has many feathers in her hat. Not only has she modeled for the biggest names in the industry, but Gigi Hadid also understands her impact on the world. Gigi is also vocal about social issues that concern the marginalized factions of the society. Gigi Hadid has worked with UNICEF in Bangladesh as Goodwill ambassador.