Fashion
From Luxury Sportswear to Double Denims, Find out the Top Cruise Trends This Season
If you have been wondering what Cruise collections are all about Hanadi Merchant- Habib has got you covered….
Every summer, social media feeds blow up with runway images featuring hashtags like #LVCRUISE or #GUCCICRUISE. Influencers, bloggers, celebrities and press are flown in from around the world to attend a brand's show that often takes place at a high profile destination. But What's Cruise All About?
Resort/cruise collections usually hit stores in November, launching a holiday selection, consisting mainly of swimwear and dresses in summery fabrics and loose silhouettes. These collections are primarily targeted at jet setters who prefer to spend winter months in warmer cities. Moreover, mid-season collections also add a dash of freshness to brands, between the Fall and Summer edits. A mid-season range ensures brands have recent and fresh outfits to entice the ardent shopper. With greater awareness on fashion trends, shoppers have an increasing urge to acquire new clothes. Resort wear, thus evolved into season-less collections that include anything from bikinis to fur jackets.
Iconic brands like Chanel, Dior and Gucci, amongst others are going all out to stage larger-than-life, spectacular fashion shows. For 2018, Dior Cruise was showcased in the dessert in Calabasas, California, Louis Vuitton in Kyoto and Gucci was at the Pallazzo Pitti in Florence. However, spectacular shows aside, we still need to plan ahead for what we're going to need in our wardrobes this season.
Top 4 Cruise Trends This Season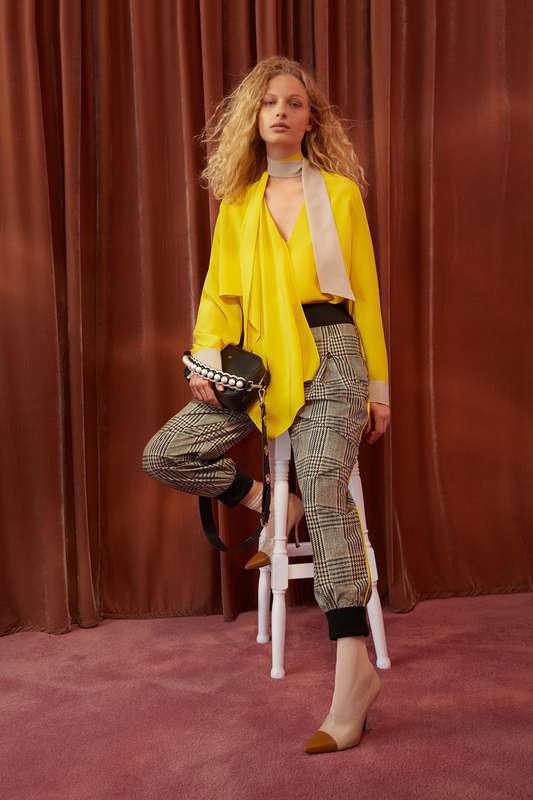 Fendi Resort 2018 
Luxury Sportswear
The Athleisure trend has been on a constant rise with luxe track pants visible on all major runways. The Valentino collection featured loose track pants, created in luxurious hammered silk, whilst Prada played around with their signature nylon material, converting it into a pair of loose fitted yet tapered trousers.
How to style
Opt for a black pair in a luxurious fabric like silk or cashmere and wear it with an oversized turtle neck or a feminine blouse in a bright colour. This creates a stylish yet comfortable office look. Team it with a racer back tank, or a biker chic jacket and a pair of pointy toe stilettos for a stylish weekend look.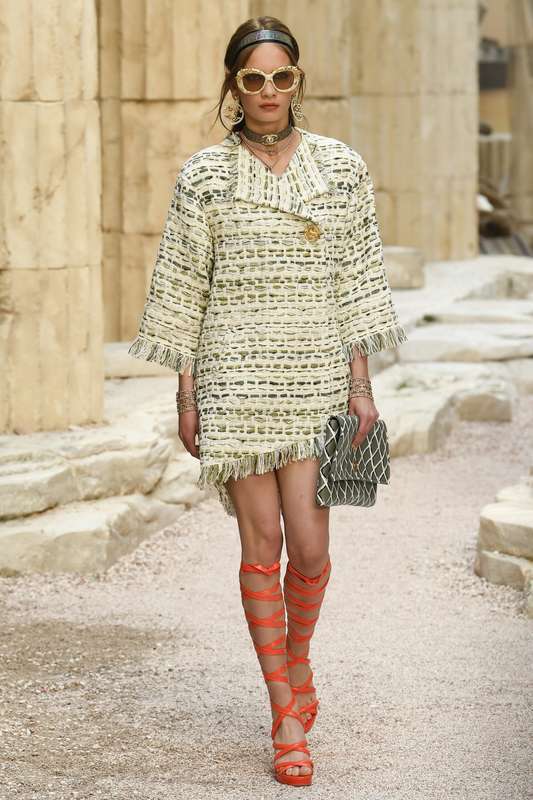 Chanel Resort 2018 
Fringes
Just when you thought the fringe trend had passed away, it reappears with a bang! Chanel had multiple looks with small rugged fringes on the border of sleeves or at the hems of dresses and skirts. At Dior, there were fringed capes and ponchos exuding a very Native American vibe. Meanwhile, Altuzarra had fichu style scarves on the models, loaded with fringes, serving as playful accessories.
How to style
In order to avoid looking like you've stepped out of a Native American film, pair a fringed top with a plain skirt or a fringed pencil skirt with a chic blouse, giving the simple outfit a stylish twist.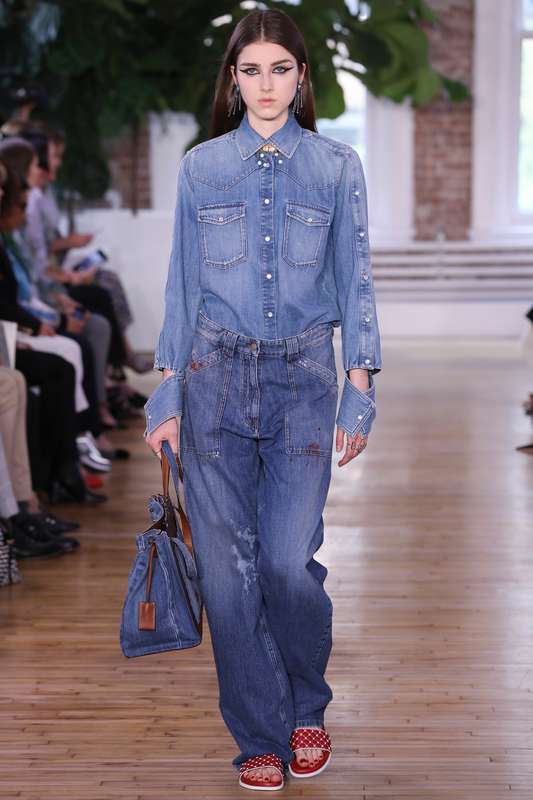 Valentino Resort 2018 
Double Denim
For Cruise 2018, the double denim look was given a chic update. Moschino had numerous patchwork double denim styles that were mixed with florals and lace whereas at Coach 1941, there were distressed demin jackets worn over Daisy Duke style denim shorts with fun embroidered patches. Stella McCartney played around with proportions, pairing a simple denim shirt over extra voluminous jeans that were cinched at the waist.
How to style
Choose darker denim shades for the part you don't want to highlight. For example, wear a lighter coloured shirt with a dark denim skirt or skinny jeans. Add bright coloured heels to make your outfit pop!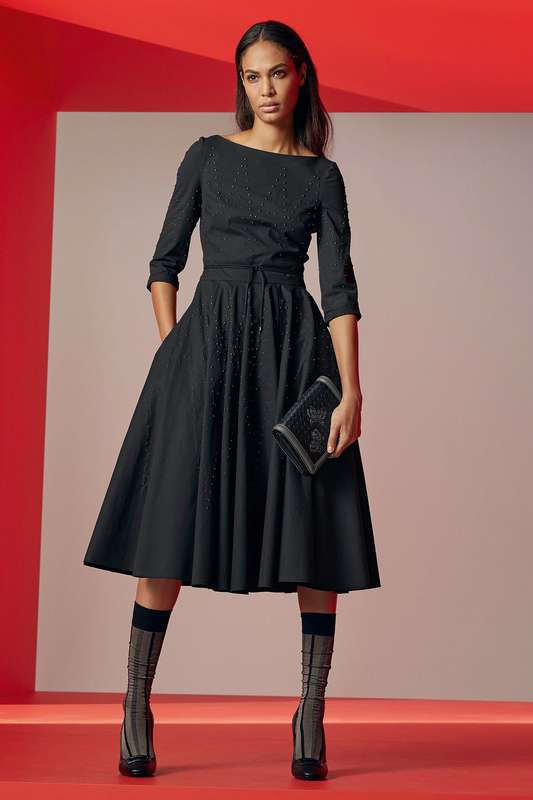 Bottega Veneta Resort 2018
Socks With Footwear
What was once a major fashion faux pas, has now become a solid trend. Seen on the runway in many bi-annual collections, this trend continues into resort and the socks just keep getting cooler! They featured in a thick fabric in checkerboard print at Antonio Marras, and at Bottega Veneta, they were calf length with stripes. However, Prada chose to go knee high with geometric patterns.
How to style
Wear ankle length socks with strappy sandals under a chic, knee length dress.
Also, feel free to play around with statement socks, pulling them as high as you like. You can be a real rule breaker with this trend!