Celebrities
Fatima Bhutto: "Shah Rukh Khan Gives A Lot Of Time To People Who Notice Him"
In conversation with author Fatima Bhutto on her new book, 'New Kings Of The World' that looks at the rise of Asian soft power
On the trail of Shah Rukh Khan during a shoot in Dubai, author Fatima Bhutto gets into a conversation with an Uber driver who raves about SRK and what makes him so special. Continents away, in Peru, a group of Bollywood enthusiasts are busy rehearsing a Hindi dance number featuring Shah Rukh Khan. Then there is the famous story of a group of German women who are die-hard fans of King Khan, following everything that he does.
These are but small instances of how Bollywood in general and Shah Rukh in particular has captured the imagination of a large section of the world. This is what fascinated author Fatima Bhutto as well as she set out to explore a whole new narrative dominating the world – eastern pop culture that is slowly edging out western influences, with a language of their own.
Bollywood aside, Fatima, in her latest book, New Kings of the World, also makes a sharp commentary on the other two big pop phenomena rooted in Asia – Korean pop or K-pop (think Psy and Gangnam style) and Turkish dizis (the immensely popular TV soaps that has become a rage everywhere). This wider shift in cultural power from America to Asia, the new heart throbs of this movement, the massive impact of content that is rooted in Asian traditions and its consequence for the socio-political scenario across the world, makes for a fascinating read. Fatima tells us, in this exclusive chat, what made her choose the subjects and her own observations on this new narrative…
What were the similarities you found between Turkish, Korean and Indian pop culture?
At their core they are all producing modern popular culture based around traditional values, storylines and tensions.  This is why they are appealing beyond their borders and are able to lure in audiences who have no religious, ethnic or national connections to the products they are watching.
Personally, which part excited and fascinated you the most from the three countries you selected for the book?
I was most surprised by Turkey. I had no idea of the scale and momentum behind Turkish television, not to mention the political designs. Though I suppose the most unusual discovery in terms of shock, was the genesis of Kpop. They have a really political and fascinating origin.
When did you get introduced to Bollywood? What are your earliest memories about our movies and stars?
My father, Murtaza, used to get sent Bollywood films when we were in exile. He loved movies and was a real culture watcher and though Bollywood were not his favourite films, I could see that there was something in them that reminded him of home - the language, the music especially. That was in the 1980s and I remember Rekha most of all, though I always found the films too sad to watch.
Based on your interactions with him, what would you say are the most endearing qualities of Shah Rukh Khan?
He's generous with his fans and gives a lot of time to people who notice him and want to share a photo or conversation with him.
While the book devotes considerable space to Bollywood and its impact, how do you view the Pakistani pop culture space today?
If you ask me what marks Pakistani pop culture today and yesterday - whether in the 1970s or 80s or 90s - I would say two things: its bravery in using art to resist authoritarianism and its sophistication in terms of content. Pakistani artists, whether poets or singers or script writers, were not afraid to stand up against authoritarian rule - they paid heavily for their resistance and they suffered for it, but their courage is without equal in the subcontinent. The language and nuance of our dramas and books and poetry is the second most appealing quality, it's popular culture scripted in high language.
Recently a study said that Saudi Arabia and the UAE are the MENA region's top K-pop fans. Bollywood has of course, always been hugely popular. Is it the similarities in culture (especially the general conservative attitudes) that help form a common bond? 
I'm not sure that's true at all, in fact it sounds like that "study" was done by Saudi Arabia. It's widely acknowledged that Egypt and Lebanon are the cultural cornerstones of the MENA region and there you see Bollywood as popular, as you say, because it's conservative and traditional while still being high drama and entertaining.
Can Bollywood, K-pop or Dizi find acceptance and identification to this level, if they remained true to their roots and traditions? Most movies these days eulogise nationalism and traditional values (which you have pointed out). Do you think these films or soaps will find resonance around the world the way, an NRI-centric Karan Johar or SRK film of the 2000s did?
No. I think the more jingoistic they become, they will cease to be art and will lose their global watchability. When culture is used to inflame sentiments, rather than to expand horizons and connect people, then it ceases to be culture.
What role has Netflix and similar platforms played in bringing Eastern pop culture elements to the fore? Have they been successful at mainstreaming what would otherwise have been content for an elite, discerning audience?
I think they are bringing Eastern culture to the West and would argue that they are successful at that but I don't think they are pushers in the same way in the rest of the world - these are platforms that require good internet connections and reliable electricity and online credit card payments which ultimately will appeal and be available only to an elite audience who has the privilege of all those things if we are talking about the global south.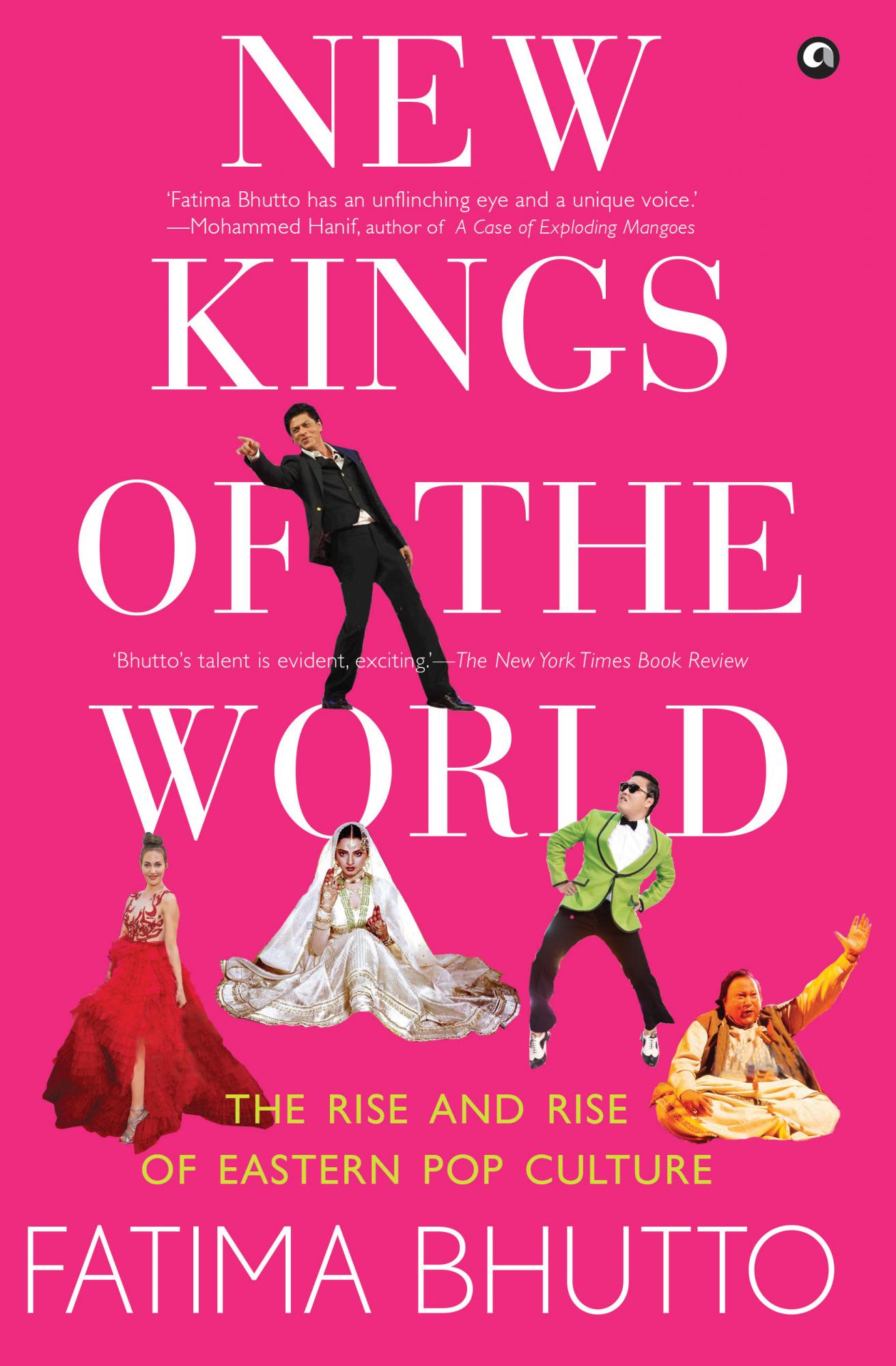 Excerpts from the book…
The 1,200-square-meter Imperial suite at the Palazzo Versace seemed to conform to the unrestrained aesthetic of Arabian
Gulf autocracies. All available surfaces — lamps, tables, plates —
were emblazoned with Versace's gilt Medusa heads, baroque
urns and flowery motifs. It is more than just a hotel room, it
has its own ecosystem. There is a grand staircase leading to
the second floor, three chandeliers in the sitting room alone,
a private butler on call, a long dining table set for ten, and the
Indian Premier League playing on a huge flat-screen TV. I'm
trying to see which team is playing when he walks in.
"As salam alaikum," Shah Rukh Khan greets me as he settles
into a Versace chair. He's wearing a black hoodie, camouflage
trousers and scuffed Converse sneakers. Khan radiates a sunny
boyishness rather than matinee idol hunkiness. He is not as
imposingly tall as Bollywood's previous superstar, Amitabh
Bachchan, and has bulked up in recent years — obliged by
Bollywood's new ideals of masculinity to take his shirt off
for work, Khan now sports a tight, sinewy musculature. His
impressively black hair flops, when not slicked back into his
standard quiff, over his forehead and across his dark brown eyes.
He smiles often but shyly, checking first to see if you're smiling
too. If you are, the hero's full lips widen and dimples appear in
his cheeks. Tonight, he appears tired and sunburned.
We were scheduled to meet tomorrow when I will accompany
Shah Rukh to a shoot for an Egyptian television show but even
though he's just stepped off a sixteen-hour flight from California,
I got a call asking me to come tonight. We have some time to
talk before he heads back to work at 11 p.m. when Alia Bhatt,
Shah Rukh's co-star from Dear Zindagi will arrive for a script narration.
"I'm watching all your films," I tell him.
"I'm sorry," he laughs, sheepishly.
"I've seen seven in the week before traveling."
"Twenty hours of your life," Khan estimates.
"One part says that I came into the film industry when
India was opening up, the Indians in the diaspora—including
Pakistan and Bangladesh, I mean the whole South Asia has the
same status—were all proud suddenly having Indian movies to
be watched and second generation and third generation people
were being made to watch these by the first generation to teach
them culture, to show them this is hamara land," Khan reflects.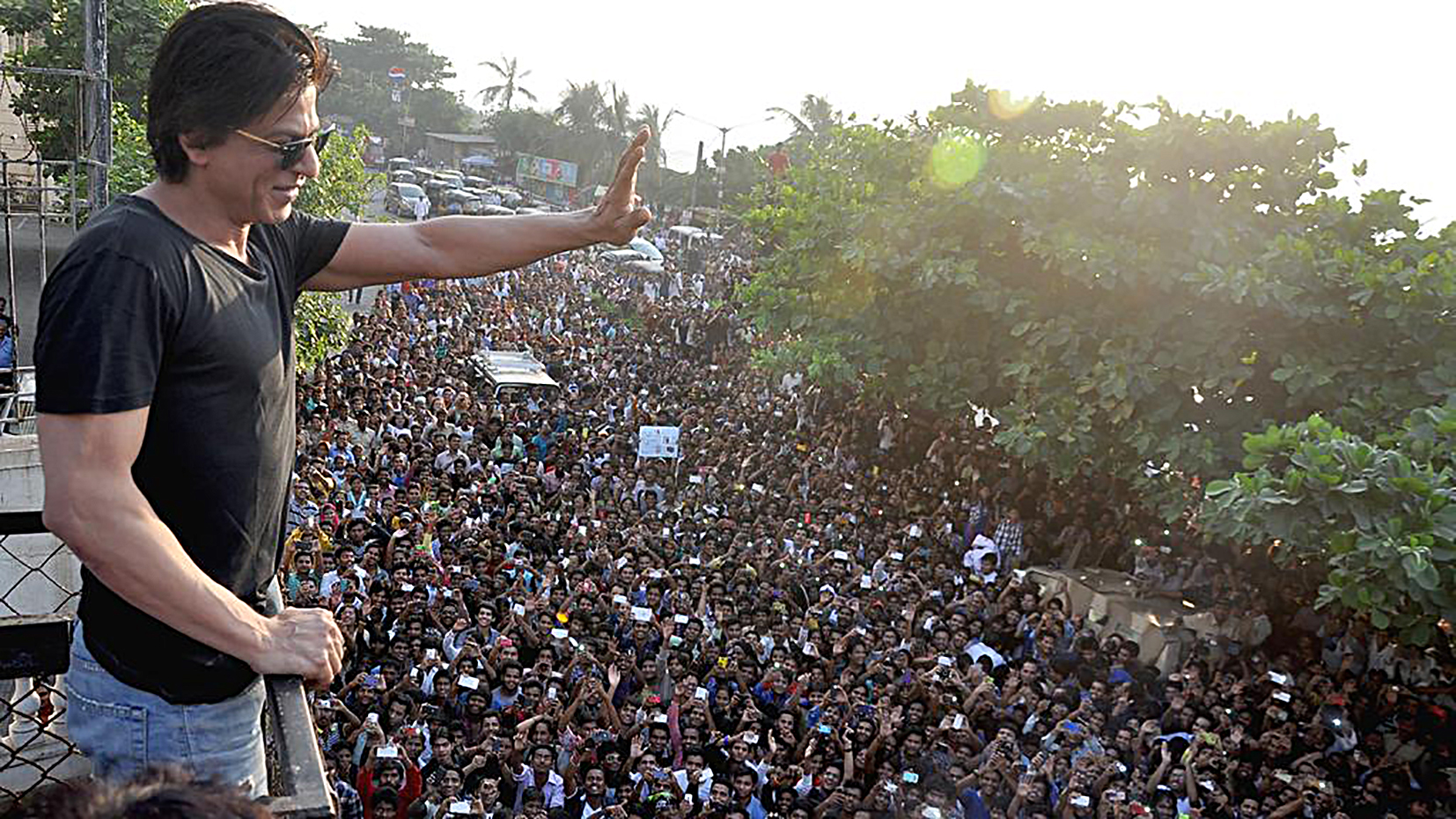 "Somehow, I led the movement because the kind of films I did were a mix of being cool, which I think people abroad wanted  themselves to be felt like. So I was cool enough and we were traditional enough." Others felt that it was because he stood for the youth in India, or because he stands for self-made success, having entered the business with no backing. "Why I'm saying all this is because I think none of it is true." There's something
more to it, Khan says of his superstar status, and something less.
He speaks animatedly, no matter the time and no matter
how tired—or in fact, how long he has been speaking—with
bouncing emphases and stresses, flip-flopping between Hindi/
Urdu and his British-inflected, subcontinental English. "Is that
how you pronounce it?" he often asks—checking or warning
that he might mutilate "Cannes" or "asphalt" or "Y Tu Mamá También."
Abhinav, a white-gloved Indian butler, brings a small espresso
cup and places it down on the side table next to Khan. He rips
open a sachet of sugar and pours it into the coffee, stirring it
gently, before crumpling the sachet into the ashtray, which he
discreetly replaces with a fresh one. The whole while, neither
looking exactly at Khan nor very far away from him, the gloved
butler wears a mask of serene adoration.
"I've never been a straitjacketed proper hero in my films."
Khan continues. "In Baazigar, I take a girl up a terrace and
throw her off and you're okay with that. I don't know why. I
don't watch my films but I remember when that film released
most of the kids were loving it. And it's so gruesome!"
"There's a certain sense of goodness I bring to badness.
People trust me with badness. You know, normally people trust
you if you're good. I think there's an inherent quality that you
trust me with the badness. You say, it's okay, if he's going to be
bad, he's not going to be really bad." Even though he's dressed
like Justin Bieber, there is something avuncular about Khan.
Why can't the Bollywood hero win?" I ask. "Why can't he ever catch a break?" There's no defying family, no getting the  girl he loves, nothing — whereas in Hollywood, if the hero's aims are noble, he can defeat any obstacle.
"Sacrifice is a big part of our culture," Khan replies. "We're
taught to sacrifice from childhood, in our religion — in all the
religions of South Asia — you'll only be told stories as you grow
up of how heroes gave up things to achieve things for themselves
but mostly for others."
In Hollywood, obstacles can be personal and therefore
overcome, Khan continues, but in India your sacrifices are for
others. "So if I did not marry in a film...the girl I love, it would
be because I want her to marry the elder brother in the family
because he's the one who's of the right age. Now if you were
to see this in the context of the West, there's nothing like age,
stage or even brotherhood of that level."
Abhinav appears like a shadow and sweeps away another
coffee cup. "The most successful directors in the country right now,
they only look for roles where I'm going to rise above human
nature," Khan shakes his head. "They always make me do roles
like that, even if I'm just a dance trainer."
Presumably that's why Khan never swears in his films.
Tomorrow, during shooting, I will hear some classic swearing—
but for now, at least until I ask the question, there hasn't even
been a single dip in the language.