Bollywood News
Farhan Akhtar Has Permanently QUIT Facebook!
The actor will never return to the social networking site ever again. Here's why!
Farhan Akhtar has confirmed that he has permanently deleted his personal Facebook account. He has also confirmed that he is not going to join Facebook ever again. "Good morning. This is to inform you all that I have permanently deleted my personal Facebook account. However, the verified FarhanAkhtarLive page is still active," Farhan posted on Twitter.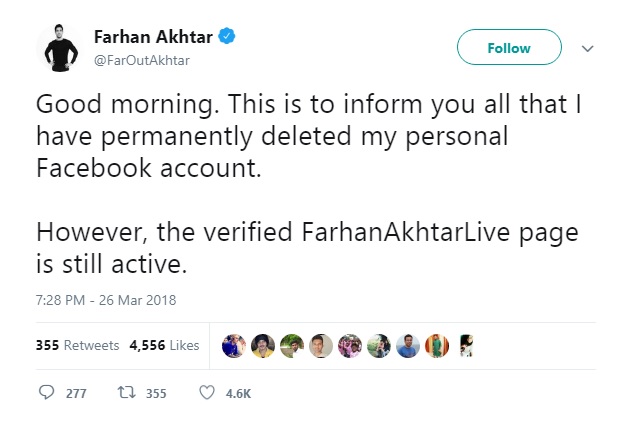 Farhan has officially not mentioned why he is quitting Facebook but sources close to him confirmed that he is worried about his personal data getting misused. That also explains the fact that the 44-year-old actor's move comes after Facebook faced worldwide criticism over the claims that Cambridge Analytica, the UK data analysis firm hired by Donald Trump's 2016 campaign, harvested and misused data on 50 million members.
Farhan has over the past expressed his concerns over data theft. With this move, Farhan has joined other Bollywood stars like Imran Khan who has quit social media platforms due to various concerns.