Bollywood News
Farah Khan visits Wai Maharashtra giving a shoutout to her 'rich' friends
Farah Khan, who is known for her wit and zeal for life, posted a video from Wai Maharashtra comparing it with Viva Austria showing the beauty of India.
Farah Khan, the director and choreographer, is famous in the film circles for her sharp wit and excellent culinary skills. The mother of three, Farah Khan, has a great zeal for life and also loves sharing it with her friends. She recently posted a video from Wai in Maharashtra in her lighthearted manner suggesting that when you can not afford Austria you can go to Wai Maharashtra. The video showed lush green mountains and cool weather with clouds drifting just below. She gave a shout out to her 'rich' friends Anil Kapoor, his wife Sunita Kapoor, Arjun Kapoor and the girlfriend Malaika Arora who are known for their exquisite holidays. The post said, 'When u can't afford Viva Austria.. u come to Wai Maharashtra.. shout out to my rich friends @anilskapoor @kapoor.sunita @arjunkapoor @malaikaaroraofficial .. #FOMO #ravinehotel'

Social media users, as always, had a mixed reaction

This post came as a pleasant surprise for her fans. People normally think that the stars only enjoy the lavish expensive holidays outside the country but Farah Khan's post showed the beauty of India. People appreciated this post and expressed on social media.
Didn't knew we have such divine place here in Maharashtra- thank you for letting us know Wow....lovely....lived in India for four years of my life....loved every moment...such a beautiful country. Sare jahan se achha hindustan hamara @farahkhankunder Save nature & i love nature 
A user mentioned that it is not always about the money but some family responsibilities too. "Slight correction...its not that you can't afford monetarily ....its that you can't afford the time...what with three school going kids," they pointed out. Someone also made fun of Farah Khan for calling her friends rich when she was also rich enough. 'You aren't less rich,' they said.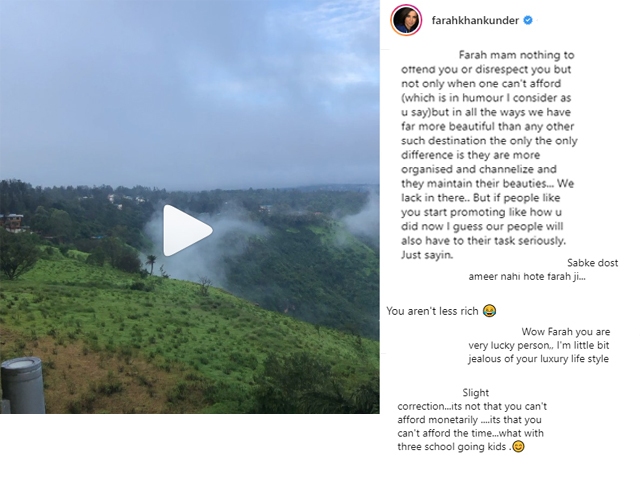 Comments on Farah Khan's Maharashtra Video
Farah Khan had a difficult childhood
The Farah Khan one sees today is a successful filmmaker and choreographer but very few people know that she did not live an easy childhood. She was born on January 9th, 1965 to stuntman-turned-filmmaker Kamran Khan and his wife Maneka Irani. She is the first cousin of Farhan and Zoya Akhtar. Farah Khan's brother Sajid Khan is also a film-maker. However, Farah Khan's early days were filled with turmoil as her parents broke up when she was still a toddler. Due to the lack of money, the siblings constantly had to shuffle between different homes. The siblings saw very little of their father while growing up.