Celebrities
Fahad Mustafa Slams Tik Tok, Gets Trolled For Jeeto Pakistan
Fahad Mustafa recently took twitter to urge the parents to keep their children away from the popular application TikTok
Fahad Mustafa is one of the biggest names of the Pakistani Entertainment industry at the moment. After carving a niche for himself in acting, Fahad Mustafa is now hosting a popular game show Jeeto Pakistan where he gives away prizes to the participants and audience for small questions and games. However, his game show has often been criticized for promoting an unhealthy trend in the society by making people do silly antics just for the sake of winning prizes. Game shows have also been accused of doing anything just for the sake of television ratings.
Recently, Fahad Mustafa took Twitter to express his concern about young people's craze for the application Tik Tok which is about making short videos and produce content for entertainment purposes. In his tweet, Fahad Mustafa wrote, 'To All the parents out there plz keep your kids away from this tik tok bullshit its not healthy. Entire nation is busy doing nothing .#DoSomethingProductive.'
It did not set well with the Twitterati at all as many users started trolling the actor for his own game show Jeeto Pakistan. People could not help saying that Jeeto Pakistan was also not productive in any aspect.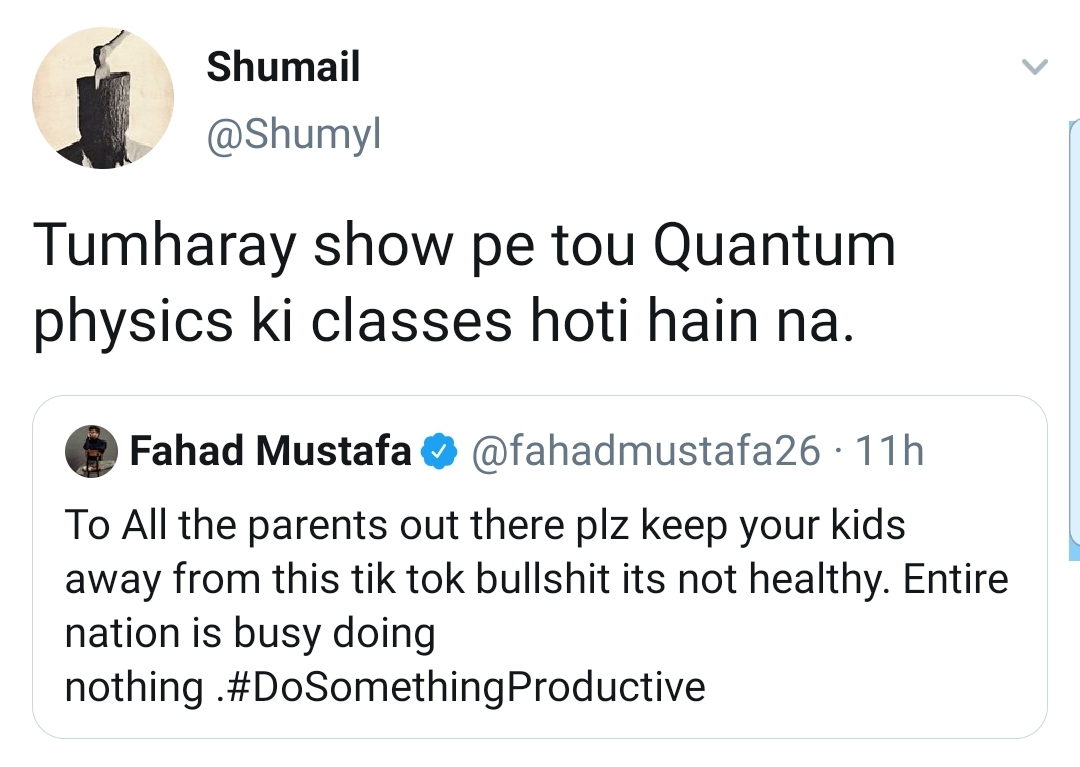 Many users believed that being the host of Jeeto Pakistan Fahad Mustafa had no right of accusing TikTok of being non-productive.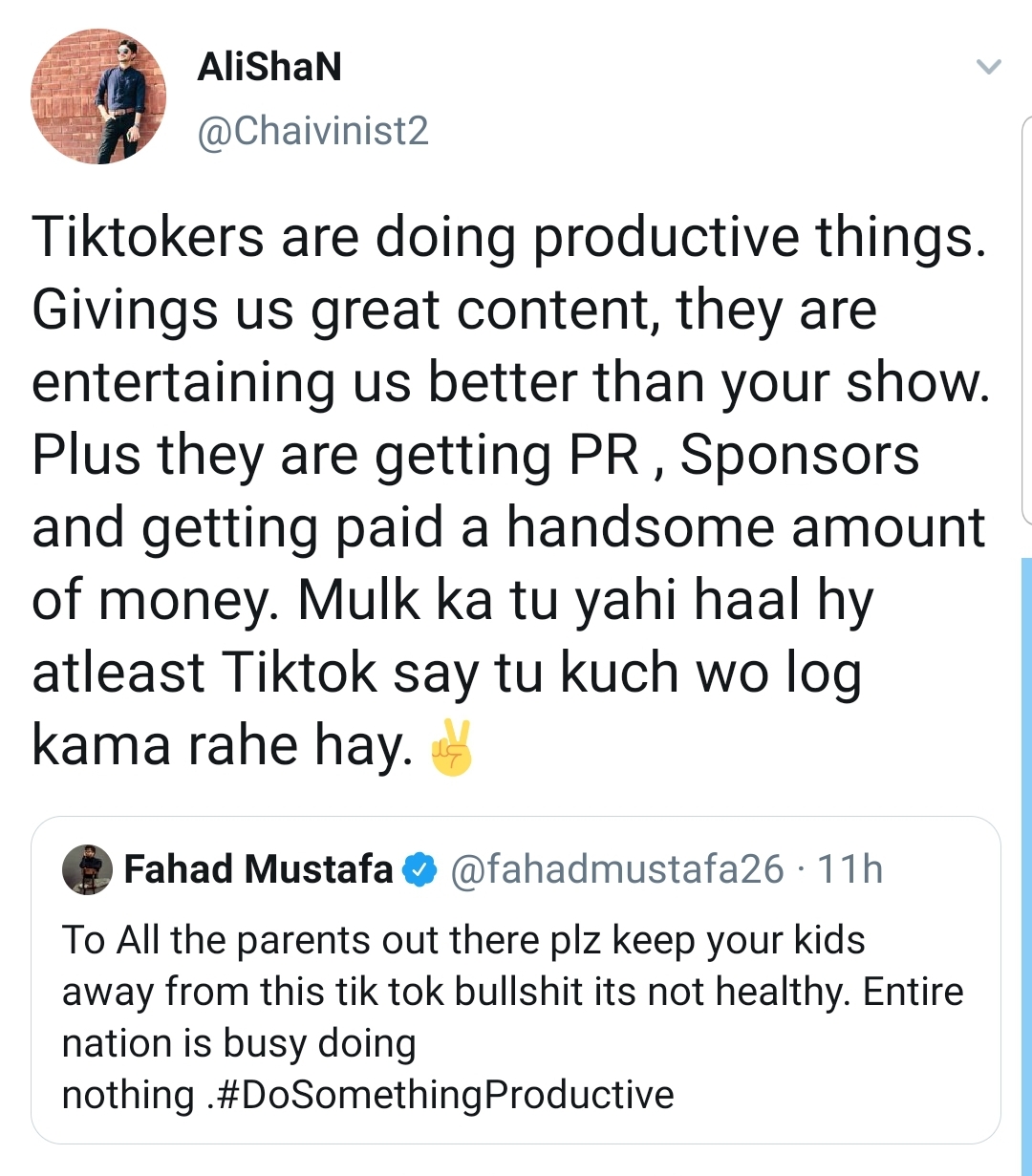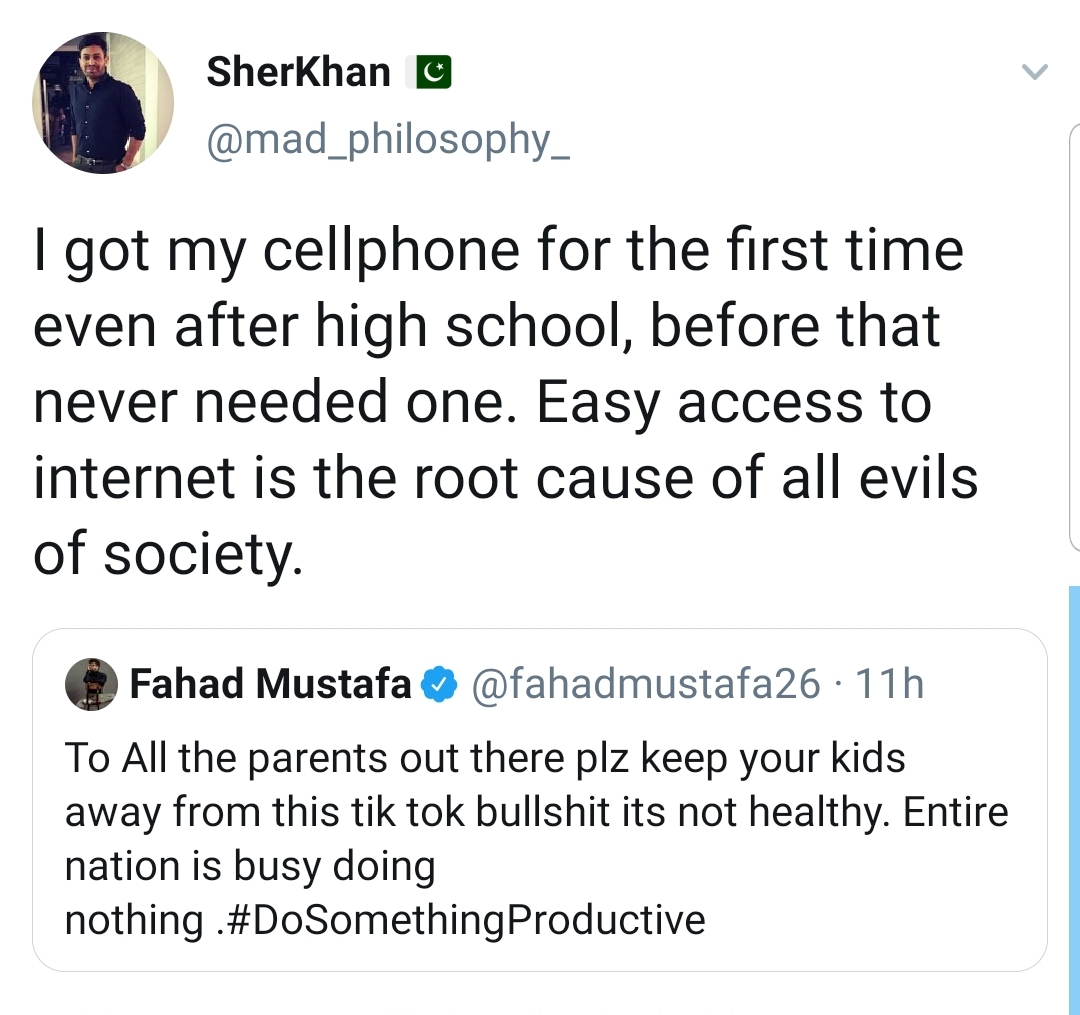 According to one Twitter user, TikTok was not as unhealthy as Fahad Mustafa had described it to be.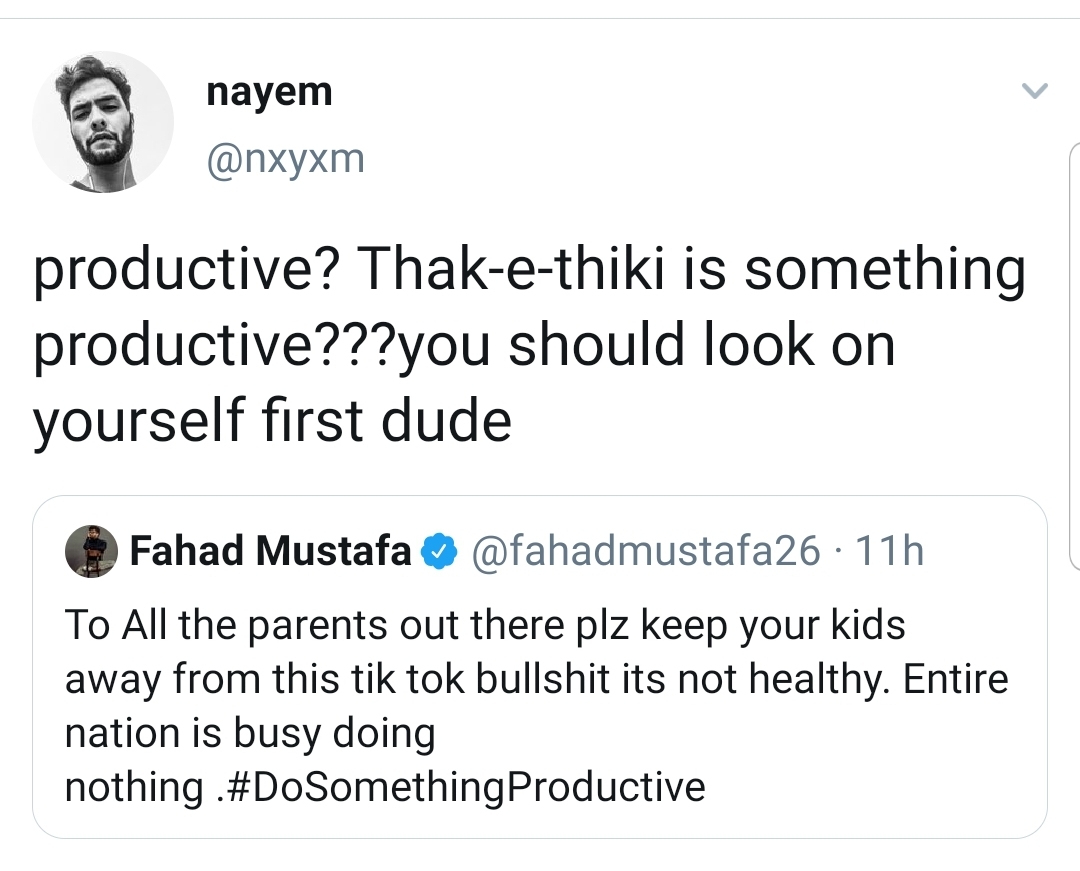 Someone equated Tik Tok and Jeeto Pakistan.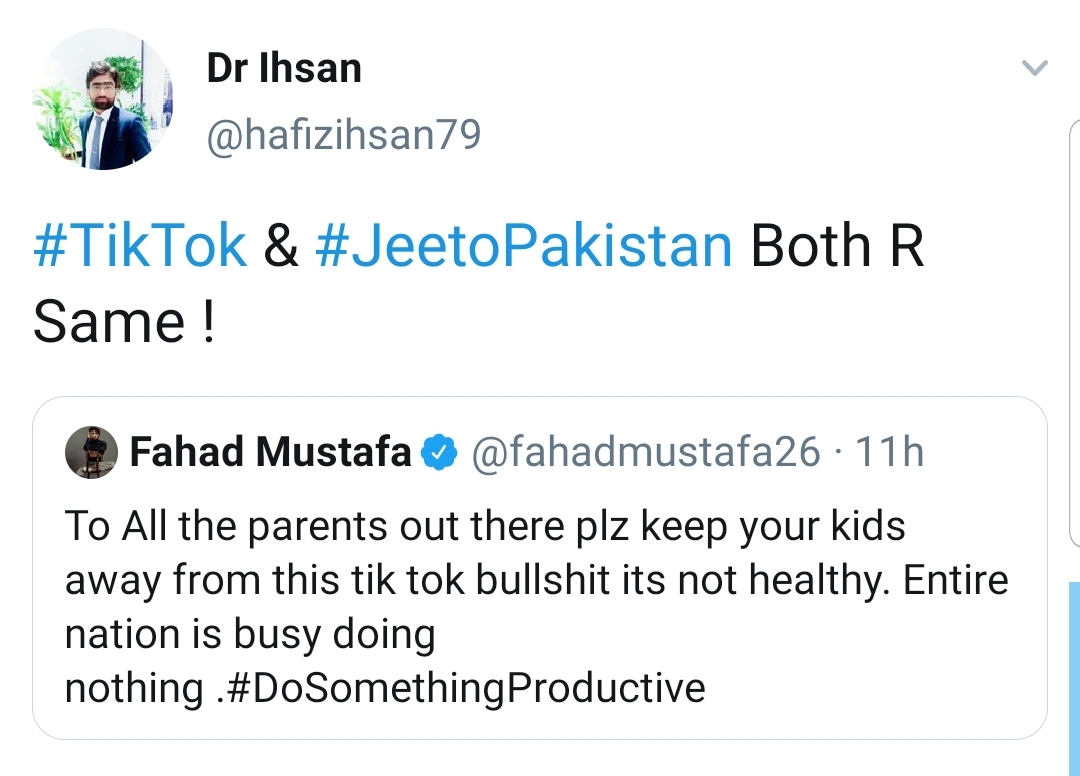 Fahad Mustafa's show gives away a motorcycle as the highest prize. Someone had a point for that too.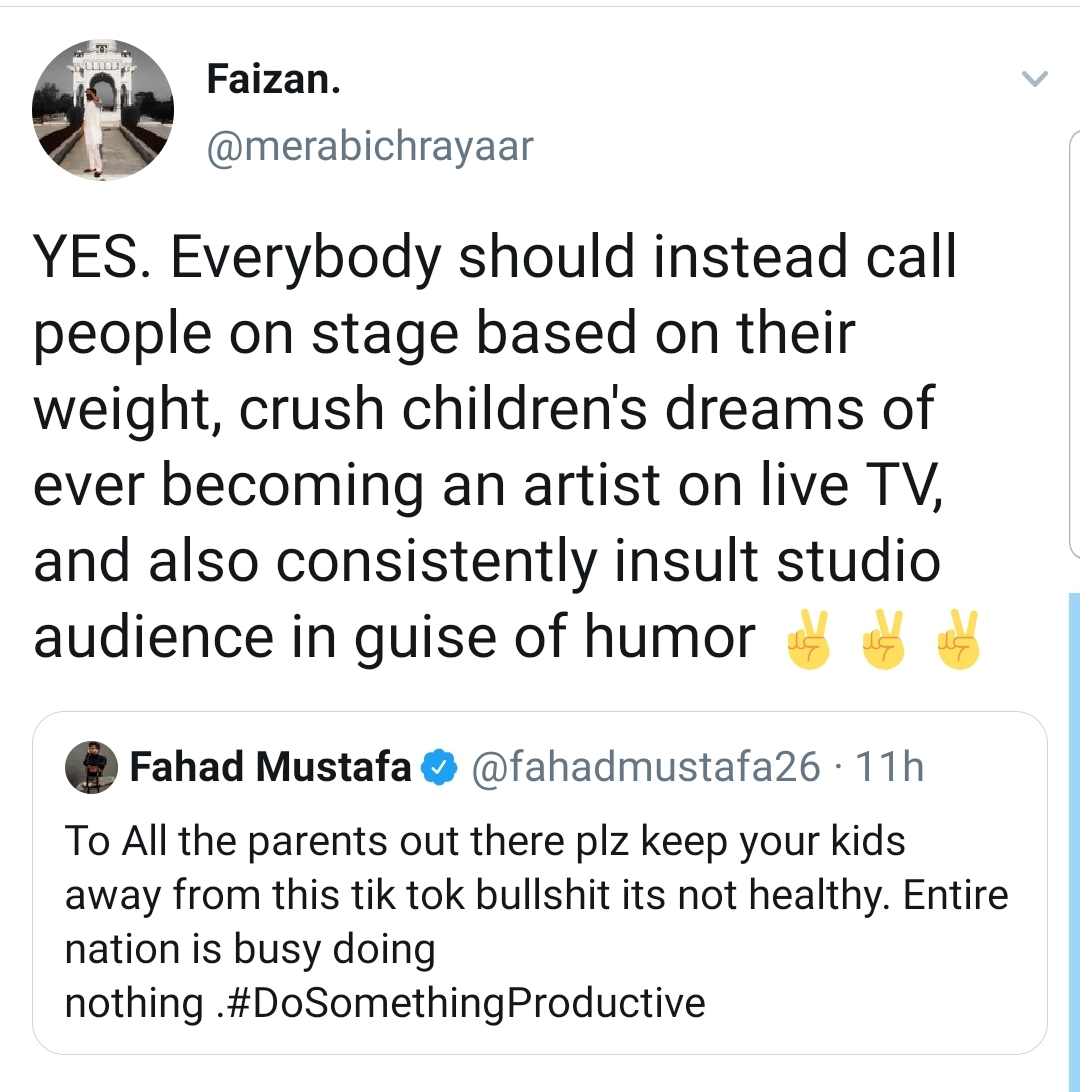 If parents should keep their children away from TikTok should children do the same by keeping their parents away from TikTok?
Fahad Mustafa has a strong fan following as well. Many people also agreed with his thoughts and came out in his support.
TikTok was launched in 2012 in China. It was later developed for Android and iOS users outside China in 2017 and since then has been immensely popular among the masses. By October 2018, it was already the most downloaded application in The United States. In 2019, it was declared to be the seventh most downloaded application of the decade. This application gives its users an opportunity to express their creativity by sharing short videos. However, like every other social media application, TikTok has also been criticized off and on.