Culture
Expo 2020's Mission: Human Flight Launched Successfully
Expo 2020 Dubai and Jetman Dubai successfully launched a 100 per cent autonomous human flight from Skydive Dubai. Pilot Vince Reffet flew to an altitude of 1,800 metres
Expo 2020 Dubai and Jetman Dubai successfully launched a 100 percent autonomous human flight. Jetman pilot Vince Reffet took off from the runway of Skydive Dubai and flew to a high altitude of 1,800 metres. He flew directly upwards and had a carbon fibre wing with four mini jet engines. This equipment enables Jetman to reach a speed of 400 kilometres per hour. It can also help hover, change directions and perform loops. After becoming airborne at an aerial centre near Jumeirah Beach, Vince hovered at five metres above the Arabian Gulf for about 100 seconds and after demonstrating his control of the flight, landed back on the runway. He flew again, this time heading towards Jumeirah Beach Residence. He climbed 100 metres in eight seconds, flying at an average speed of 240 kilometres per hour. Then covered another 200 metres in 12 seconds, 500 metres in 19 seconds and 1,000 metres in 30 seconds.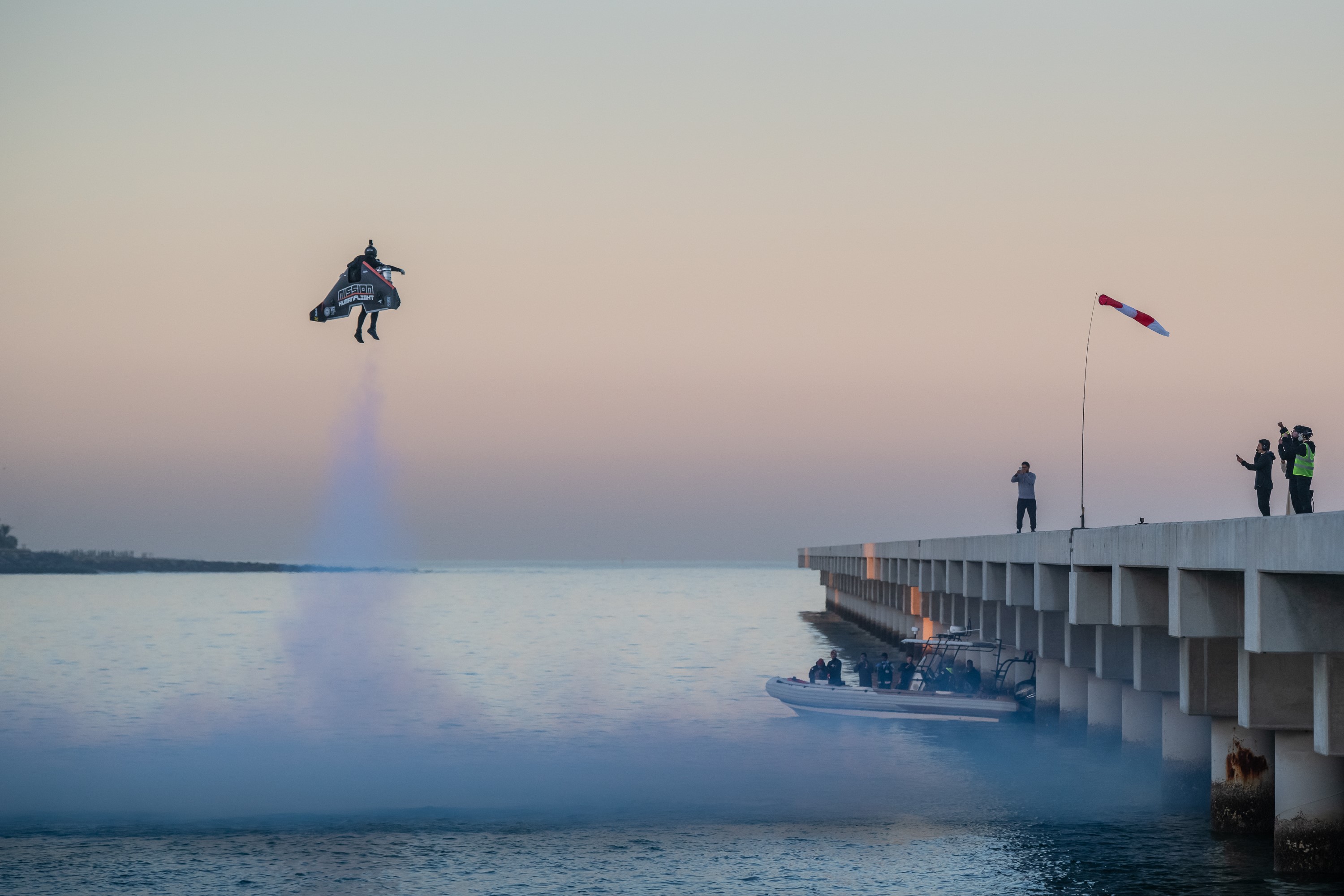 Human Flight Launched Successfully for Dubai Expo 2020
After completing his stunt, Vince said, "We are so happy we achieved this incredible flight. It's the result of extremely thorough teamwork, where each small step generated huge results. Everything was planned to the split second, and I was overjoyed by the progress that was achieved. It is another step in a long-term project. One of the next objectives is to land back on the ground after a flight at altitude, without needing to open a parachute. It's being worked on."
Engineers Mohammed Rashid Chembankandy from India, André Bernet from Switzerland and Matthieu Courtois from France helped develop technology behind this stunt. Their work was supported by Expo 2020 Dubai.
Aysha Al Nuaimi, this project's lead for Expo 2020 Dubai, said, "We're delighted to celebrate a landmark moment in the quest to achieve 100 per cent autonomous human flight. It's fitting that the stunt was performed here in the UAE, the nation of no limits, as Expo 2020 and Jetman Dubai continue to highlight that anything is possible when you combine innovation, passion, creativity and hard work."