Recipes
Eid Special: Here Are Our Three Favourite Recipes to Try This Eid Al Fitr
Saira Ahmed from Little Lahore, the famed Pakistani restaurant in Jumeirah Lakes Towers, takes us through the quintessential Eid meal – rich, delicious and inviting!
Hailing from Lahore, Saira Ahmed says Lahoris take their food rather seriously. Known for their hospitality, they celebrate each meal with zest and fervour. So when the occasion is something as special as Eid, every family goes all out with their menu! A connoisseur of great food herself, Saira brought a little bit of Pakistan in Dubai when she set up Little Lahore restaurant. Yet the memories of Eid back home can never be replaced. "My mother is a great cook and takes special pride when cooking for us. I would always be looking forward to Eid feasts as they would be super elaborate and delish. Each meal would at least have two to three starters like Kurkuri Bhindi, Dahi Phulki, Lahori Fish etc. The main course would consist of at least six or seven dishes and there would be countless desserts as well," she recalls going down memory lane.  
A quintessential Eid meal, says Saira, would be a rich, spicy and delectable spread of different meats and desserts. Mutton Pulao, Chicken Biryani, Aloo Gosht, Chicken Karahi, Nihari, Haleem, BBQ specialities, Sheer Khorma, Kheer, different Mithais are a must for any Eid lunch or dinner. A wide selection of starters, six to seven main dishes and a variety of desserts would make a perfect Eid meal, she adds. When we ask her to name three items without which no celebration is complete, pat comes the reply. "In my view, a nicely cooked aromatic Mutton Pulao with Aloo Gosht and Sheer Khorma for dessert is a must. Eid is never complete without these three items."
Saira gives Masala! readers three of her favourite recipes to try for Eid…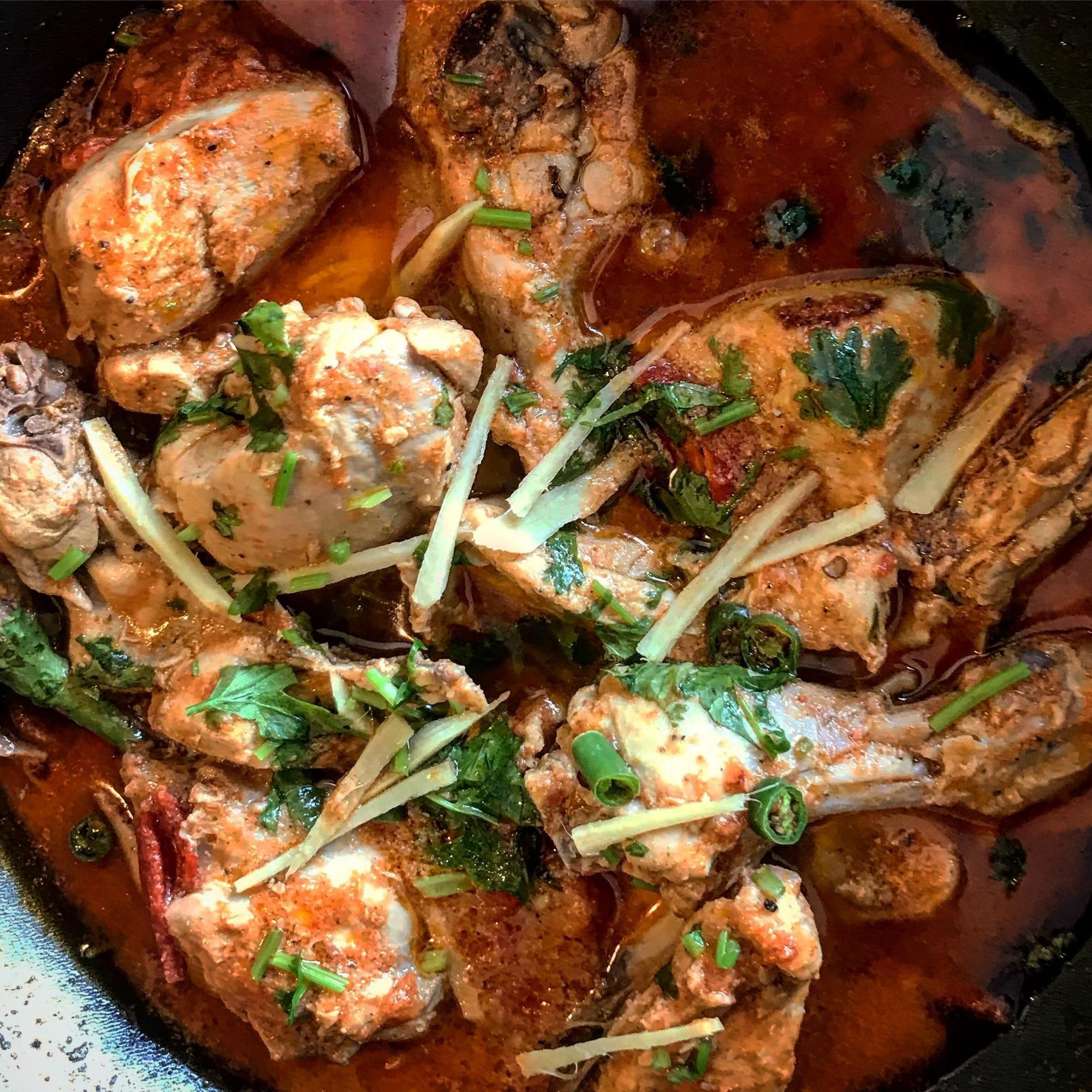 Pic used for representational purposes only 
CHICKEN KARAHI
Ingredients:
Chicken (cut into 16 pieces )  1 Kg  
Oil  1/4 cup  
Yoghurt    1/2 cup 
Salt  1 tsp 
Red Chilli Powder   3/4 tsp 
Cumin Powder   1/2 tsp 
Garam Masala    1/4 tsp 
Ginger Paste    1 tsp 
Garlic paste   1 tsp 
Coarsely Crushed black pepper   1/2 tsp 
Cumin Seeds Whole  1 tsp 
Coriander chopped
Green chillies chopped
Ginger julienne cut 
Method:
Heat oil in a wok. Fry chicken with ginger garlic paste for five minutes. Add tomatoes and all spices except for black pepper and yoghurt. Cover and cook in high flame for about 15 mins until tomatoes are done. Add yoghurt and cook further for 10 mins. Simmer for 10 minutes. Garnish with black pepper, chopped green chilles, ginger and coriander. Serve and enjoy.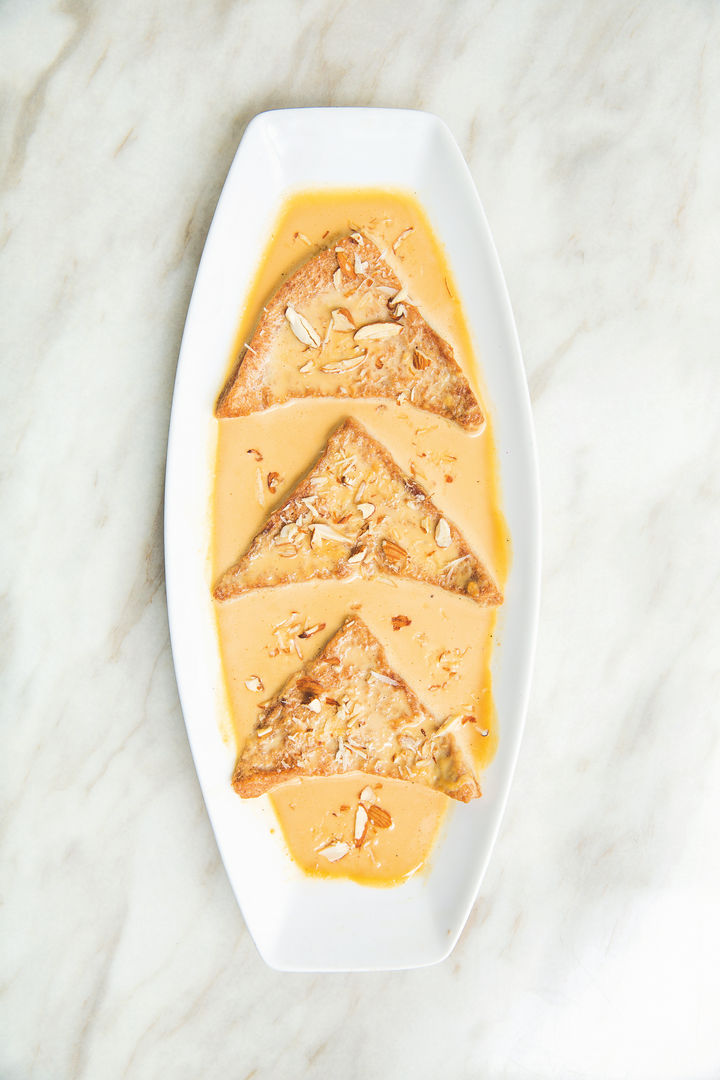 SHAHI TUKRAS 
Ingredients:
Milk  1 litre 
Nido Powder Milk  (mixed with a glass of water)      3 tbsp 
Slices of bread (with sides cut off )    4 
Cardamoms   4 
Condensed Milk   2 tbsp  
Sugar     1/4 cup 
Cream   1/4 cup 
Almonds chopped for garnishing  5 
Method:
Pour milk in the saucepan and let it cook on low heat.  Cook for approximately 2 hours or till the milk changes to a light brown colour.   Cut the bread into triangles and fry until golden brown.  Drain them on a paper towel, then soak the bread in the milk until it's completely soft.  Place the bread pieces on a platter. Let the milk thicken more, then pour it over the bread and garnish with the chopped almonds. Serve cold or warm.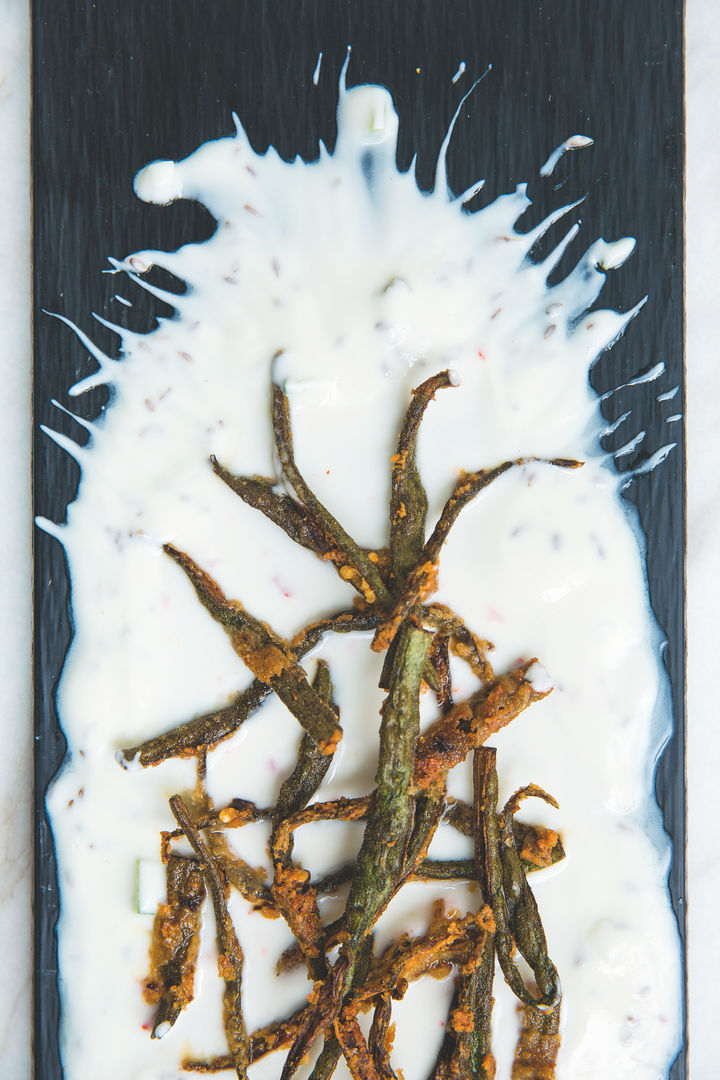 KURKURI BHINDI 
Ingredients:
Yogurt  1/2 kg
Milk  1/4 cup
Salt to taste
Crushed red chilli powder
Garlic minced  1/4 tsp
Bhindi/Okra  1 kg thinly sliced
Besan  2 Tbsp
Red Chilli powder 
Salt 
Coriander powder 
Chaat masala  a pinch
Method: 
Whip yogurt with milk and spices. Keep aside. Coat Bhindi with spices and besan. Deep fry. Add Bhindi to yogurt just before serving, sprinkle chaat masala over it. Your tangy, crunchy and utterly delicious Kurkuri bhindi is ready! 
INFO: Little Lahore, G01 B, Goldcrest Views 2, Cluster J, Jumeirah Lake Towers