TV/Streaming Reviews
Ehd E Wafa Episode 20: Saad and Duaa's Marriage Reunites the SSG
In Ehd E Wafa, Ahad Raza Mir, Osman Khalid Butt, Ahmed Ali Akbar and Wahaj Ali's characters finally reunite as a group during Saad's wedding as his marriage to Duaa takes place
In Ehd E Wafa, the lives of the SSG have continued to progress, both personally and professionally.  While Shahzain is now an established politician, Shariq is a successful journalist, Shehryar an assistant commissioner and Saad an army officer.  All four boys are now grown men out in the "adult" world.  And with the last episode's reunion between Saad and Shahzain, viewers were anxious to see what would come next.  Fortunately, this episode is a happy one.
In episode 20, Saad (Ahad Raza Mir) and Duaa's (Alizeh Shah) wedding takes place.  There are a few beautiful scenes attached to this wedding, the first being the bond shown between the SSG – and this time, even Gulzar joins in the fun.  Watching the friends bond makes for an entertaining watch, particularly the scenes with Shahzain, Shariq and Shehryar teasing Saad on the way to the venue.  Second, the scene with Khursheed and Firdous (Khalifa Sajeer Uddin) arriving at Saad's wedding and being greeted by the SSG is an emotional one.  It's heartwarming to see how enthusiastically and respectfully all four men greet their old teacher and the importance bestowed upon him during the event brings tears to the eyes.  When the show first began, no one would have guessed that Khursheed and Firdous would play such an emotional part in the show later on – but they do.  And of course, third, it's sweet to see Saad's reaction to Captain Dr. Duaa on their wedding day, the surprise visible on his face at his wife joining the army as a doctor.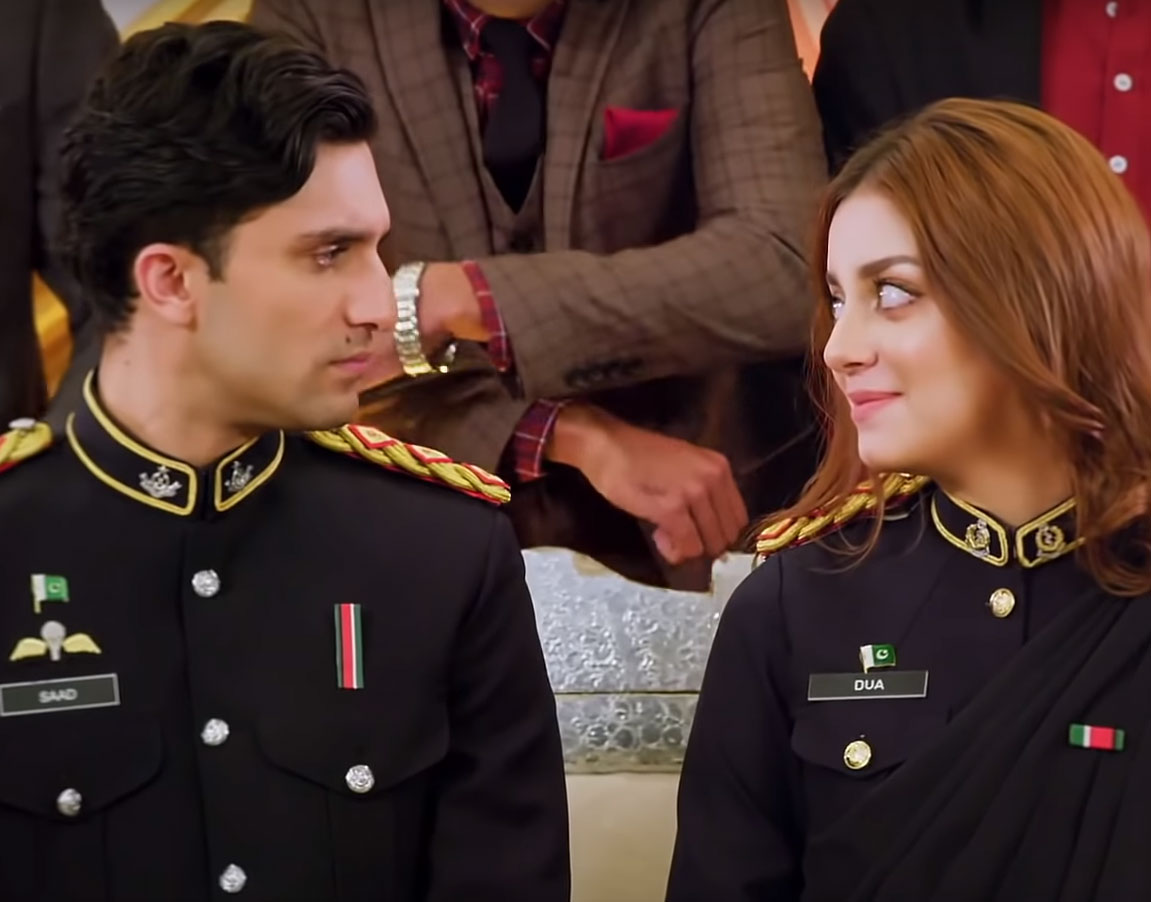 Saad and Dua at their wedding
Saad and Duaa's relationship has grown along with the show.  From Duaa simply being Saad's crush to their friendship turning into love and now, finally, into a relationship of husband and wife, their relationship is one that has progressed as naturally as a relationship can on-screen.  This is an on-screen relationship that depicts what couples should actually strive for and Saad and Duaa are a couple to root for.  With Saad's appointment in Kashmir just shortly after their marriage, is heartbreak in the cards?
Moving on, Shehryar (Ahmed Ali Akbar) is transferred after the situation with Firdous and Khursheed as retaliation and is coincidentally moved into Shahzain's (Osman Khalid Butt) area.  With hostilities building up between Shahzain and his brother-in-law, it's clear that Shahzain will use Shehryar as a pawn in this feud – something Shehryar will not be okay with.  Shehryar's attitude as Assistant commissioner is highlighted in a scene when, on his arrival, he is greeted by a band and many other poor workers.  Shehryar gently scolds the man, telling him to do justice to his talent and not waste it on things like this.  Shehryar is a character who is so well-written and his background always follows him, no matter how high up in ranking he grows.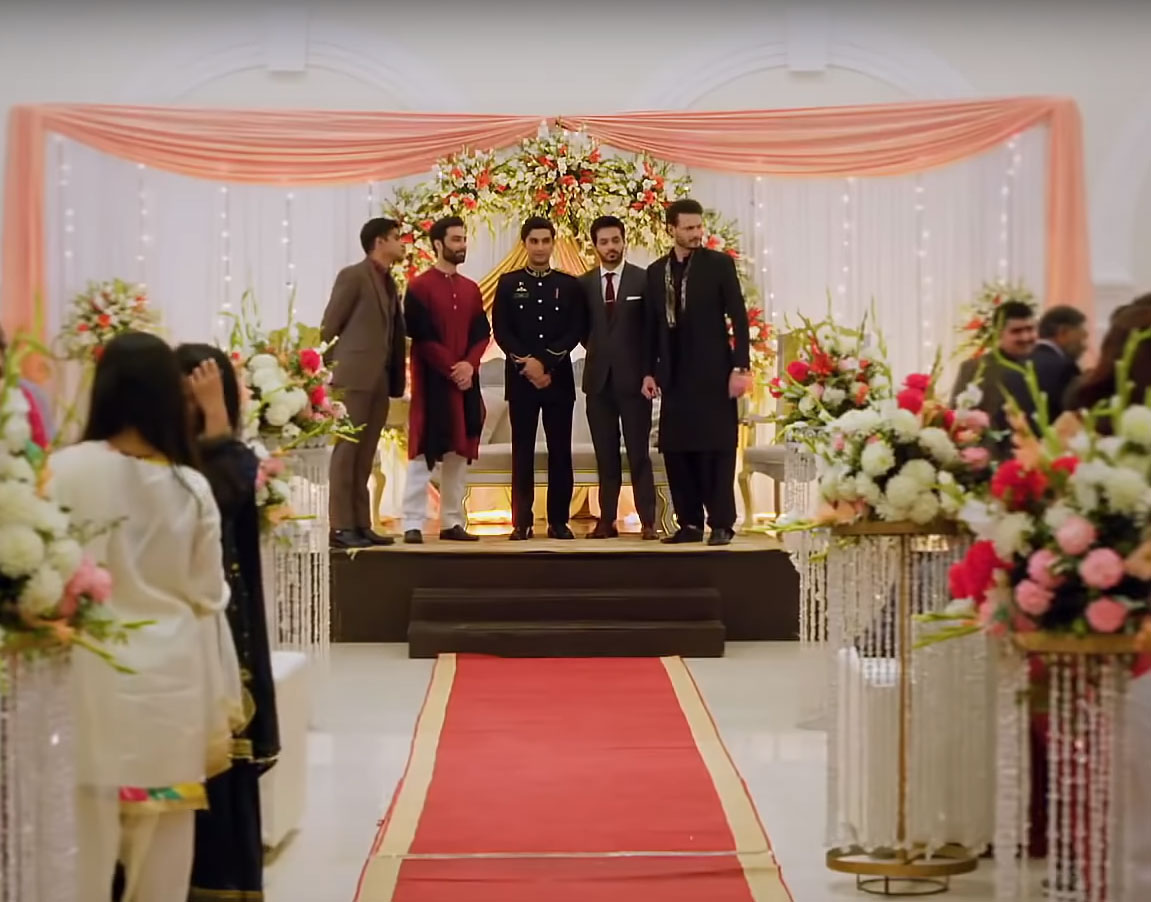 SSG reunites at Saad and Dua's wedding
When he sees those like his father, his heart softens and he really recognizes the plight of the poor man – and Ahmed Ali Akbar portrays Shehryar and his strength of character brilliantly.  Coming back to Shahzain, there's also a scene between Rani (Zara Noor Abbas) and her brother that becomes heated when Rani refuses to go against her husband.  When her brother reaches out to strike her, Shahzain protects Rani and removes her from the hostile situation.  While Rani and Shahzain's relationship has become more formal recently with Shahzain's change in attitude, it's a nice moment to see how he cares for her.
Ehd E Wafa is a show that continues to progress in a way that allows the viewer to really connect with the characters.  In the next episode, Shahzain will be shot, putting the SSG into gear.  Will Shahzain make it through?  The highlight of this episode is, by far, the connection between Saad and Duaa.  Ahad Raza Mir and Alizeh Shah share a chemistry that's so natural and realistic, they shine as an on-screen pairing.  With Saad headed to Kashmir, many viewers are dreading what could potentially happen next.  In the pre-cap, Duaa is seen telling Saad about her pregnancy.  Will Saad make it home to meet his little one?  With only a few episodes left, all eyes are on how this show will end.