TV/Streaming Reviews
Ehd E Wafa, Episode 13: Shehryar and Shariq Call It Quits With Shahzain
In Ehd E Wafa, the "SSG" officially falls apart when Shehryar and Shariq make it clear that their friendship with Shahzain is over after he treats them badly
"Ehd E Wafa" is a show that's refreshingly different from everything else on television.  Focusing more on the realities of life, this is a show that everyone can find some aspect to connect with.  Whether it's the army background, village life, the memories of college friendships or love, there's something for everyone in this show.  What there is not are the cliched, tiresome saas-bahu stories or melodramatic situations.  The issues in Ehd E Wafa can also feel heightened, but realistically so, which is what makes this show a winner with its viewers.  With the fight between Shahzain and Saad still ongoing, the group gathers in this episode for Shahzain's engagement – sans Saad.

Saad's Track
Saad is seen spending time with his platoon and the opening scene is endearing with the soldiers singing "Qarara Rasha" (Ismail and Junaid).  As the men sing about friendship, Saad (Ahad Raza Mir) suddenly remembers his own friends and watching Ahad in this scene is incredible.  His expressions are so natural, the viewer can feel the emotions Saad is going through.  The way Saad conceals his pain through his smile as tears well up in the corners of his eyes – Ahad Raza Mir deserves a hand for this subtle performance.  The boys compete for an international training, which is awarded to Saad.  However, judging from upcoming episodes, it seems as though Saad may give up the training in order to handle his situation with Duaa (Alizeh Shah).
Shahzain, Shehryar and Shariq
With the exception of Saad, the remaining SSG gather in Shahzain's (Osman Khalid Butt) for his engagement.  A singer is called for the pre-engagement festivities and is singing on his harmonium.  Excited to be there, Shehryar (Ahmed Ali Akber) and Shariq (Wahaj Ali) laugh at the singer's voice from inside and the boys talk about how much fun it would be if Saad were also there.  Hearing this, Shariq becomes angry and questions the loyalty of the boys.  Shehryar asks Shahzain if they are his lackies, unable to make decisions for themselves.  He tells Shahzain that Saad was upset because of their actions and they are responsible for that, not Saad.  Shahzain becomes angry but the boys put aside their differences for the event.  Sitting outside, Shariq and Shehryar are enjoying themselves.  Seeing this, Shahzain is overcome with anger, hearing Shehryar's words in his head, and he picks up the harmonium and breaks it, leaving everyone in shock – particularly the poor harmonium player/singer who was playing free of charge.
The stand-out scene of the episode is when Shehryar hugs the singer, consoling him over his broken harmonium.  It's a simple thing, but Shehryar shows his character here, caring for a man in whom he sees his own father.  The son of a "band waala," Shehryar understands this man's plight all too well and it's here where his disconnect with Shahzain truly begins.
The next day, the day of the engagement, Shahzain is angry when he discovers Shehryar spoke to Malik Allah Yaar (Mohammed Ahmed), his grandfather, about the incident with Saad.  He has the help ask Shehryar to leave and Shariq confronts him over this.  After a war of words, Shariq tells Shahzain that it's time to end their friendship, leaving Shahzain in tears.  Shariq has also had enough being caught between his two "richer" friends who cannot handle their egos and storms off to leave with Shehryar.  Wahaj Ali is also a natural in his role as the peace-making, uncontroversial, diplomatic Shariq.  This is funny, because his career demands controversy and he delivers – but he cannot do it in his friendships.
Shahzain gets engaged to Rani, but he feels empty without his friends.  Osman Khalid Butt takes Shahzain through one hundred emotions in this episode and portrays them all brilliantly.  The viewer fluctuates from wanting to slap Shahzain to wanting to hug him.
Closing Thoughts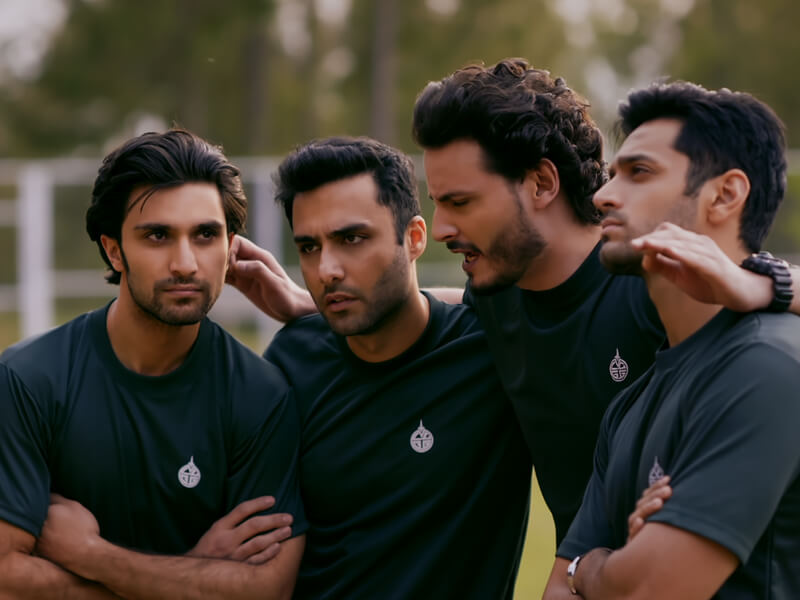 What's interesting about the "SSG" is that, at present, their friendship almost comes across as a toxic friendship.  Saad is unable to let go of his resentment towards Shahzain.  Shahzain is unable to forget the humiliation Saad put him through.  And Shehryar and Shariq are no longer willing to be caught in between their two friends, unwilling to be their "lackies."  With the four friends officially parting ways, it seems the focus of the show will now temporarily move to the individual life growth of the characters once again.  With Shehryar's character progression, Ahmed Ali Akbar deserves to have a couple of episodes dedicated to his storyline as well now and it seems as though that's set to happen in coming weeks.  With Saad and Duaa's relationship being discovered by her possessive cousin, the next episode promises to be an interesting one.