TV/Streaming Reviews
Ehd E Wafa, Episode 12 : The Divide Between the SSG Continues to Grow
In Ehd E Wafa, Osman Khalid Butt, Ahad Raza Mir, Ahmed Ali Akbar and Wahaj Ali's characters continue to grow apart as life moves on
Life isn't easy and everyone has their own priorities that are important and while we don't like to say it, those priorities can put a lot of things in the backseat, including family – so why wouldn't friendships suffer?  While the "SSG" have been thick as thieves in the past and sworn to always uphold their friendship, things took a sour turn when Shahzain and Saad had a falling out, a falling out made even worse when Shahzain proposed to Saad's love interest, Dua, as revenge. With Saad unwilling to forgive or even give Shahzain an ear to hear his explanations, Saad and Shahzain continue to be at odds.  However, with life progressing, suddenly Shehryar and Shariq have also grown tired of pacifying the two, choosing instead to deal with their own life circumstances.
There's a very realistic exchange between Shehryar (Ahmed Ali Akbar) and Shariq (Wahaj Ali) in this episode.  The two discuss their friends and their fight, but Shehryar tells Shariq to stay out of it.  Speaking maturely, Shehryar tells Shariq that they are not the rich friends of this group and they have to focus on their families and futures – they cannot afford to chase after Saad and Shahzain, especially since they themselves are not willing to patch up.  Ahmed Ali Akbar and Shariq are very earnest performers and their characters have gone through a lot of personal growth in the past handful of episodes post-college, which has been depicted well by the two actors.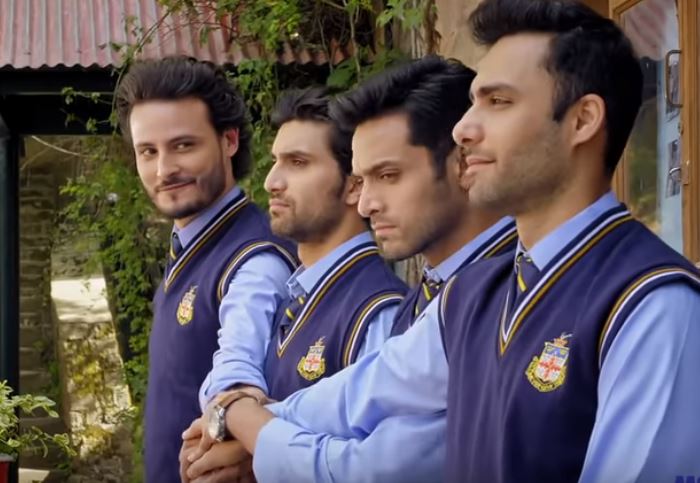 Osman Khalid Butt, Ahad Raza Mir, Ahmed Ali Akbar and Wahaj Ali in Ehd E Wafa
Saad's (Ahad Raza Mir) track continues to focus on his life in the academy.  Admittedly, these scenes are highly entertaining, despite the lack of any true storyline in these scenes to propel them forward.  The cadet with the separated parents came across as a realistic situation, relevant in today's times and the way it was handled brought a smile to the face.  Stories like these are welcome on our screen.  Ahad Raza Mir is an absolute natural, of course, but honestly, it's Adnan Samad Khan who manages to steal the show during the scenes at the academy with his witty humor and charismatic presence.
Coming to Shahzain (Osman Khalid Butt), the track between Shahzain and Rani (Zara Noor Abbas) has become quite the highlight of the show.  It's refreshing to see "gaon ki ladkiyan" depicted in a realistic way and not as the shy, demure, unconfident stereotype that's generally presented on our screens.  Rani is a talkative, confident, carefree girl who knows how to manipulate her way to happiness.  And somehow, it's sweet to see how easily she manages to lure Shahzain into her "trap."  This is a pairing that promises to give us entertaining scenes once the two finally come together.
Overall, the show continues to be an entertaining one that keeps the audience interested.  If there's one criticism that could be made, it's that the stories are too widespread – all four boys are in different places, in different professions – and while this could be in the favor of the storyline, bringing the boys together in an exciting story, it would be nice if their paths could start crossing more often now.