News
Eateries in Dubai For Every Occasion You HAVE to Check Out!
Dubai local Emma Ali dishes on the top restaurants and eateries she loves to visit for every special occasion!
They love traveling, love hosting and they know their food really well. Dubai jet-setter Emma Ali shares her passion for food with us in this questionnaire - take notes and feel inspired to treat your taste-buds!
Favourite food memory:
So many of them! I travel quite a lot and enjoy varied cuisines, so a lot of my favourite foods are attached to travel memories such as laughs with my best friend in Borneo, having the tastiest roti kanai and curry for breakfast or even the simplest yet most delicious pasta with butter and sage in Bologna. Having said that, my grandmother's roast hunter beef has a special place in my heart. At our annual summer cousin reunion at my grandparents' place, it would be easy to get lost in the crowd but she would make the roast and tell everyone that they could only have some, if I said they could! Made it taste even better!
Favourite restaurant/s in Dubai:
Wakame in Sofitel Hotel Downtown: It really has some of the best food I have ever tasted. We take all our guests there.
Hakkasan, Atlantis. The food is fabulous but it's probably the service which draws us there again and again. Barry always makes us feel special.
Finally, I've just discovered Skafos in Zabeel House Al Seef. The food tastes phenomenal and the setting, by the Creek, is so lovely. I hosted a private dinner there last month and all my guests loved it.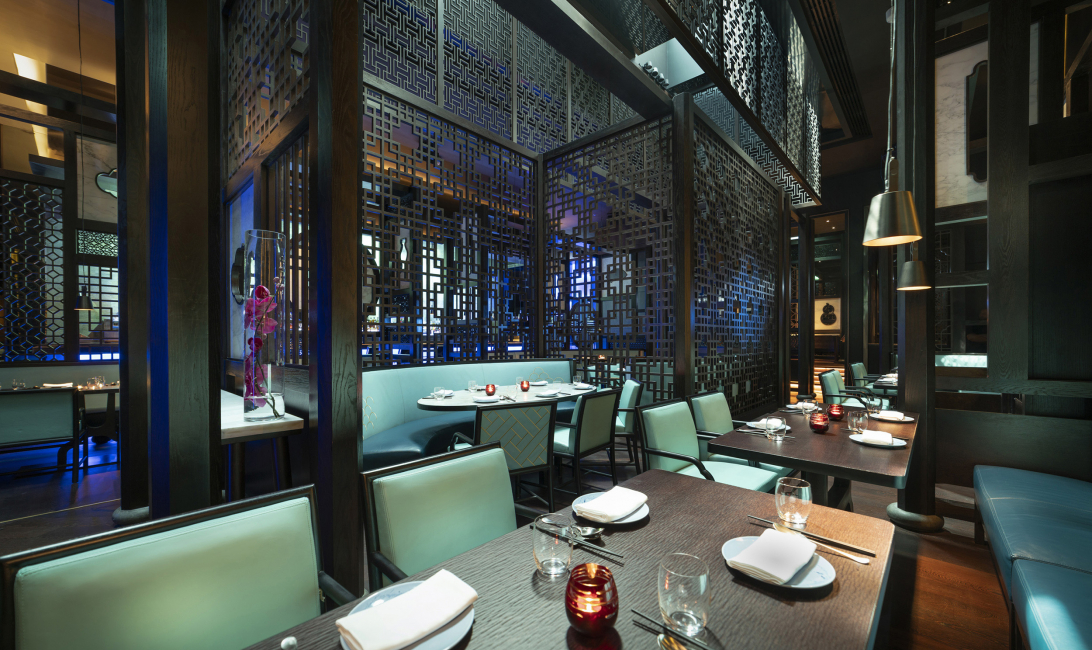 Hakkasan
Treating special guests for a fun brunch or dinner:
If not Hakkasan, then probably somewhere like Tresind where the whole menu is so unique that the food becomes the entertainment.
Memorable/exotic dining experience outside of the UAE:
One of the funniest was when we went whale watching in the Azores Islands. We were there for 8 days and on day one, we realized that the local cuisine was not for us. We struggled through most of the week without complaining since the place was so beautiful but food is such a big part of our travels, we were definitely a little disappointed. On the last day we found a tiny, random little restaurant. We really didn't really expect much from it, we thought we will have some bread and tea and enjoy the view. We ended up ordering the garlic prawns, home made bread and a seafood pasta and it was literally one of the tastiest meals we have ever had to date! It was around the corner from our hotel and we could have been eating there every day!
If you were to host at home, what would the menu read like:
I do host dinners at home once in a while for a small group of close friends and when I do, I always cook myself. It generally revolves around traditional Pakistani food. I'm known for my yukhni pilau and my Haleem. I make a dish that I remember my mother always made at dinner parties which is fried aubergine with a yoghurt sauce over the top which has roasted zeera and kaffir lime leaves. I also make a very simple masoor daal which goes down well. I love to do a roast chicken with the different vegetables around it. Apart from that there would be a good big salad and some home-made green chutney. That would be my basic dinner party menu!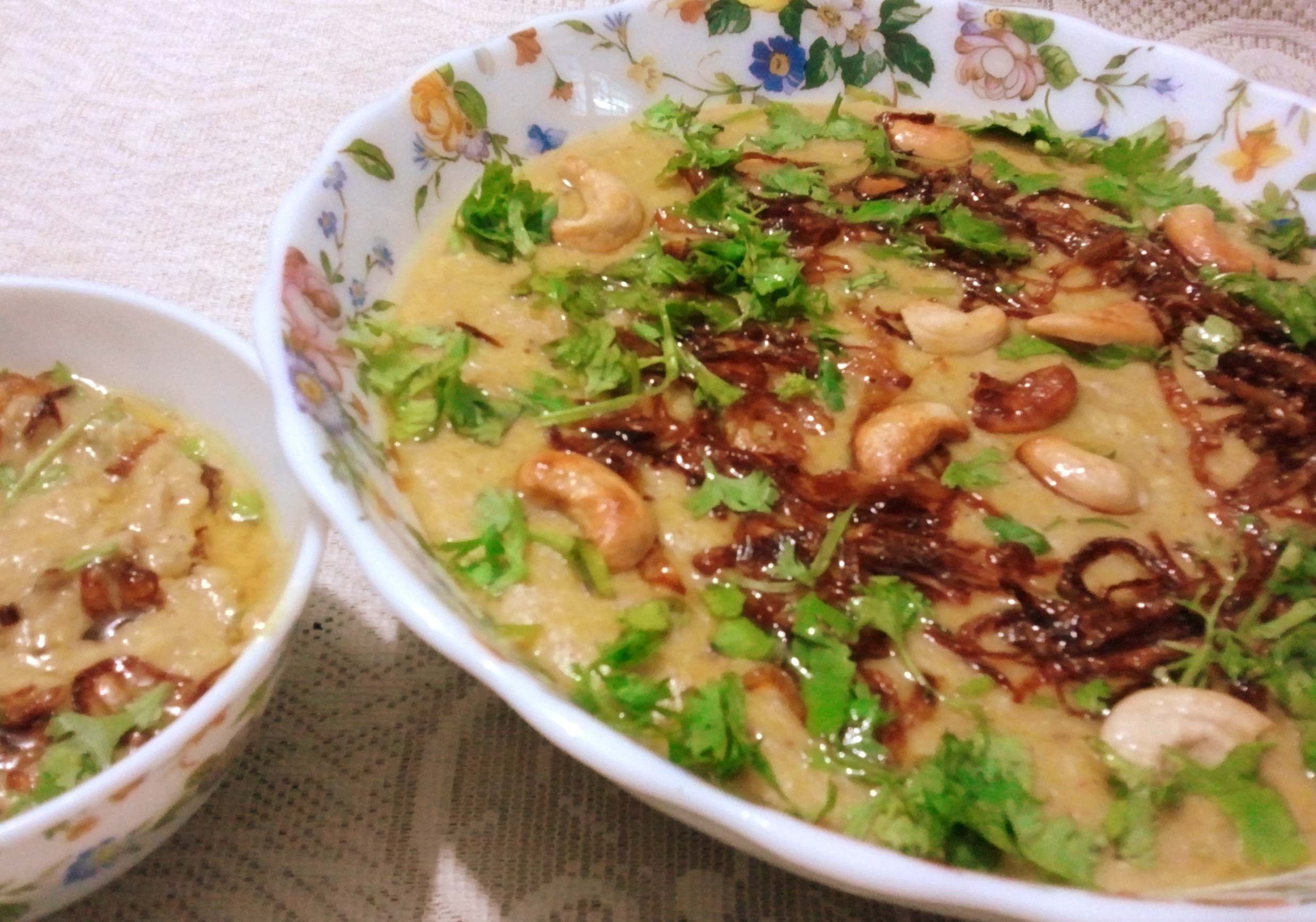 Haleem
Celeb chef crush:
I met James Martin once during Jumeirah Restaurant Week. We went in a group of girls and we were thrilled when we saw James mingling with guests. But he visited every single table except ours! In the end one of my friends couldn't help herself and she went storming upto him and asked him why. He was mortified, said he thought we were having a girls' night and didn't want to be disturbed! He then ended up sitting at our table and we had the most time with him so all was well in the end.
My celeb chef crush has to be Gordon Ramsay, he scares me a bit but his food always looks amazing! Also as I'm a huge fan of Masterchef Australia, I love the 3 guys who host, Matt, George and Gary. Would love love love to be in one of their masterclasses.
The weirdest thing you have eaten:
I guess you could say brain but that's a common dish in Pakistan. It's yummy, tastes like creamy, spicy scrambled eggs
Food guilty pleasure:
Anything with bread. Probably the French toast in LPM is something I would eat anytime no matter what diet I'm on
A gem/hole-in-the-wall eatery you would recommend:
Yes! The Crab Shed is a tiny restaurant which is actually inside another tiny restaurant called Happy Egg on Umm Al Shief Road in Umm Suqiem. They mainly have one dish on the menu which is a kind of cajun, spicy crab dish served with seafood, corn on the cob and rice if you want. There are no plates, they put down a plastic table cloth over the whole table and give you aprons and gloves and they pour the food across the whole table and you eat with your hands. It is delicious and highly recommended!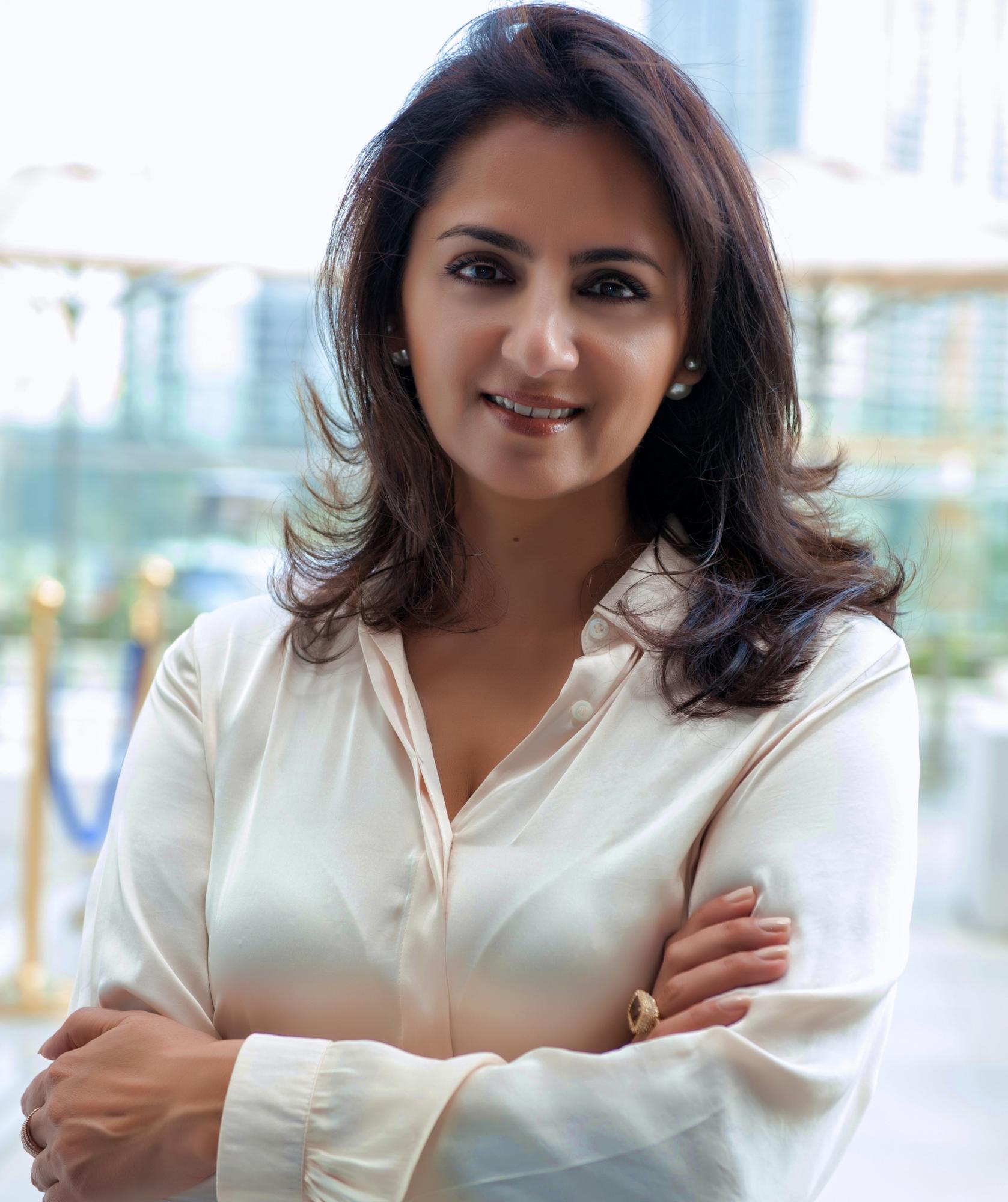 Emma Ali
Emma Ali is the Founder and Managing Partner of Adlink Advertising & Pr.