News
Dubai School Bullying Video Goes Viral, Students Suspended
A video showing an incident of bullying at a private school in Dubai went viral on Monday and was viewed 30,000 times, causing concerns about students' safety
An incident of bullying at a private school in Dubai is being investigated after a video went viral on social media, leading to much anger and criticism, especially from parents. Twitter user Jwahr (@highdadyy) shared the video which shows a female student hitting another female student and pulling her hair. The bully can be heard threatening the victim about consequences if she tells anyone about the incident. Sharing the 57-second clip, Jwahr wrote, "#khda #DubaiPolice retweet this and mention the khda #reptonschool it all happened in repton school and no one deserves to be treated like that…"
Responding to the tweet, Repton School Dubai wrote, "Thank you for spreading awareness about bullying, this behaviour is certainly unacceptable. We can confirm these students are not from Repton. Senior Leaders are trying to find out where this incident has occurred. In the meantime could you please remove the tweet with our name?"
Private school regulator, Knowledge and Human Development Authority (KHDA), also responded to the tweet, saying, "We agree, this is unacceptable. Has the school been made aware of this? Please can you DM us details of the school, grade, and students' names, or any other details you may have. Thank you."

Another Twitter user, Alia (3alya_ms) wrote, "@KHDA this is 'GEMS world academy school Dubai' ! This is not acceptable at all you should deal with it as soon as possible! Actions should be taken!"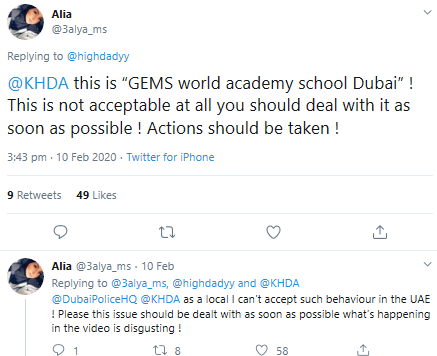 A spokesperson from GEMS Education Group, responding to the tweets and video, wrote, "Thank you for writing and alerting us to the video. We have been aware of this for two weeks. A full investigation was conducted. Two students have been withdrawn from the school and there were five suspensions. All the students in Grade 7 have been spoken to and letters have been sent to all parents in Grade 7. It was a relatively isolated incident and contained to a small group of students." The video has opened up a discussion on bullying and the safety of students in schools, and how it needs to be tackled.