News
Dubai Ferry: Here's How You Can Avoid Traffic When Travelling To Sharjah
Dubai Sharjah Ferry offers an alternate route to commuters travelling between the two emirates. Check out the details below
Many residents of Sharjah work in and travel to Dubai on a daily basis. Those trying to avoid traffic congestion on the roads can take an alternate route and reach their destination more quickly. The Roads and Transport Authority (RTA) has a ferry network, which runs 42 ferry trips between the two emirates every day. The journey takes around 35 minutes. Commuters can use Dubai's Al Ghubaiba Marine Station and Sharjah's Aquarium Marine Station to make the inter-emirate journey. From Sharjah, the first ferry leaves at 7 am and the last one leabes at 7:30 pm. From Dubai, the first ferry begins its journey at 7:15 am and the last ferry one at 7:30 pm. 
In the mornings, the ferry runs every 30 minutes until 9 am. Between 9 am and 4 pm, it runs every 90 minutes. After 4 pm, it again runs after every half an hour. The service operates seven days a week.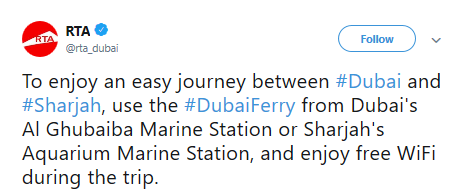 On Fridays, the operating hours are from 2 pm to 8:45 pm, with a ferry leaving every hour. A journey on the silver class costs AED 15 while on the gold class it costs AED 25. Children and people of determination can travel for free. 
The waiting areas in Sharjah are air-conditioned and in Dubai, passengers have easy access to the metro stations. They can also enjoy free WiFi during the trip. The Dubai Ferry currently has five ferry terminals, including Al Ghubaiba, Dubai Marina, Dubai Canal Station, Al Jadaf and Sheikh Zayed Road Station. A terminal was opened in Al Mamzar in October 2014 but closed later due to lack of demand. Since November 2016, ferry services have started using the Dubai Canal, running trips from one terminal to another, for the convenience of tourists.