Celebrities
Dua Mangi Case Update: Father Nisar Ahmed Mangi Thanks Supporters for Her Safe Return
Dua Mangi Case Update: Dua Mangi was a law student from Karachi who was abducted by unknown men outside a popular food joint in Karachi
Dua Mangi, the girl abducted from Khayaban e Bokhari Karachi is now back home safe and sound. Her father Dr. Nisar Mangi is a professor doctor. He took Facebook to thank the people who supported the family during these hard times. In his note, Dr Nisar Ahmed Mangi wrote, 'By the grace of God and blessing of the loving people of Sindh, people of Pakistan and friends from all over the world, my daughter Dua Mangi reached home safely, I am very much thankful to friends from media, especially civil society who helped us in these tough circumstances and shared their feelings with my family.'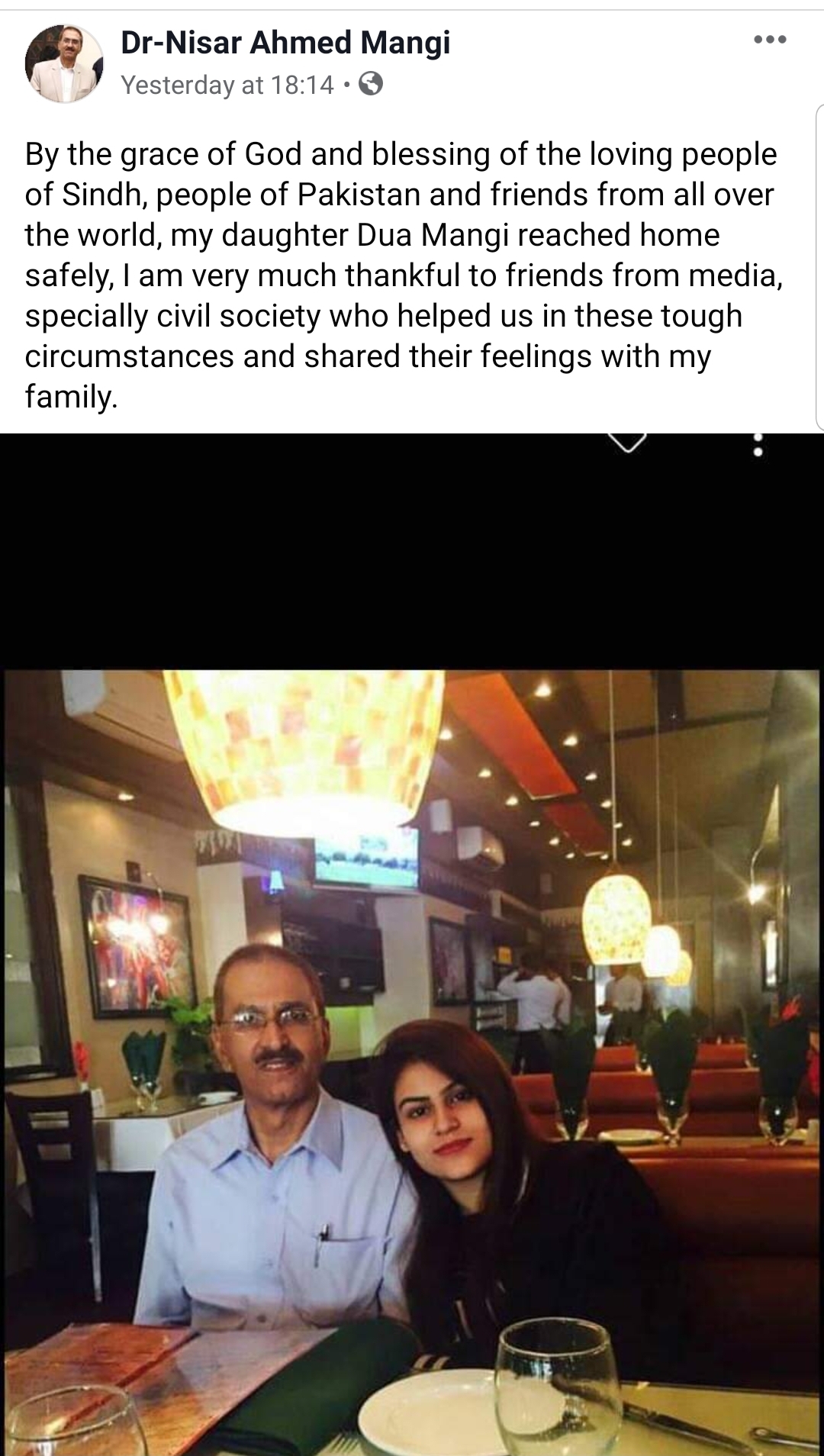 He also posted a picture with Dua Mangi taken during good times.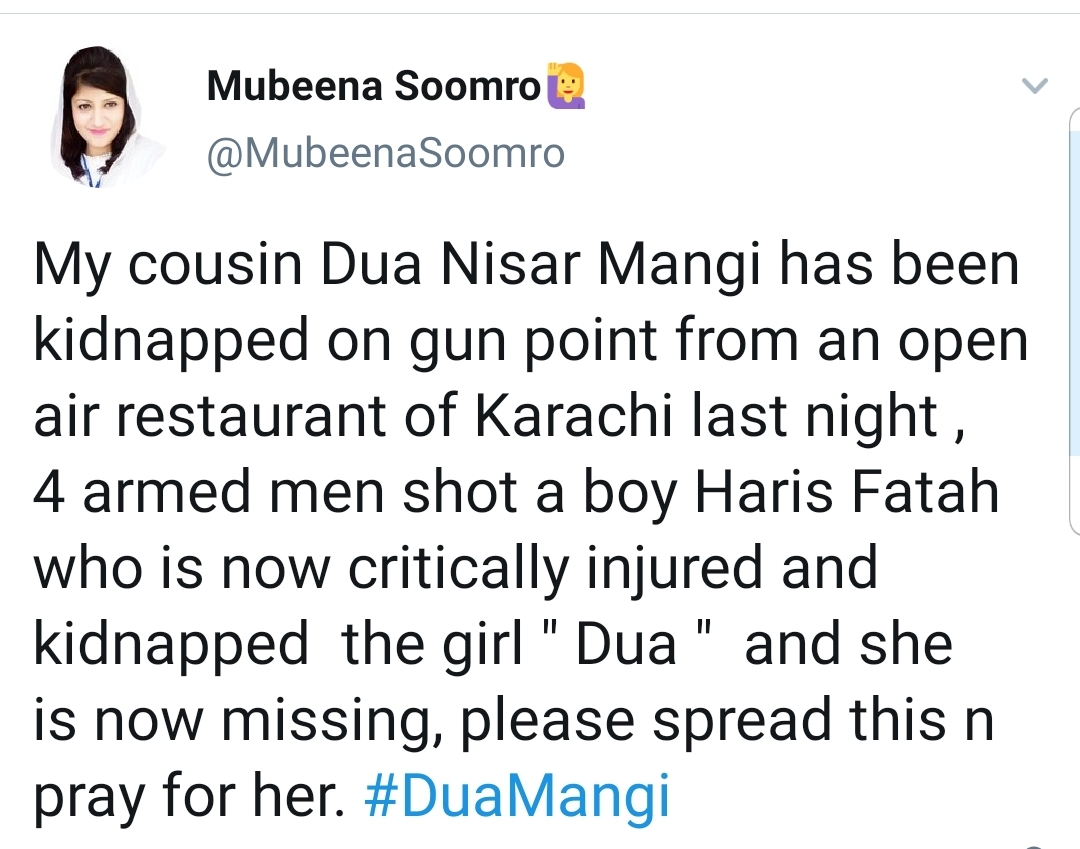 Dua Mangi was abducted outside a famous tea joint in Karachi as she was walking with her friend Haris Fatah Soomro. Unknown men in a black car (stolen from PECHS Karachi) forced Dua Mangi into that car. Her friend Haris Fatah tried to resist but was shot in the neck by the kidnappers. Haris was admitted to Agha Khan University Hospital on the account of serious injuries. The bullet shot at the neck had penetrated into Haris's chest.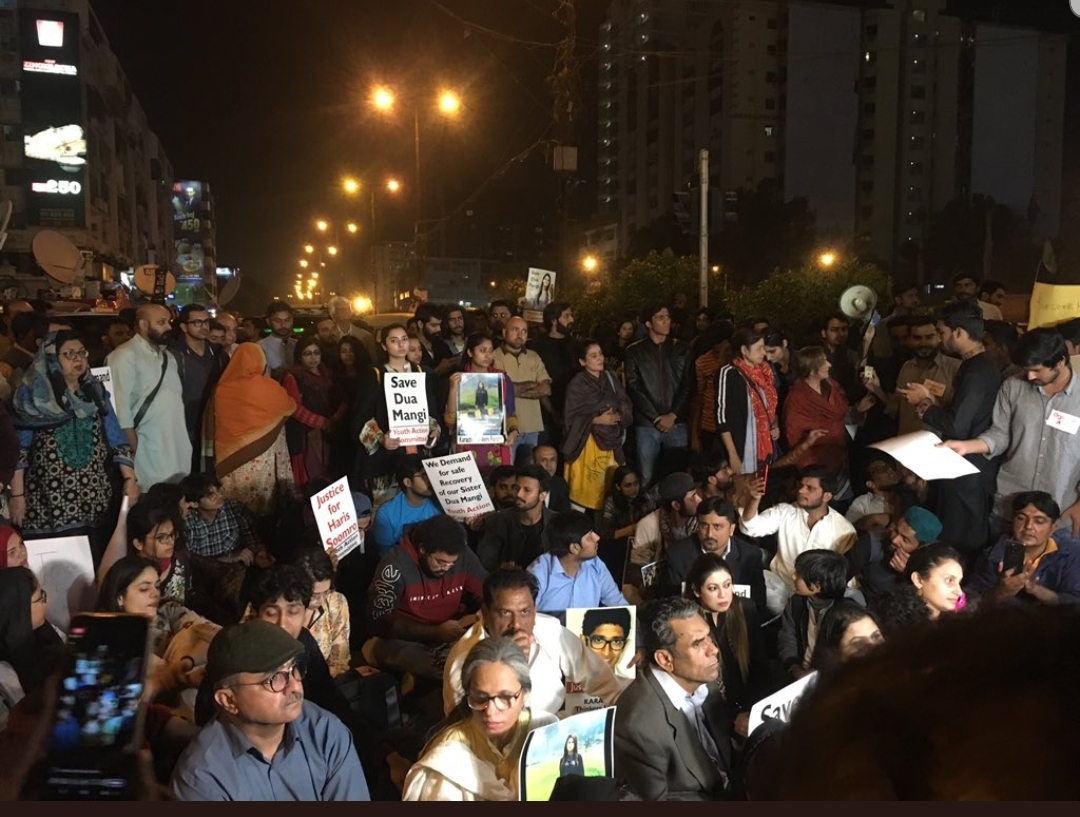 The social media and civil society came forward to protest against Dua Mangi's abduction.
An FIR was launched against unknown men. 22 witnesses from family members and friends recorded their statements as well. Although there was news of the abductors demanding ransom for Dua Mangi's release, no concrete details were furnished. The police also suspected a man from the United States who had been pressurizing and threatening Dua Mangi to marry him. Dua Mangi's father had also accused a man named Muzaffar because Dua once had a fight with him and was abducted shortly after that. Dua Mangi was a law student who studied in the US for some time but returned back to Karachi.