Celebrities
Dua Lipa at AMAs: Singer Thanks Background Dancers for Their Energy
Dua Lipa recently performed at the Americal Music Awards and gave a stellar performance on her song Don't Start Now.
Dua Lipa rocked the American Music Academy Awards night with her famous number 'Don't start now.' In the electrifying performance, she shared the stage with 24 background dancers who added more energy to Dua Lipa's performance. The model turned actress dressed ina a red and black sick costume also kept her hair tightly away from her face in a ponytail as she set the stage on fire with her new hit number.   She took Instagram not only to post a glimpse of her performance but also took this opportunity to thank her background dancers in a  heartfelt note.
Dua Lipa wrote, 'Don't Start Now at the @amas thank you to all 24 girls that shared the stage and shared their energy with me. All your hard work and efforts, all that dancing in the canteen till showtime and all the hours in rehearsals don't go unnoticed... you girls truly shined! Thank you to my wonderful and hardworking team'
Her performance showed Dua Lipa's oozing confidence as she and the background dancers dressed in silver danced around cube-shaped tables. Towards the end of this performance, many silver balloons showered like rain from the theatre roof.
'Don't Start Now' is the lead single from Dua Lipa's upcoming album. The song debuted at No, 30 in the Hot 100 list of the week. Since New Rules and One Kiss, this is Dua Lipa's third song to reach this popularity on charts. 
Just a few weeks ago, Dua Lipa was in Mumbai with Katy Perry  to perform at the OnePlus Music Festival happening in Mumbai on November 16th, 2019. This festival showcased some of the most talented musicians from all over the world. Accompanying Dua Lipa and Katy Perry on stage were Amit Trivedi and some alternative bands in India. It was Dua Lipa's second trip to India.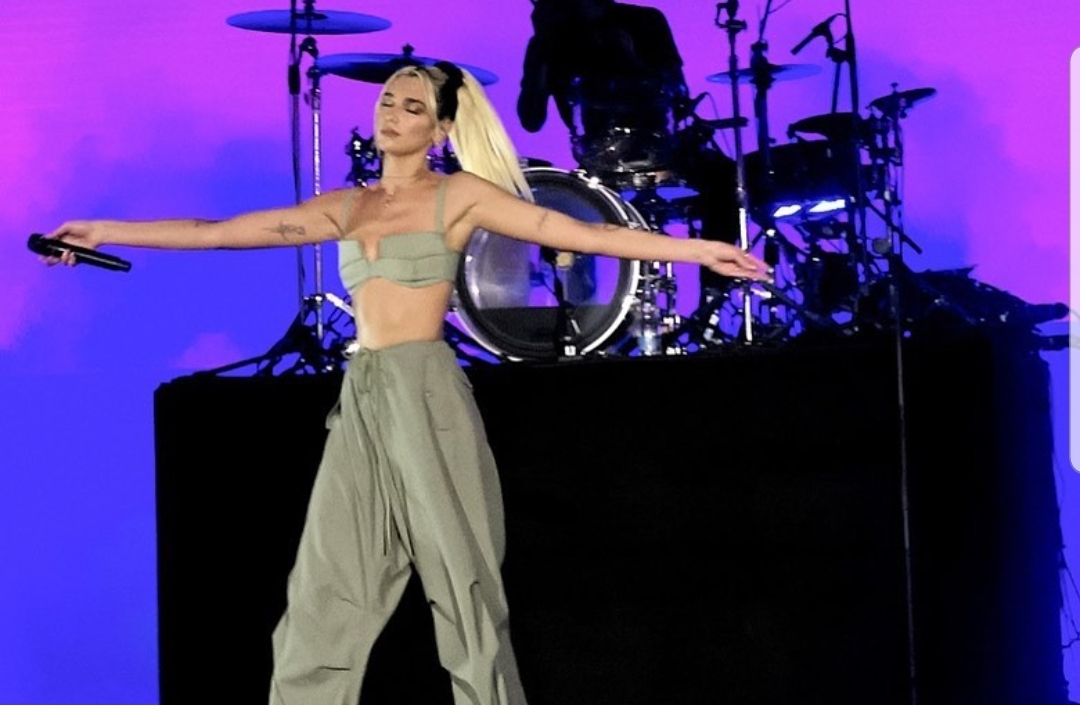 Dua Lipa on stage
Born in 1995, Dua Lipa started her career with modeling and later ventured into singing.  However, her first love was always singing. At the age of 14, Dua Lipa had started posting the covers of her favorite songs. She was first signed by Warner Music Group who released her first song 'New Love'. In no time, Dua Lipa released her debut album in 2017 and soon started topping the UK charts. Her songs 'Be the One', 'One Kiss', and 'New Rules' have been greatly popular among the masses. Dua Lipa is the recipient for three BRIT Awards and two Grammy Awards.