News
Drive-In Cinemas: New Trend in UAE
As other forms of entertainment continue to be on lockdown, UAE cinemas have started drive-in theatres. See more details below
Coronavirus or Covid-19 has impacted life all around us. Everything that we previously took for granted, something as simple as visiting a friend's house or going out for groceries, is nothing less than a challenge now. The United Arab Emirates began a sterilization program once coronavirus cases in the UAE began increasing and authorities shut down malls, parks, gyms, schools and offices. As the sterilization program is now shifted to after 10 pm, some establishments are now allowed to reopen with restrictions. Cinemas are still not on the list so far, however, UAE has begun drive-in cinemas in some places.
A cinema in the UAE screened a film in a mall and perhaps this could lead the way to more cinemas and malls following suit.
Mall of the Emirates Drive-in cinema pic.twitter.com/4GJZlf3IDw

— Moavia ali (@MoaviaAlii) May 12, 2020
Drive-in cinemas across the world have been dwindling but they used to be quite the rage back in the day.
You CAN social distance at the cinema! 1950s-style drive-in movie theatre will tour the UK this summer https://t.co/VGeWsIhd2I

— Daily Mail U.K. (@DailyMailUK) May 12, 2020
Coronavirus brings first drive-in cinema to Iran since they were banned in 1979 revolution https://t.co/zBuImfznhZ

— Indy World (@IndyWorld) May 12, 2020
According to research by the New York Film Academy, the first drive-in cinema, which was patented, was opened on June 6, 1933, whereas in the 1910s, drive-in cinemas were already established. The patented one was opened by Richard Hollingshead in New Jersey. It was initially to bring appeal to families and Hollingshead had advertised his drive-in as a place where "The whole family is welcome, regardless of how noisy the children are."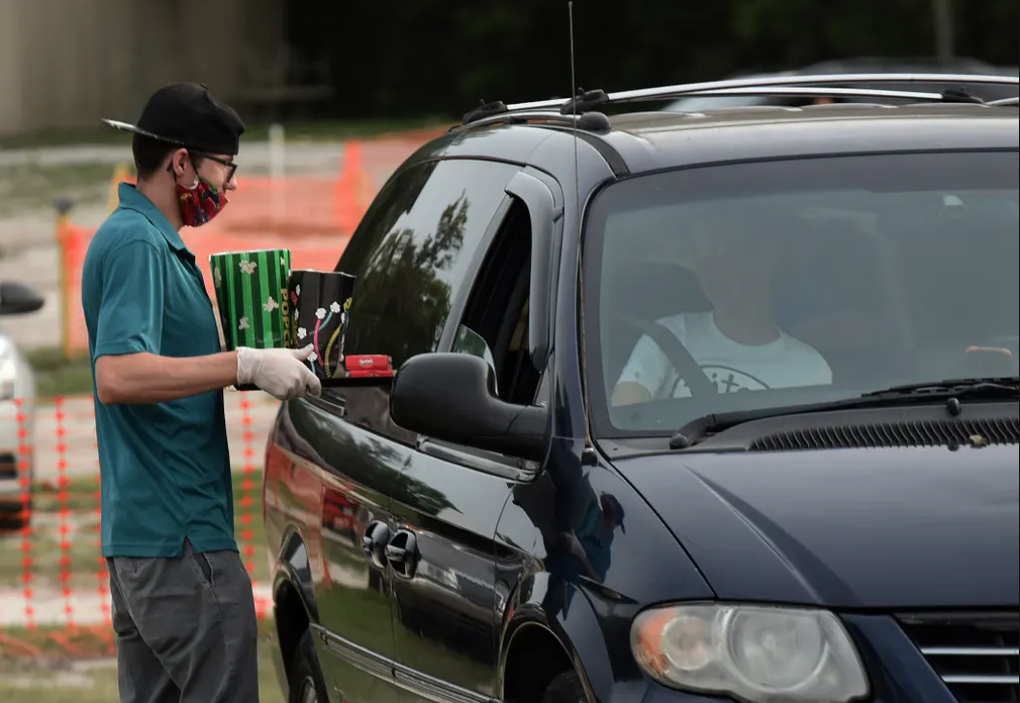 In a picture shared by the Guardian, waiters brought food and beverages to customers while practising social distance in Ocala, Florida. (Picture taken by Paul Hennessy/Sopa Images/Rex/ShutterstockSOPA Images/REX/Shutterstock shared via The Guardian).
Coronavirus has hit all parts of the world economy including cinema. The Chinese film industry lost 2 billion dollars already by March 2020 and North America saw the lowest box office weekend (in March 2020) since 1998. Bollywood has incurred $330 million in lost box office revenue according to trade experts. One hopes that drive-in cinema can bring back some, if not all, sorts of financial revenue to the industry.