Bollywood News
Dostana 2! Karan Johar Picks Kartik Aaryan and Janhvi Kapoor for Sequel
Karan Johar shared a cryptic post on his instagram and hinted at a Dostana sequel and fans had a field day with it. Could it be Dostana 2 with Janhvi Kapoor?
For years Karan Johar has kept people guessing whether his 2008 film Dostana starring Priyanka Chopra, Abhishek Bachchan and John Abraham would get a sequel or not. But his recent post on Instagram which plays the 'maa da ladla bigad' track in the background has led to netizens believing that the slapstick comedy film may get a sequel after all. Karan recently took to his instagram to post this video.
Tarun Mansukhani directorial Dostana was loved by the audiences. Even though the film opened to mixed reviews at the box-office, it gained a cult following over the years. The film was based on two friends Abhishek Bachchan and John Abraham who pose as a same-sex couple and try to win the affection of the same girl played by Priyanka Chopra. Karan Johar, the head honcho at Dharma Productions took to his Instagram page announcing a project. The 
Rumours are rife that while Abhishek, John and Priyanka won't be seen in the second outing of Dostana, Rajkummar Rao and Jahnvi Kapoor have been approached for the same. While Dostana was helmed by Tarun Mansukhani, he won't be returning for the sequel. It is also rumoured that while Dostana had two male leads, the sequel will have two female leads.
Currently, as per Karan's post, the film stars Kartik Aaryan and Jahnvi Kapoor.
Fans had earlier guessed when Karan had posted the cryptic post a day ago.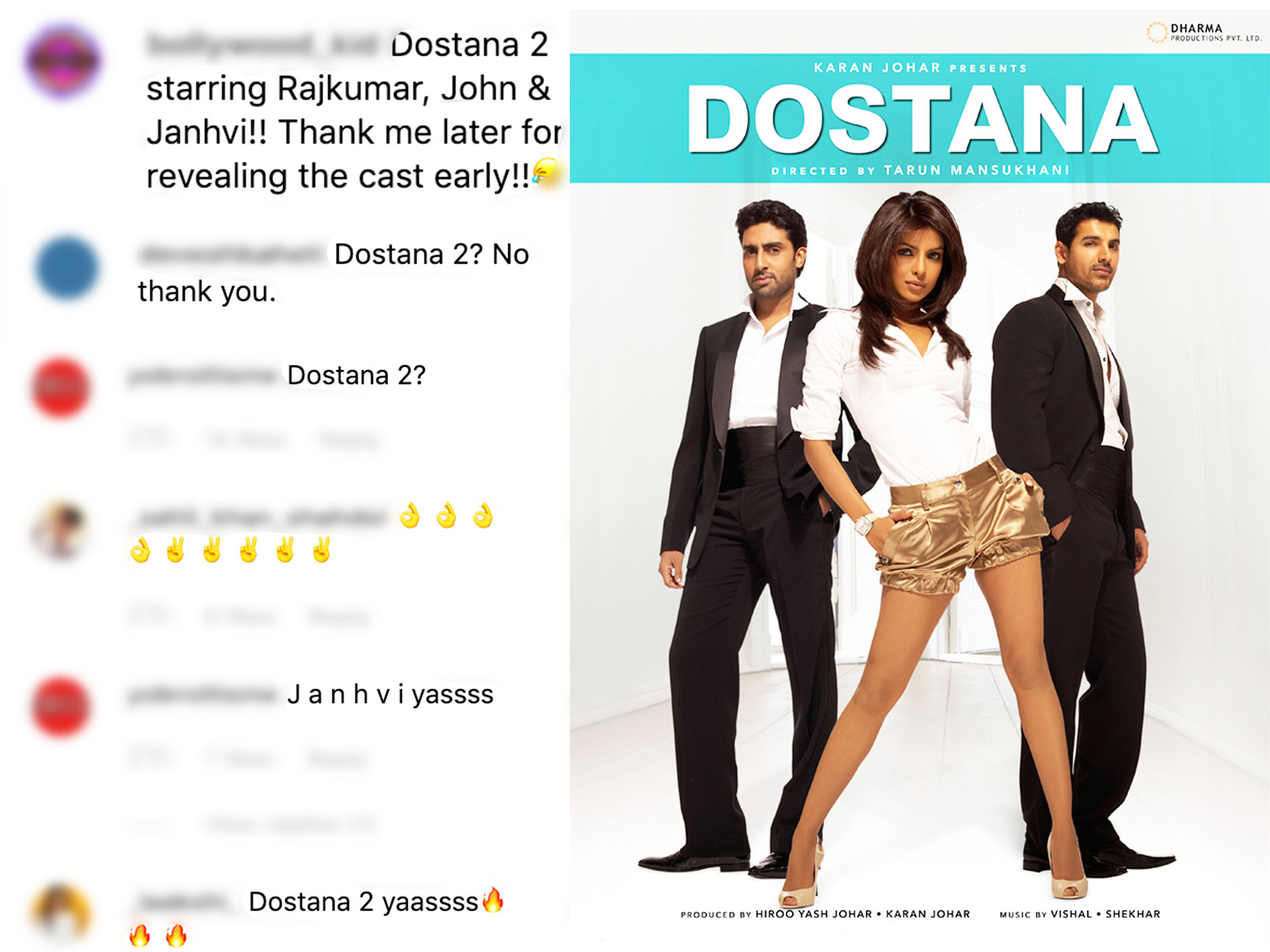 Dharma also announced their project 'Guilty' which will be spearheaded by their digital arm 'Dharmatic'. The Netflix film stars Kiara Advani in the lead role and will see her play a hipstah in the film. The movie is based on the story of Kiara as she accuses a Rockstar and a college heartthrob of rape. The film will be presented from the point of view of the heartthrob's girlfriend. After Lust Stories this will be the second film to be produced by Dharma for Netflix. The film will be directed by Ruchi Narain and is set to go on floors in the coming days.