Sussanne Khan has posted a very emotional note for Hirithik Roshan indicating firmly that they have come together again.  Though they might not be getting back as a married couple but Sussanne might have indicated that they are back as a couple by saying that Hrithik will always be the sunshine in her life.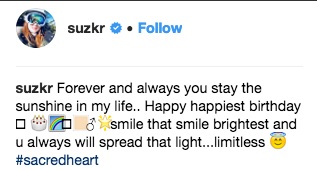 Sussanne has always firmly thrown her weight behind Hrithik Roshan when the Kangana Ranaut controversy was raging like a bushfire. It is because of her, a lot of public swayed in favour of Hrithik Roshan. Besides supporting Hrithik through thick and thin, Sussanne has never openly professed love for him, except for now!
Does think mean that the two might get back together? We wish!
For all the latest Bollywood News and gossip, follow us on Twitter & Instagram, like us on Facebook and subscribe to our channel YouTube. New videos up every day!
Comments