Bollywood News
Did Karan Patel ACTUALLY Shoot a Consummation Scene With Divyanka Tripathi In Front of His Wife?
The Yeh Hai Mohabbatein actress speaks up
Remember that ridiculous report a few days back which raised quite a few eyebrow? Yes, we're talking about an article that had said that actress Ankita Bhargava, Karan Patel's wife, will reportedly be present on the sets of TV show Ye Hai Mohabbatein to witness the shooting of the consummation scene between the show's lead pair — her husband and actor Karan Patel and actress Divyanka Tripathi! 
Apparently, that is all utter nonsense, as Divyanka Tripathi has lashed out on social media. The actress tweeted: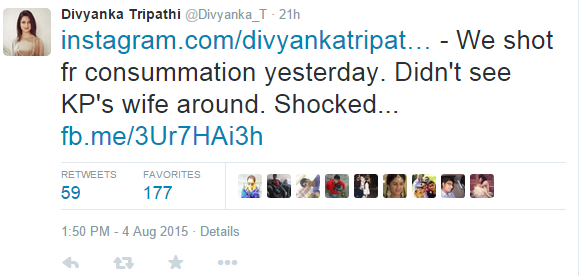 It is pretty evident from the tweet that Divyanka was quite miffed with the earlier report and it also looks like the said scene has already been shot without Karan's wife Ankita hanging around the sets!
Well, it is good to know that some actors out there are truly more secure than the media gives them credit for.