Bollywood News
Did Aishwarya Rai Bachchan's Team COPY Sonam Kapoor's Style at Cannes? Here is Their Response!
A lifestyle website reported that Aishwarya Rai Bachchan's team of stylists reportedly copied SOnam Kapoor's Cannes look from 2016!
Now, this is a fashion fight we didn't see coming! A massive controversy has broken out after a section of the media accused Team Aishwarya Rai-Bachchan of copying the garment of Sonam Kapoor at the Cannes Film Festival. For one of her recent looks at the 72nd Cannes International Film Festival, Aishwarya and her team of stylists were reported to have copied Sonam Kapoor's Cannes look from 2016 by a lifestyle website.
Here are the controversial photos where the fabric and design of the two divas do look similar. However the actresses wore the saree differently.
Ash:
Sonam:
As soon as the reports emerged, Aishwarya Rai's team of celebrity stylists, Aastha Sharma, assisted by Reann Moradian, Malvika Tater and Shannon Tanwani came ahead and responded to the false claims. In response to the article, Reann Moradian posted an Instagram story declining any connection between the two attires. She wrote, "No, boo. This isn't the same outfit. How about you wait for full-length images to come out before making assumptions? I feel the research should have been done from your end."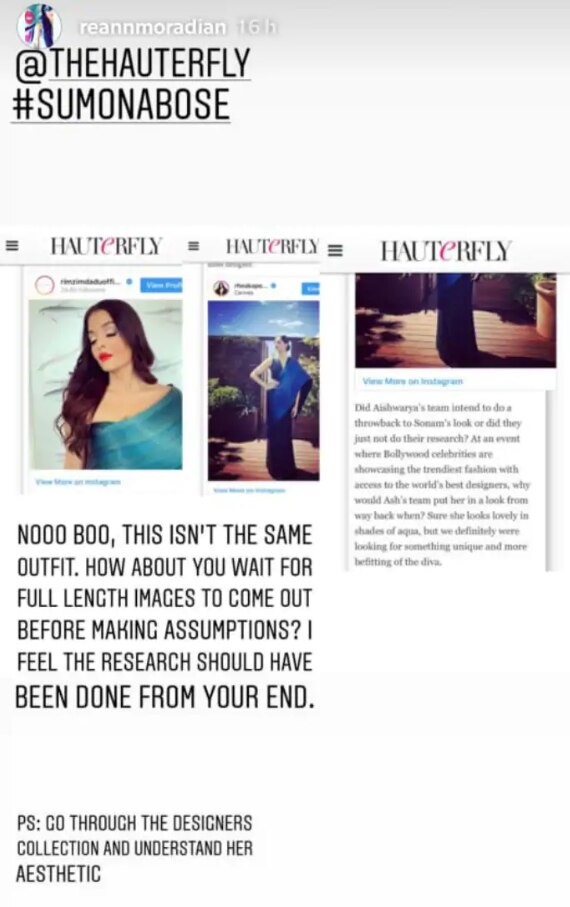 India Today reports that Aishwarya Rai Bachchan wore a metallic blue Rimzim Dadu outfit that had a similar colour palette to that of Sonam Kapoor's 2016 attire. Rimzim Dadu's label is known for experimenting with textures and with metal wire outfits and is a hit among celebs across the world.
Aishwarya Rai has been one of the regular faces at the Festival de Cannes red carpet. The Guru actress made her first appearance in the year 2002. Sonam Kapoor too has been walking the red carpet regularly at the festival since the last few years. We wonder what the stars have to say about it!