Bollywood News
'Dhadak' Movie Review: Here's What Celebrities Have to Say About Janhvi Kapoor's Debut Film
Do Janvhi Kapoor and Ishan Khatter pass the test? Find out here!
Dhadak, an adaptation of the Marathi superhit Sairat is easily one of the most awaited releases this year. The last few days have seen its mail leads, Janhvi Kapoor, daughter of the late Sridevi and Boney Kapoor, and Ishaan Khatter, Shahid Kapoor's younger brother, go around the country promoting the film. With Karan Johar at the helm, producing the film, the expectations are naturally sky-high. After all, wasn't he the magician who gave us Alia Bhatt, Varun Dhawan and Sidharth Malhotra in Student of the Year? 
Interest in Dhadak has also sky rocketted because of Sridevi's tragic death earlier this year that has resulted in a lot of attention on Janhvi Kapoor. So far, the young lady has impressed one and all with her poise and grace. The trailer that released a few weeks ago received a mixed response because people compared it to the original and this film was accused of 'glamorising' Sairat. Of late though, Ishaan and Janhvi have been at pains to explain that it's not a scene to scene remake but more like an adaptation. 
While Dhadak's fate will be decided by the public tomorrow (July 20, 2018) when it releases in India and the UAE, celebrities already had a chance to watch the film at a special screening. And their verdict is unanimous - Janhvi and Ishaan have exceeded expectations and the film has all the signs to be a blockbuster. Here are the early tweets... 
Anil Kapoor was maha-impressed with his niece 

Anil's one-time co-star Madhuri Dixit 'truly loved' it 

Hair stylist Aalim Hakim felt Janhvi and Ishan were 'brilliant'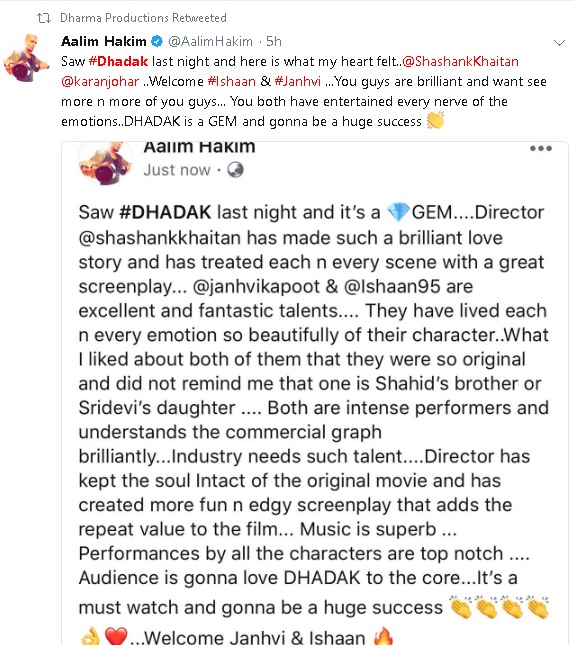 TV actor Arjun Bijlani found it 'outstanding'

This is what Vishal Dadlani and Sneha Rajani had to say 


However, a note of caution was sounded by trade analyst Sumit Kadel who said the advance booking wasn't so strong 

But another trade analyst Amod Mehra was more optimistic 

Of course, the lead cast and the makers would be hoping for reviews like this one below by a Twitter user