Deepika Padukone's Selfie with Meghna Gulzar and Shankar Mahadevan is Breaking the Internet
By Saadia Ahmed Saturday, 09 November 2019
Deepika Padukone is currently working on director Meghna Gulzaar's film 'Chhapaak' which will be releasing on January 10th, 2020.
Deepika Padukone will be essaying one of the most complicated yet fulfilling roles of her life in Meghna Gulzar's film 'Chhapaak' where she will be seen essaying the role of an acid victim. Deepika Padukone started her career with modeling and to date is considered one of the most accomplished and glamorous actresses in Bollywood. Her style statements and beauty have always been an example to follow for many of her fans.  When Deepika shared the first look of Chhapaak, it came as a major surprise for most of the people as they had always seen her looking perfect from head to toe in the films. Chhapaak, hence, proved that Deepika Padukone had evolved as an actress who was willing to come out of her comfort zone.
Chhapaak is in progress and Shankar Mahadevan, who is giving the music of Chhapaak, recently shared a picture with Deepika Padukone and director Meghna Gulzar. In the power-packed selfie, the three could be seen smiling together. Deepika Padukone could be seen makeup-free wearing a black hoodie as she flashed her smile and dimples for the camera.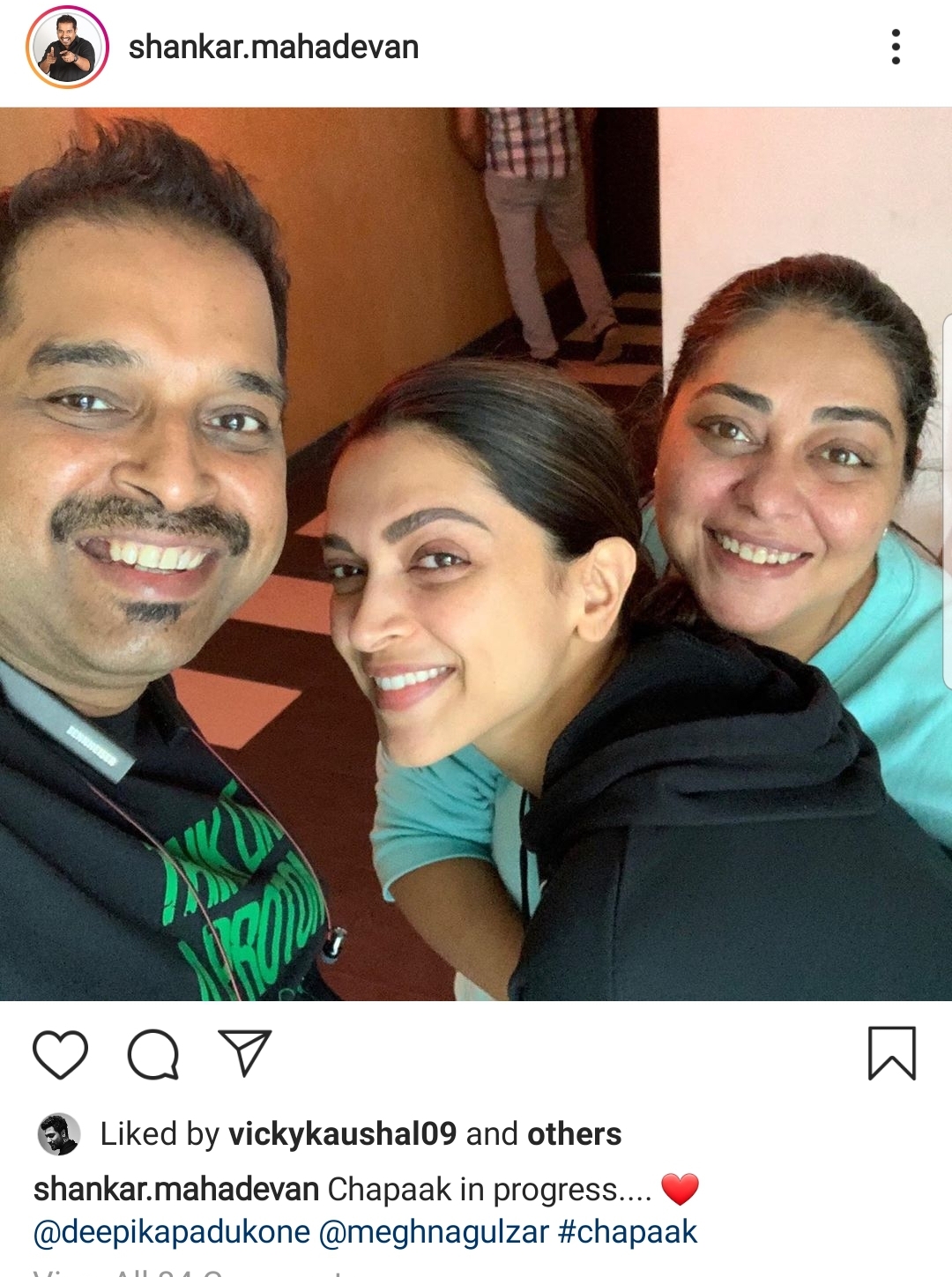 Not only did this make their fans happy but the director par excellence Rakeysh Omprakash Mehra also expressed his excitement to see the trio saying, 'The best 3 - creating magic - can't wait to see Chapaak.'
The social media comments were positive just like the radiant picture.
'Expecting great emotional masterpieces yet again..'
'It is going to be a amazing!'
'I'm waiting for watching the Deepika's movie'
'Love this picture. All of you look adorabe'
Deepika Padukone was born to the famous Badminton champion Prakash Padukone and wanted to become a Badminton player like her father. She also played at the national level but it was only after she modeled that she realized her major interest was in modeling. She left home at the age of 16 to create a mark in Mumbai where she barely knew people. She made her Bollywood debut with Shah Rukh Khan in his film 'Om Shanti Om' in 2007. Since then, Deepika Padukone has never looked back.
For all the latest Bollywood News and gossip, follow us on Twitter & Instagram, like us on Facebook and subscribe to our channel YouTube. New videos up every day!
Comments