Bollywood News
Deepika Padukone Votes and Clears the Air About Her Nationality
Deepika Padukone posted a selfie with her inked finger and cleared the air about her nationality
There had been many rumors about Deepika Padukone being a Danish national since she was born in Denmark. She was often listed among the number of celebrities who would not vote. However, Deepika cleared the air recently when she went out to vote and said on her instagram, "Never has there been any doubt in my mind about who I am or where I'm from. So for those of you confused on my behalf... please don't be! Jai Hind!"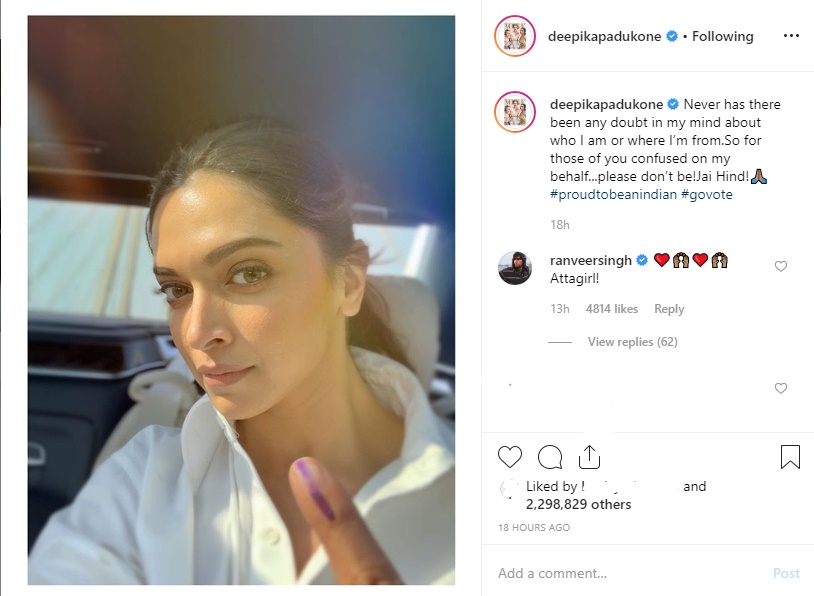 Deepika's husband Ranveer Singh was also quick to support his wife and said, 'Atta girl' to her under the post. The couple has always supported each other on social media and this time was also no different. When Ranveer Singh announced that he is launching his independent music record label company 'IncInk' Deepika had offered nothing but support to her husband.
According to a report in KoiMoi, in a video online, Deepika said: "I hold an Indian passport... from where do you get this information anyway." She was later interrogated about her being born in Denmark a bit further from the media after which she responded, "But I still have an Indian passport. There's a lot of complication and I am very much an Indian, a proud Indian citizen."
Husband Ranveer Singh also voted and posted a selfie.
Deepika is to be seen in Meghna Gulzar's Chhapaak soon in which she appears as an acid attack survivor 'Malti'. The film is said to be based on the life of Laxmi Agarwal, a young woman who was attacked by acid due to refusing a proposal.