Deepika Padukone Drops the Truth About Marriage to Ranveer Singh on Instagram
By Masala Web Desk Monday, 16 September 2019
Deepika Padukone has some marriage truths for husband Ranveer Singh on Instagram and we can't help but realize how real their marriage is. Check out Ruby Rose's comment!
Deepika Padukone and Ranveer Singh are a power couple. There's no doubt that they're absolutely adorable when together. Whether it's onscreen or offscreen, Deepika and Ranveer's interactions are the cutest. When it comes to online PDAs, Deepika and Ranveer also have been slaying the couple game. When Deepika was prepping for Chhapaak and when Ranveer was prepping for ;83, both couples dropped lovely and heartwarming messages to each other on their social media.
A Couple That Jokes Together, Stays Together:
Deepika Padukone is currently working on a story which is based on the real life acid attack survivor Laxmi Aggarwal. The film is called Chhapaak and is helmed by Meghna Gulzar. Set to release in January 2020, the film will be an eye opener on the tale of acid attack victims. When Deepika had shared the first look of her film as an acid attack survivor called 'Malti' Ranveer Singh was all praise for Deepika.
Similarly when Ranveer had posted about his musical venture IncInk, Deepika was full of praise for her hard working husband. Deepika is also going to be joining Ranveer in the upcoming film '83, in which Ranveer plays the legendary cricketer, Kapil Dev. The power couple got married in 2018 in Italy in a private ceremony. They hosted a number of receptions in India to which they invited the media and prominent personalities.
Marriage Memes A La Deepika Padukone:
The couple's marriage will soon be a year old and now Deepika has recently posted on her instagram about marriage and sleeping habits. Two rabbits are talking to each other and one says to the other, "I want to wake up with you for the rest of my life." The other rabbit says, "I wake up at 5 a.m," to which the other replies, "Never mind". So who is the early riser here!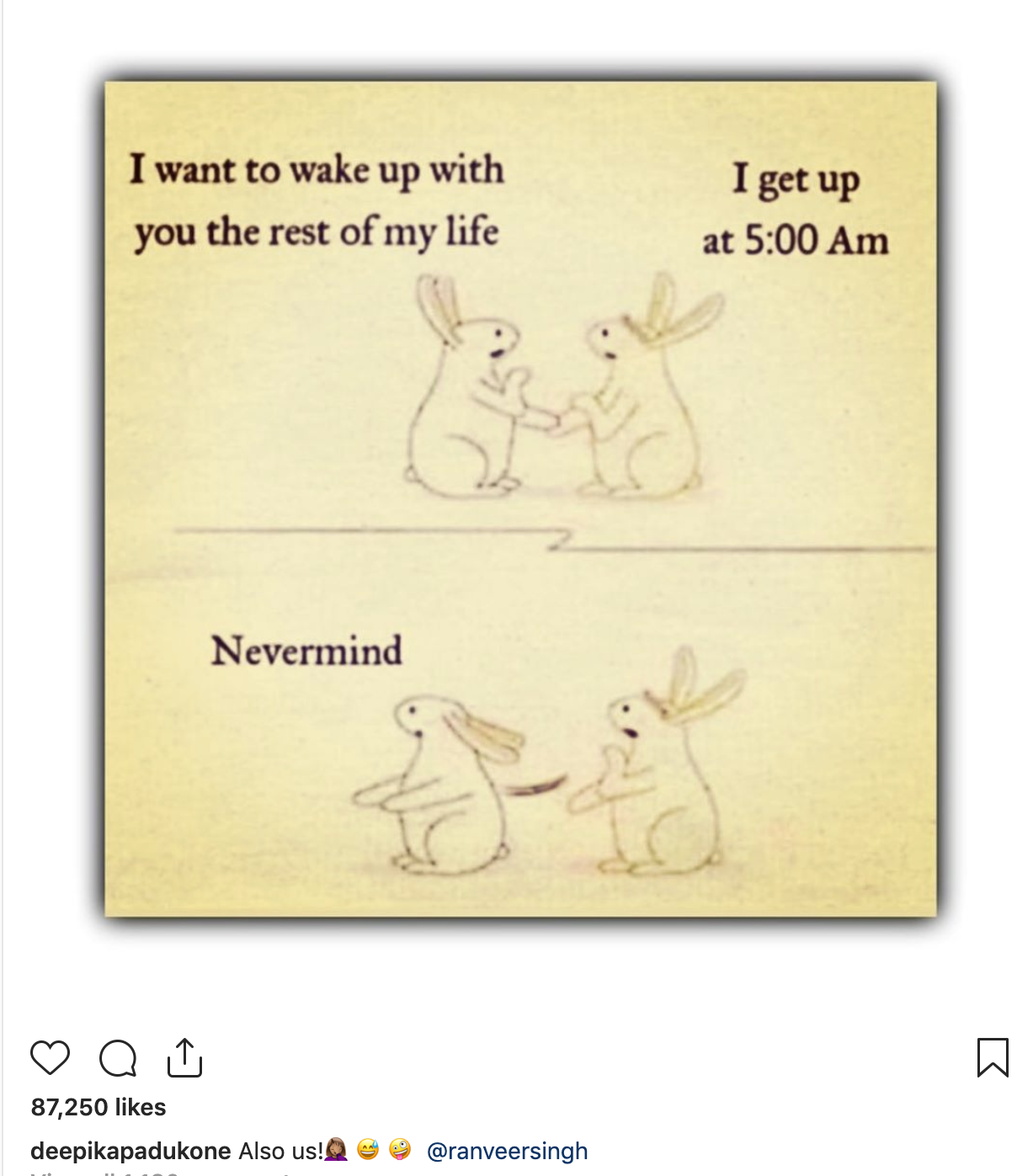 Deepika Padukone's post for Ranveer Singh
The post also garnered a response from popular television and film actress Ruby Rose who said, "My dogs this morning." Eek.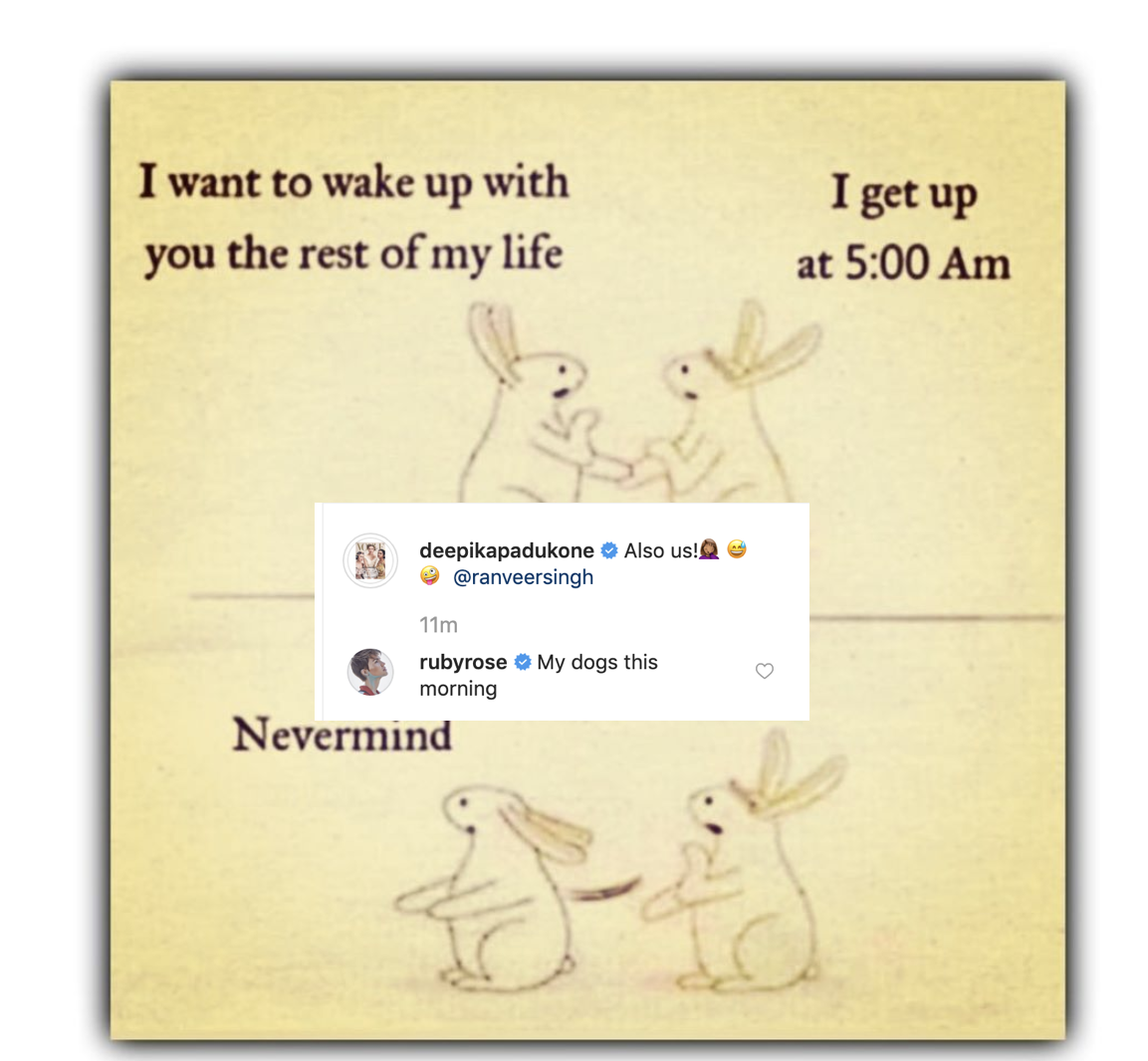 Ruby Rose's hilarious comment on Deepika Padukone's post for Ranveer Singh
What's not to love about this couple? And the international attention they get! The couple began dating when they were acting opposite each other in Sanjay Leela Bhansali's film Ram Leela. They later appeared together in two more Bhansali films, Bajirao Mastani and Padmaavat. Deepika Padukone and Ranveer Singh together are one of the most influential people in India and on social media, thanks to their joined star quotient. And with real quips like these, it just shows you why their fanbase won't stop growing!
For all the latest Bollywood News and gossip, follow us on Twitter & Instagram, like us on Facebook and subscribe to our channel YouTube. New videos up every day!
Comments