Bollywood News
Darbar Movie Review: It's Flooded With Rajinikanth And Missed Opportunities
Darbar Movie Review: Here's what our reviewer thinks of Rajinikanth starrer Darbar
Movie Name

Darbar

Director

A. R. Murugadoss

Actor

Rajinikanth, Nayanthara, Nivetha Thomas, Suniel Shetty, Yogi Babu

Rating

Rating 3/5 Stars
Rajinikanth is on a film-signing spree. He's already started shooting for his next and that's definitely great news for his fans. And, of late he seems to be experimenting with the kind of scripts he chooses to work on. That's surely going to be another feather in his ageing career. But his Darbar isn't exactly an old wine in a new bottle. It's an old wine in an old bottle and the only difference is in the amount of charisma he brings to the table. That's why when there are dull moments in his films, it becomes hard to watch him waddle through those portions.
Petta's opening moments were purely aimed at drawing out whistles from his fans. And Darbar doesn't follow that method. There, the actor had the opportunity to revisit his classics (the movies that made him the superstar he is today) and it appeared as though he was having the time of his life. Here, however, he's on another mission. Commissioner Aaditya Arunasalam (Rajinikanth) is encountering rowdies of all scales. He wants to extract answers from somebody, but he doesn't exactly know whom he can play that good-cop-bad-cop game with. Journalists quickly brand him as a mad cop and you, seated in your comfortable push-back chair, know that the movie has just begun.
The emotional turbulence in Darbar rests on revenge – Petta's narrative, too, had a similar concept as its backbone. Aaditya is not gunning down the rowdies for fun, or to entirely get rid of Mumbai's baddies. He's lost somebody in his life recently, so he wants to get to the bottom of it. When the colorful, "Chumma Kizhi," pops up immediately after the plot is set up, the tension in the air comes down. It's a Rajinikanth film, after all. You won't be hearing gun sounds alone throughout the run time. For comedy, there's Yogi Babu, who plays a faithful sidekick, and, for background score, there's Anirudh. Unfortunately, most of the tracks didn't work for me. The festive-cheer, upon which some songs are designed, is blatantly missing and there's just one star-actor who's trying to cover for all those vacant spots. Of course, there's Nayanthara (as Lilly), but her role is more like an extended cameo appearance.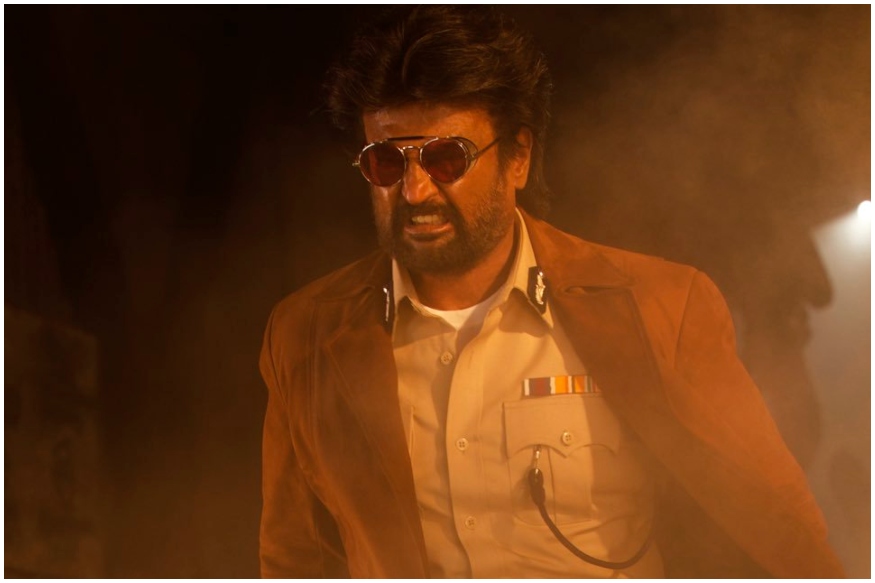 Aaditya, as the Police Commissioner of Mumbai, has only two goals in his hand and they are: 1. to cut off all the chains that supply drugs to the city of dreams; 2. to rescue trafficked women. On paper, it might come across as a mammoth task, but in the hands of the newly appointed Commissioner, it's as easy as getting a candy from a shop around the corner. This particular kind of raciness in the writing holds a major chunk of the first half together. And the scenes where Aaditya plans to eliminate a business tycoon's son to finally put a lid on the drugs are grandly executed. He, naturally, has an upper hand in the proceedings and things simply fall into place according to his wishes.
But that's also the problem with mass-market films. The hero keeps winning till a point, and then faces a setback, which sometimes puts him in a disadvantaged position. Nevertheless, he comes back with the strength of a thousand elephants in the climax. It's a formula that not many people have dared to reimagine. Writer-director Murugadoss uses this same three-bit formula without tinkering it in most of his movies, and this habit of his has made his characters predictable. The prime antagonist of Darbar, Hari Chopra (Suniel Shetty), is super-weak in front of the hero. I'm not talking about his physical strength here. All I'm pointing towards is the way his character has been written.
It's dangerous – and stupid even – to place a gun in the villain's hand and make him say that he'd rather kill the protagonist with his bare hands. Why would men, who don't hesitate to butcher their friends, throw away a brilliant opportunity to kill, or at least slightly injure, their nemeses during a battle sequence? It happened in the Hindi film War, where Saurabh (Tiger Shroff) shot at his own boss and let go of Kabir (Hrithik Roshan) in the third act. Saurabh could have easily shot Kabir down and escaped happily without having to worry about anything. It happened again in last month's Kannada release, Avane Srimannarayana – here, though, the silliness goes up a notch as not one person in the two dozens of goons think of maiming  Narayana (Rakshit Shetty) for a moment. In fact, he walks out of the confrontational scene with a smile.
If the screenplay allows the hero to get cornered by the villain's vileness, there should be something bigger and better than a raucous fistfight to get the former home safe. That said, I pretty much enjoyed how Aaditya takes the age-gap he faces with Lilly with more than a pinch of salt. If this movie had released a decade earlier, there wouldn't have been any comments on it and the two of them would have danced to a romantic song in Switzerland. Now that the times have changed, heroes can't just dye their hair black and act half their age. They've to reach for stars that are farther away!