Bollywood News
Daniel Shravan: Indian Filmmaker Says Rape is Not Serious, Advises Women to Cooperate
A small-time Telugu filmmaker Danial Shravan has drawn a lot of criticism on social media following his post on legalising "rape without violence." Learn more
An Indian filmmaker Daniel Shravan has invited a lot of backlash after he posted a message in favour of rape on his social media pages, following the horrific gang rape of a vet in Hyderabad, India. In his post, Daniel said rape is not a serious crime but a "corrective punishment" and suggested legalising "rape without violence." He also advised women to cooperate and carry condoms with them. He wrote that the "agenda" of rape was to fulfill the sexual needs of rapists (men or women) based on the time and their mood. As expected, his post (which he has now deleted) has led to a lot of outrage from Indian celebrities, journalists and the public: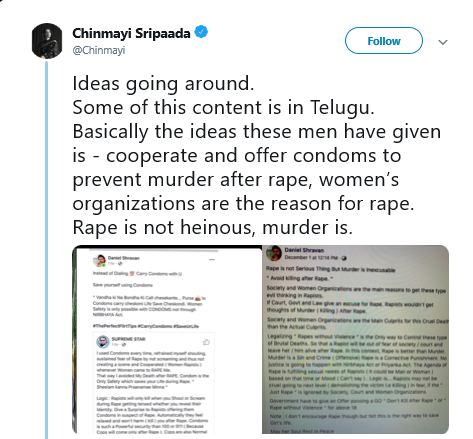 Singer Chinmayi Sripaada (@Chinmayi) tweeted, "Ideas going around. Some of this content is in Telugu. Basically the ideas these men have given is - cooperate and offer condoms to prevent murder after rape, women's organizations are the reason for rape. Rape is not heinous, murder is."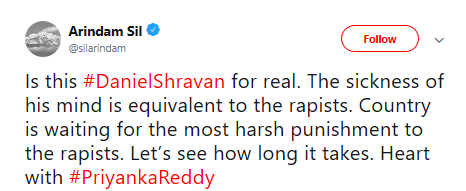 Actor-director Arindam Sil (@silarindam) said, "Is this #DanielShravan for real. The sickness of his mind is equivalent to the rapists. Country is waiting for the most harsh punishment to the rapists. Let's see how long it takes. Heart with #PriyankaReddy"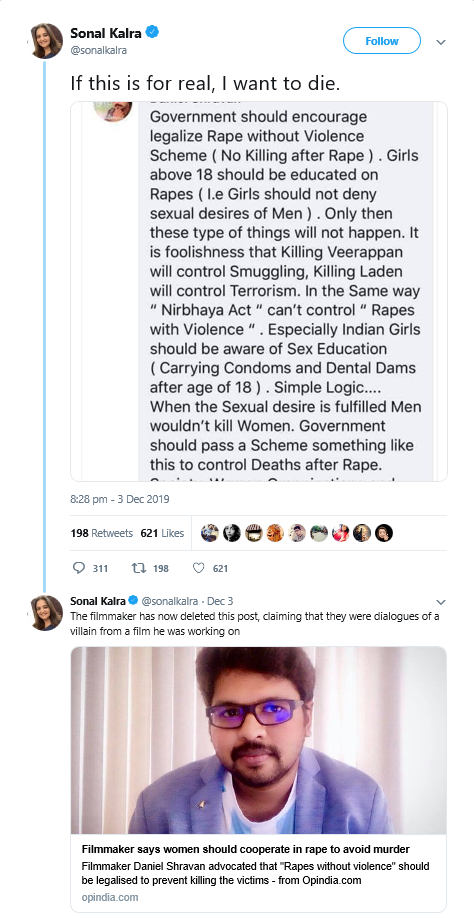 Journalist Sonal Kalra (@sonalkalra) wrote, "If this is for real, I want to die."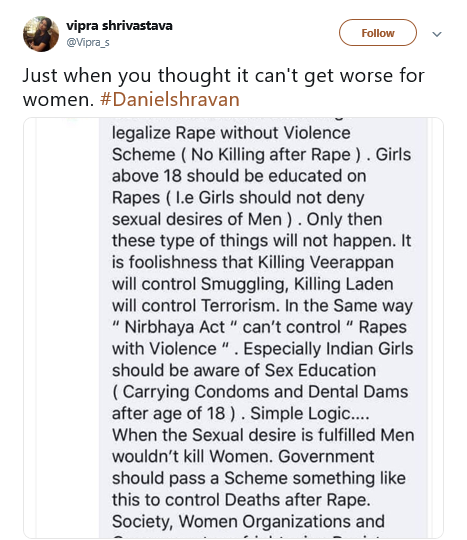 Actress Kubra Sait said Daniel needed medical help. Meanwhile, journalist Vipra Shrivastava (@Vipra_s) tweeted, "Just when you thought it can't get worse for women. #Danielshravan"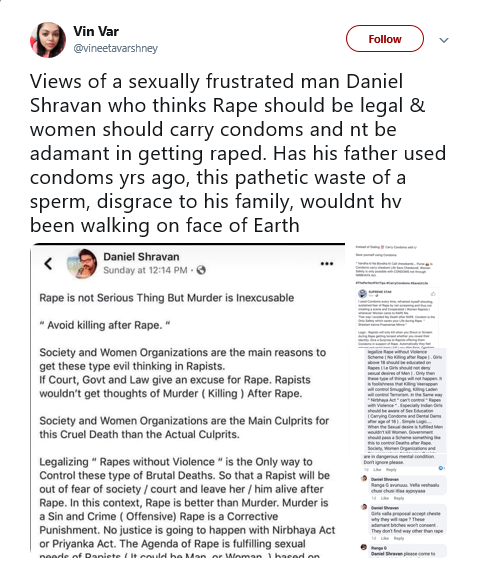 Twitter user Vin Var (@vineetavarshney) shared screenshots of his post and wrote, "Views of a sexually frustrated man Daniel Shravan who thinks Rape should be legal & women should carry condoms and nt be adamant in getting raped. Has his father used condoms yrs ago, this pathetic waste of a sperm, disgrace to his family, wouldnt hv been walking on face of Earth."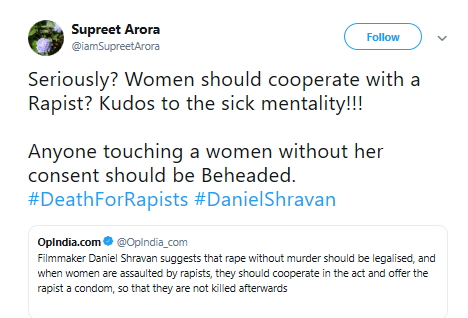 Supreet Arora (@iamSupreetArora) said, "Seriously? Women should cooperate with a Rapist? Kudos to the sick mentality!!! Anyone touching a women without her consent should be Beheaded. #DeathForRapists #DanielShravan"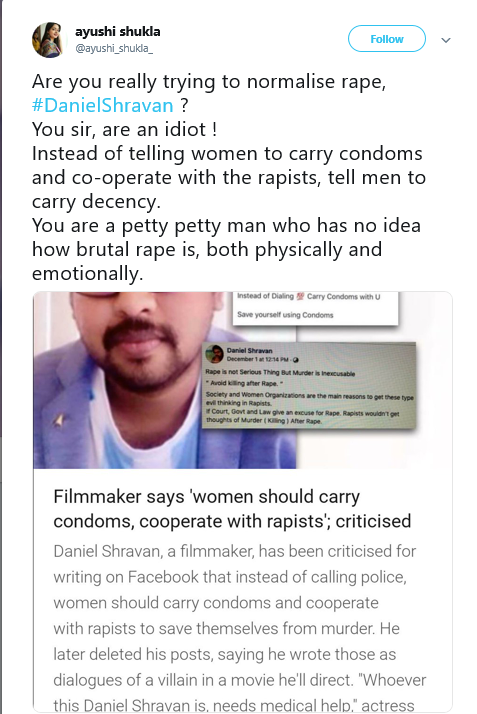 Ayushi shukla (@ayushi_shukla_) wrote, "Are you really trying to normalise rape, #DanielShravan ? You sir, are an idiot ! Instead of telling women to carry condoms and co-operate with the rapists, tell men to carry decency. You are a petty petty man who has no idea how brutal rape is, both physically and emotionally.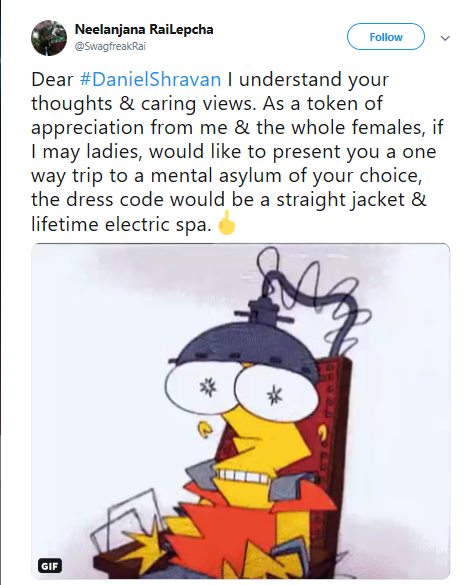 Neelanjana RaiLepcha (@SwagfreakRai) tweeted, "Dear #DanielShravan I understand your thoughts & caring views. As a token of appreciation from me & the whole females, if I may ladies, would like to present you a one way trip to a mental asylum of your choice, the dress code would be a straight jacket & lifetime electric spa."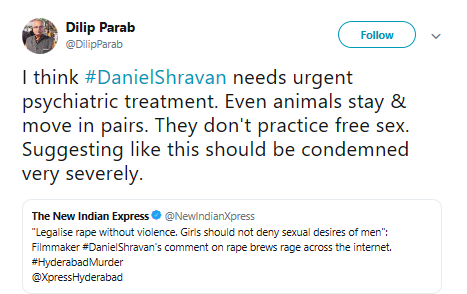 Dilip Parab (@DilipParab) said, "I think #DanielShravan needs urgent psychiatric treatment. Even animals stay & move in pairs. They don't practice free sex. Suggesting like this should be condemned very severely."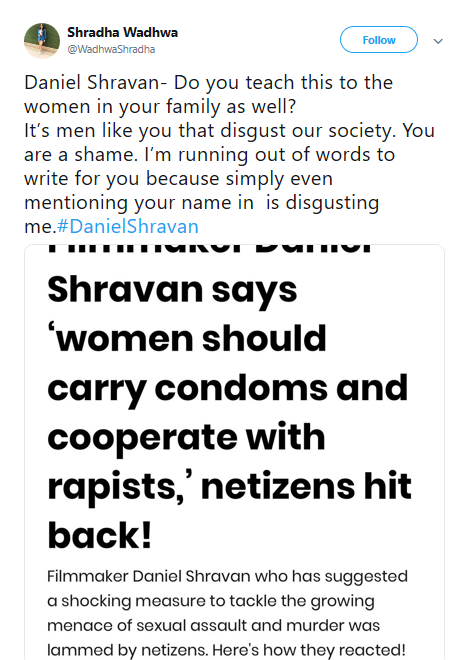 Shradha Wadhwa (@WadhwaShradha) posted, "Daniel Shravan- Do you teach this to the women in your family as well? It's men like you that disgust our society. You are a shame. I'm running out of words to write for you because simply even mentioning your name in is disgusting me.#DanielShravan"
In his post, Daniel had even suggested educating women about rape and said that the government should "pass a scheme" to "control deaths after rape."  In an interview with Gulf News, women's rights activist Shashi Sharma, commenting on Daniel's post, said, "It is sad to know that an educated person is giving these insane ideas. Some of the content that he posted on social media is in Telugu. But a few statements that he made in English are horrible. He has exposed his sick mindset." She also said that people should ignore his comments as they appeared to be a "cheap publicity stunt."  Now, according to a new report in OpIndia, a women's group approached Daniel's mother, who said that she was ashamed of her son's comments and would like him to apologise to all women.