TV/Streaming Reviews
Damsa, Episode 19: Areeja and Musa's Marriage Collapses
In Damsa, while on one end, Areeja and Musa's marriage falls apart, Damsa finds herself in emotional turmoil when her friend Aisha is murdered
Life on the streets is not easy for anyone, but particularly for children.  When a woman finds herself stranded on the road in the subcontinent, she tends to panic, many different thoughts running through her head.  Stranded on the road in the dark is a terrifying thought for most women – but what about the little girls (and boys) that find themselves on that road day and night without the protection of family members?  While "Damsa" does veer off track, this is where Damsa wins - it does a great job of highlighting some very real situations and forces the audience to think outside their comfort zone.
In episode 19, Areeja (Nadia Jamil) continues her search for Damsa (Emaan Sheikh) with the help of Ahsan (Khalid Malik).  Within a brisk walk of Damsa, Areeja and Ahsan question those around the Mazhar.  At the same time, Damsa steps out of her room to find Aisha's lifeless body and screams.  Areeja and Ahsan hear the scream and run, but Damsa is whisked away and tied up before they can reach there.  Finding Aisha's body, the two become suspicious.  Rehman (Saleem Mairaj) begins to track Areeja's movements, hoping to stop her inquiries and remove Damsa from the area, worried that Areeja and Ahsan could alert the media.  Again, it must be said that Emaan is a talented actress, as are her child actor peers.  They really hold the viewer's attention.  Nadia Jamil and Khalid Malik perform naturally as well in this episode and Ahsan is turning into a very lovable character.
On the other end, while the Damsa storyline is interesting, the other track of the show falls into a typical, saas bahu aur saazish scenario.  While I must be clear that this is a great show, there is some criticism necessary.  While it's true that marriages can fall apart and loving spouses can drift away during times of stress and trauma, there's a level of realism required that would have kept the show grounded.  Was there a real need for Saman (Momal Sheikh) to be a psychopath?  She is mentally unstable and manipulative to an extreme level.  Why couldn't this character just be a level-headed friend and be there for Musa, causing the two to grow closer?  And of course, the Sofia character is the absolute worst.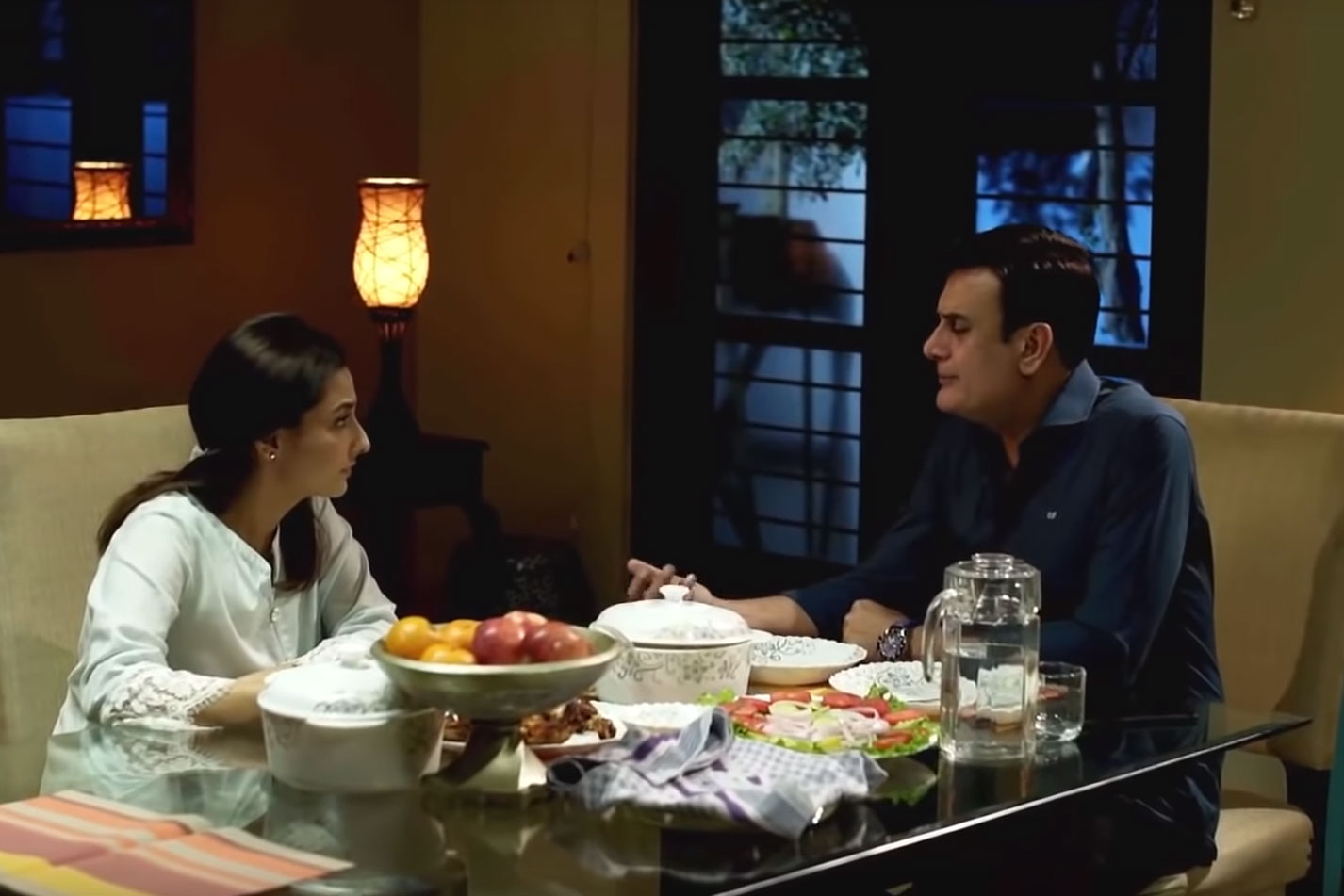 Momal Sheikh and Shahood Alvi in Damsa
This is vamp-like behavior and she creates misunderstandings that could be cleared up quickly if Musa and Areeja actually communicated. What's most irritating is that Musa knows his sister's nature and yet is falling into her trap.  Now making the move to marry Saman, Musa and Areeja will only grow further apart.  This is an irritating angle and is making Musa come across as more unlikable than he needs to be.  At the end of the day, Musa is also a suffering parent, but suffering in his own way.  Instead of showing him as heartless, it would be nice to see his healing done in a way that didn't involve remarriage two days after his wife leaves.
Overall, Damsa is a show that is worth watching.  However, sometimes in a bid to increase TRPs and viewership, ARY tends to play these relationship games in a way that becomes hard to digest.  One can only hope that Musa and Saman's mess of a relationship can be put aside (and given less screen time) to focus on the real issue soon – Damsa and her plight.