TV/Streaming Reviews
Daasi, Episode 11: Aadil and Aaliyah's Wedding Ends in Tragedy
Adeel Hussain and Mawra Hocane starrer Daasi's latest episode shows Aadil and Aaliyah's wedding does not go as planned after Mujtaba discovers Aaliyah's interest in Aahil
As a show, Daasi has been a fairly inconsistent narrative. The show started off light-hearted, slowed to a sluggish pace in recent weeks before piquing interest in episode 10 - and now the show has taken an unnecessarily dramatic, tragic turn of events. While the show boasts of a stellar cast, including Adeel Hussain, Mawra Hocane, Faryal Mehmood, Furqan Qureshi and Hina Khawaja Bayat, these talented names cannot save the uninspired storyline.
In episode 11, Mujtaba (Mohsin Ejaz) is shocked when Aaliyah (Faryal Mehmood) tells him about her love for Aahil (Adeel Hussain).  With Aaliyah's marriage set to take place with Aadil (Furqan Qureshi), Mujtaba is overcome with anger and does not waste a  moment before pulling out his gun.  Initially threatening to shoot Aahil, Mujtaba tells Aaliyah that either she will go through with the marriage to Aadil or Mujtaba will kill himself – or her.  Aaliyah agrees to marry Aadil, but continues to believe that her love for Aahil is a pure, two-sided romance.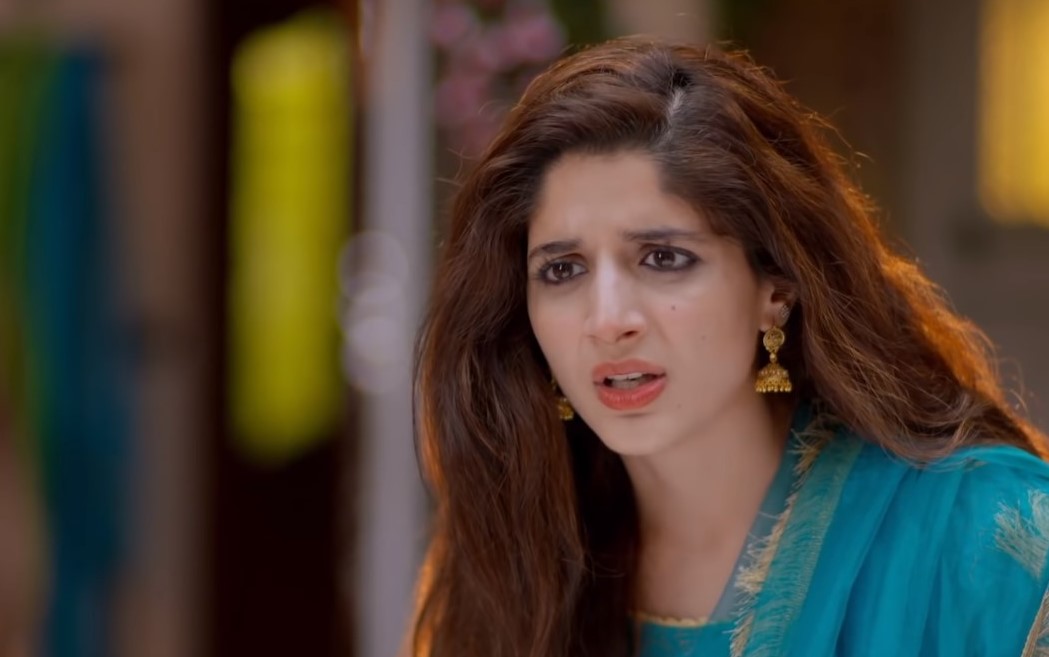 Mawra Hocane as Sunehri in Daasi
After Mujtaba threatens Aahil, Sunehri (Mawra Hocane) visits Aaliyah and tries to convince her to be happy with Aadil now that she has decided to marry him, but soon realizes that Aaliyah does not intend on giving up so easily.  During the wedding, Aaliyah tries to convince Aahil to stand up for her and admit to his feelings.  Aahil is horrified and tries to convince Aadil that Aaliyah is misunderstanding things.  He storms away, but is followed by Mujtaba, who has a gun.  Mujtaba sets out to shoot Aahil, but is struck by a car – and dies.
This is where the story becomes absolutely ridiculous.  Sunehri sees Mujtaba die…….struck by a car.  She speaks to Aaliyah, who is emotional at the loss of her brother, and visits the police.  She tells them that Aahil is behind the death of Mujtaba and Aahil is arrested.
First, let's just discuss the over the top nature of this storyline.  Aaliyah is in love with the man who was writing her letters.  That man was Aadil.  Aahil is aware that Aadil wrote Aaliyah letters.  At no point in this insanity that is Aaliyah's "love" does Aahil say "Hey, Aaliyah, I know you think I'm in love with you, but I'm not.  Those letters you're talking about?  I didn't write those – Aadil did."  Aadil would then agree that he wrote those letters and the entire basis of Aaliyah's delusion would be broken.  But no.  This doesn't happen.  Instead, Aahil continues to call Aaliyah crazy and comes across as a man who is trying to wiggle out of a relationship.
Second, Mujtaba's death angle is absolutely moronic.  Sunehri did not see Aahil shoot Mujtaba.  Mujtaba was not shot.  Mujtaba was run over by a car.  This can be seen and verified by any licensed doctor at any hospital.  But no – Sunehri believes that Aahil killed Mujtaba because Mujtaba chased Aahil with a gun.  Therefore, Aahil is guilty and Aahil murdered Mujtaba – without any proof whatsoever, Sunehri tells this to the police and has Aahil arrested.  It's difficult to say anything positive about a story that is pure nonsense.  This is not realism.  This is not fun.  This is not light-hearted.  This is just nonsense.
Mawra Hocane, Adeel Hussain, Furqan Qureshi, Adnan Jaffar, Hina Khawaja Bayat, Faryal Mehmood……at this point, this entire cast is overacting and playing characters that the viewer cannot connect with.  At present, "Daasi" is a show that would not be recommended on any level, as it simply does not give the viewer a fulfilling viewing experience.  Whether the show picks up later or not, "Daasi" will still have a hard time coming back from the hole it has dug up for itself with a weak premise and over-the-top situations.