Think Pieces
Covid-19: Killing the Virus with Kindness
It is the worst of times indeed. But maybe we can make it better with kindness.
Of course you can't kill the virus with kindness. That headline was just to make you click on this article. And now that you have, let me tell you a secret. Kindness can go viral. Covid-19 may be a deadly virus that is really bent on wreaking havoc with our lives but there are ways of fighting it. We can't fight it just with vaccines or medicine (though I am not, even for a minute second undermining their importance even in the slightest of degrees); we can fight it together as a global community.
When the Spanish flu hit, the last massive pandemic to plague the world, countries were in the middle of war. Globalization was a thing of the future and war was today. War created it (some experts have suggested the illness was created in the camps where poultry and ailing patients were kept together) and exacerbated it. The Spanish flu infected about 500 million people and killed as many as 100 million. The spread of the virus was great at the time due to travel. Transportation at the time already was quite modern and troops were moving around the world too.
Considere 2019, 2020 where everyone's movements are closely connected to the economy. Industries such as entertainment, restaurants, hotels, sports have grinded to an indefinite halt at the time. While China is opening up its economy in Wuhan gradually (bearing the scars of the shutdowns), the rest of the world locks its eyes towards United States, United Kingdom and Europe to flatten the curve. New Zealand has followed the strategy of Taiwan, Hong Kong, Singapore and China to close itself off completely and try to 'eliminate' it. It's working for the time being, as reported by the Washington Post, but it won't be able to sustain itself, says the Business Insider, because the world is still struggling with a spike in cases.
They're making vaccines and they're introducing stimulus packages and dipping into cash reserves and of course that's all great and needed and without that we can't survive. (Universal health care ftw, right?) But as far as communities are concerned, the only thing that can help us get through this crises is empathy and understanding what the rest of the world is suffering.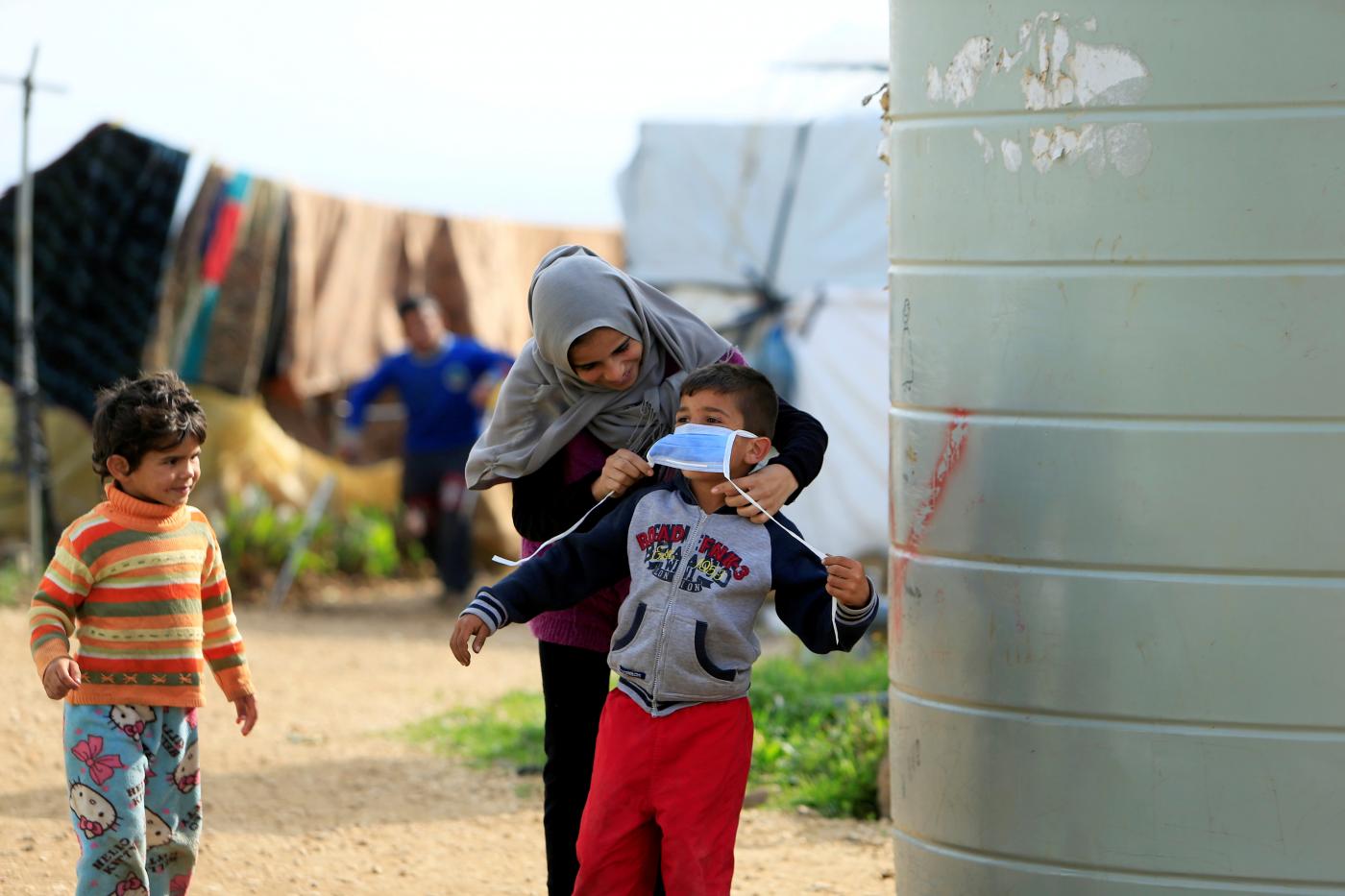 A Syrian refugee helps a child put a mask in Lebanon on 14 March 2020 (Reuters)
Recently, as reported by ANI, a flight captain on Air India stated that they had entered Pakistan's Flight Information Region (FIR) and the Pakistan Air Traffic Controller (ATC) greeted them with, "Assalaam Alaikum! This is Karachi's control welcoming Air India for relief flights to Frankfurt. We are proud of you that in a pandemic situation you are operating flights. Good luck!"
Bollywood celebrities have, despite their self-indulgent social media posting, have contributed heavily in trying to help daily wage workers in Bollywood who have suffered the most as the industry has closed down for an unknown while. Shah Rukh Khan's Meer Foundation has distributed rations and Salman Khan has decided to help 25000 daily wage works. 
In Pakistan, Ali Zafar, Hira Mani, Armeena Khan, Shehzad Roy and many others have organized relief efforts for daily wage workers. Whereas many others have posted for relief organizations on their social media. Government has announced volunteer services that will help in supporting those who are financially or physically impacted by the virus.
A big thanks to all who provide ration to the needy. A humble request , please don't make videos of people receiving it,as this makes them uncomfortable seeing themselves on social media .

— Shehzad Roy (@ShehzadRoy) April 3, 2020
A small-ish Facebook group someone invited me to was called the 'Kindness Pandemic'. Every day, someone shared a story there about how a stranger, a neighbor, a friend, a teacher or someone they barely even knew had come into their lives to make their day or their suffering better. Each post garners thousands of likes and comments. It gives you hope.
Earlier, I saw that the 2019 Miss England, Bhasha Mukherjee, has put her crown aside and has joined the NHS. Over 400 thousand members of the NHS had come back to help UK to deal with the COVID-19 outbreak.
The first impact of how human beings work above and beyond their capacities when in faced with crises can be seen in the health workers around the world who are battling this pandemic on the frontline. Many health workers have contracted the virus, some have passed away. There are various videos circulating on TikTok and other social media where medical workers are sharing how many layers of clothing they have to wear (aka PPE, personal protective equipment) in order to protect themselves from Covid-19. I saw one video where a doctor breaks down when he comes home because he can't kiss his or hug his child. They're not treating this just as 'jobs', clearly. It's so much more.
The second impact of kindness is understanding the value of isolation. We can laugh at the celebrities for wanting everyone to stay at home (doing it in a mansion that costs millions of dollars is probably the preferred option anyway) but it's the thought that counts? Right?
As telling the truth is an act of revolution in a time of universal deceit, in times of a pandemic, the act of staying isolated in a hyper-globalized culture is an act of kindness. We're giving up our ways of lives to not just save ourselves but those around us. At some level, there is a feeling of community. Despite all the horrible, terrible things that plague the world right now (India and Pakistan had almost locked horns early last year), this is the world that's worth saving. "In spite of everything," once said a little girl in an attic, "I still believe people are really good at heart".