Wellness
Coronavirus: DIY Substitutes For Gym Equipment If You Are Working Out At Home
Now is the time to let go off all the explantions and justifications that might be making sense to you but are not helping you in any way. Get up, make these odd workout objects at home and get your heart beat racing!
The coronavirus outbreak has resulted in panic and chaos in countries across the world. For some, the pandemic and its rampant spread has been a major reason for anxiety and other mental health-related ilnesses. In a first, everyone around the globe is feeling the same way and the fact that people world over are in the same boat gives comfort to all those who are fighting towards the containment and hopefully, the eradication of Covid-19. While we all followed our own routines prior to the epidemic, life has come to a standstill, becoming too overwhelming for many. This is the time when it is important to look after yourself, which not only means skincare or oiling our hair more often but includes following a strict workout regimen at home and staying fit for the most part. On a normal day too, we all come up with hundreds of excuses when we don't want to attend a gym session. Now is the time to let go off all the explantions and justifications that might be making sense to you but are not helping you in any way. Get up, make these odd workout objects at home and get your heart beat racing!
1. Dumbbell substitute - weighted bagpack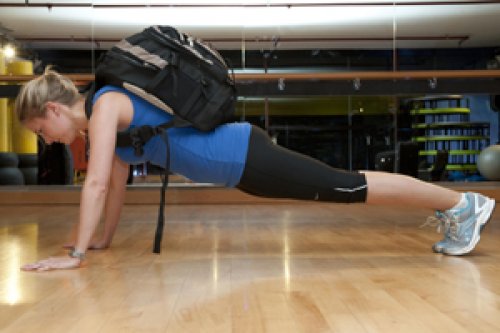 You will need: Heavy books, water bottles, toys
Most fitness fanatics have resorted to weighted bagpack training while sweating it out at home. It is the best substitue for dumbbells. Whether you are planning to perform some squats, lunges or some clean and press movements, the bagpack will always have your back. For example, if you are used to carrying a pair of 4kg dumbbells at the gym, fill your bagpack up with heavy books, water bottles or toys (if you have kids at home!) until you reach your required weight. For squats, wear the bagpack as you usually do. In the case of bagpack bench press, put it on your chest and grab it from both sides. Straighten your arms and press the weight above you. Next, bend your arms and lower the weight back down to your chest. Try one-handed tricep extensions out too!
2. Kettlebell substitute - laundry detergent jug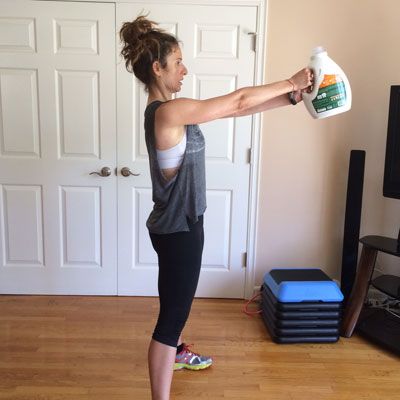 You will need: A filled-to-the-top detergant jug with handles
Not only is a laundry detergent a suitable weight for exercising but the handle makes it easy to grip onto. While you could also make-do with a gallon of water (which comes in different sizes), it is always better to pick something that will be easy to carry and hold onto throughout the workout. Hence, we suggest something that has handles and a tight grasp! Turkish get-ups, sit ups, single arm snatches, kettlebell swings, goblet squats and sumo deadlifts are some exercises you can do with a laundry detergent in hand. All you need is a little bit of space for your yoga mat and pumping music.
3. Barbell substitute – DIY Barbell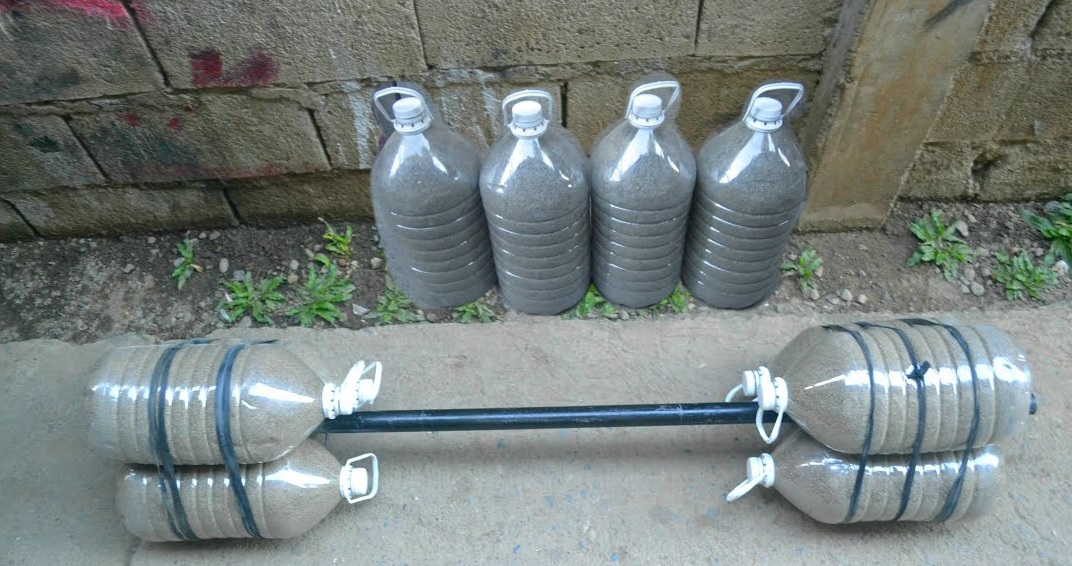 You will need: A pole, pipe, viper or broom stick, two water gallons and a pair of socks
Buy two gallon jugs of water and slide them on either side of a pole, pipe, viper or bamboo stick, whichever one is empty on both sides and readily accessible or available. If you're concerned, about the weight shifting, tie socks on both sides of each jug handle to keep them in place. And you are good to go! Muscle cleans, push press and jerks, clean and press and whole lot of other movements to build strength can be tried out with this DIY barbell. We promise it won't disappoint!
4. Jumping box substitute –  Tire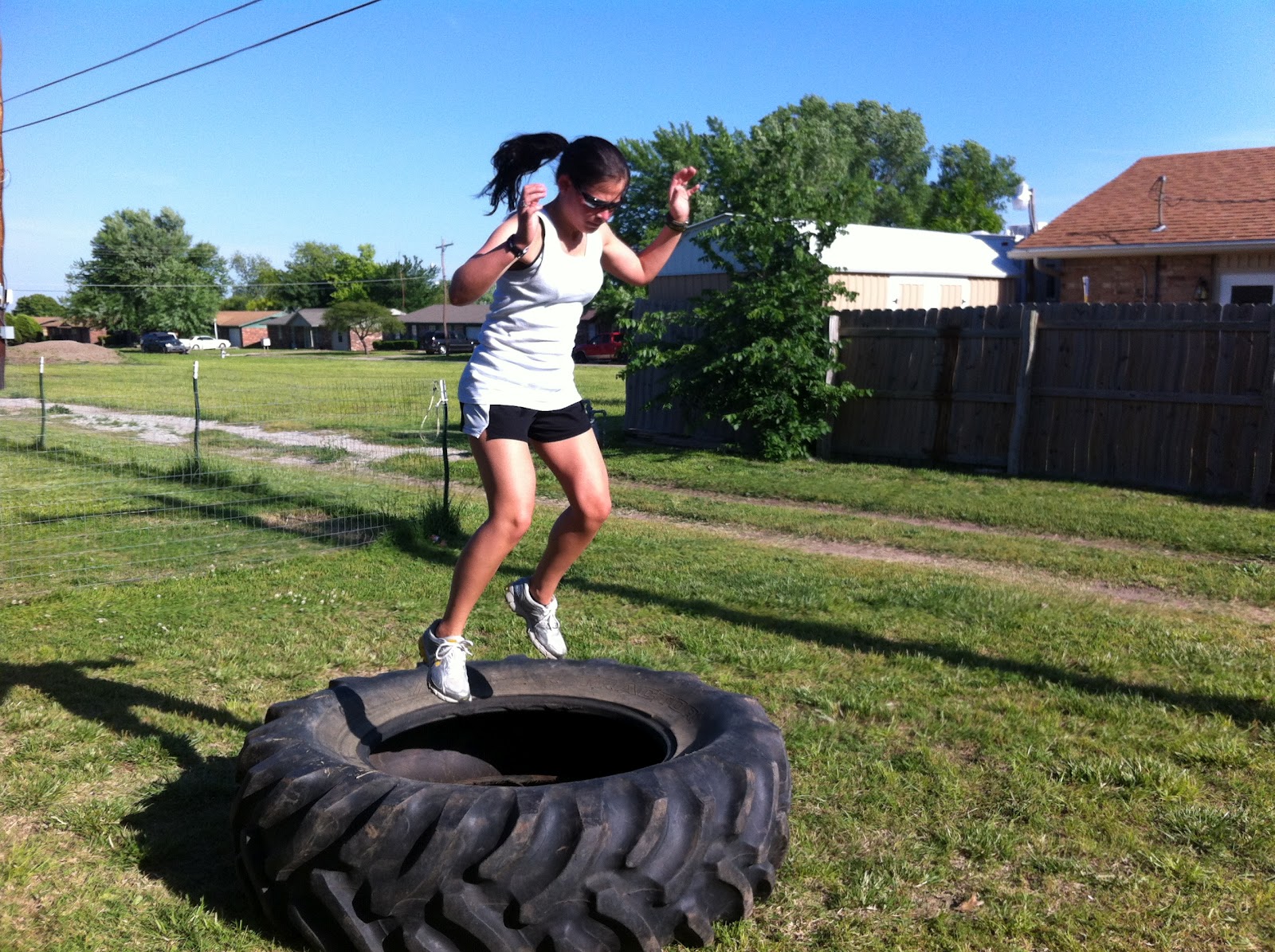 You will need:  As many tires depending on how high you can jump
You may be stuck indoors with no option of leaving the house. But there is no way that you won't find a tire at home. Everyone has a spare tire in their car and if you are not one of those efficient ones, you can always unscrew the tire from your car and put it back once the workout is over. The box jump exercise is one of the best movements for building huge leg muscles and developing better balance. So, think out of the box and get hold of a tire so you don't miss your next box jump workout at home.
5. Pull up bar substitute – Door, tree or table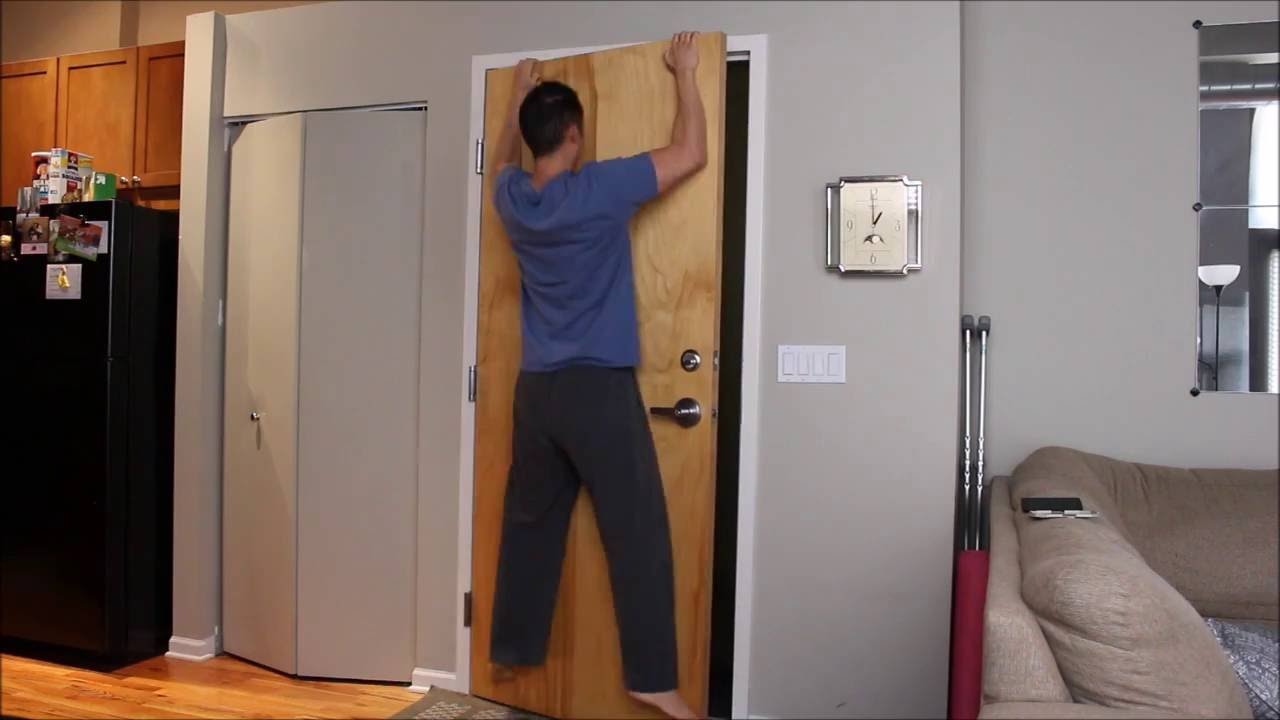 You will need: A door and towel or table
Do pull ups on a door that can support your bodyweight without being damaged or causing you any harm. Use it as an alternate to a pull up bar. Open the door and place a towel or yoga mat underneath it to keep it from moving. Face the door, place a towel over the top of it and reach your hands over the top of the door to so you have a wide grip. Start the pullups!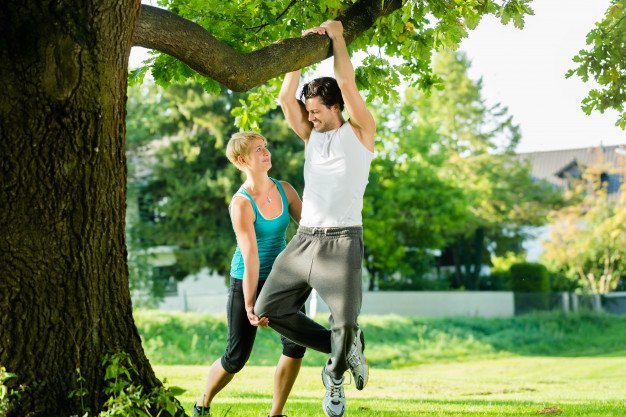 If you want fresh air and love to workout while being surrounded by nature, look for a strong tree in your garden but one with low branches that you can easily reach to perform pull ups. Stand underneath the branch and grab it with a wide overhand grip and you are good to go. Note: Find trees that have branches of different girths to add variation to your pull ups and tone different muscles.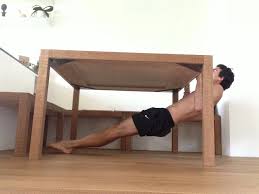 In the case of a table, grab it from underneath to do inverted rows. Lie underneath it with your shoulders right under the edge of the table. Grab the edge of the table with both hands and a wide grip and pull your upper body as high as you can go to work out your back and biceps. You can do this either with an overhand or underhand grip. For the former, start with your head under the table and your lower body outside. To use an overhand grip, stick your legs and body under the table and keep your head outside.