WIN! Big with Dubai Fitness Challenge!
Take part in the Dubai Fitness Challenge and win amazing prizes! As part of Dubai Fitness Challenge's campaign to get the city engaged and active, two lucky readers will be given the chance to win valuable prizes from VLCC and Optimum Nutrition along with an additional reader walking away with unlimited fitness sessions for one month at Core Club Pro
Closing date: Thursday, 22 November 2018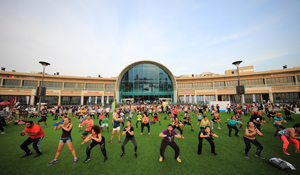 Dubai Fitness Challenge has been created to motivate the people of Dubai to boost their physical activity and commit to 30 minutes of daily activity for 30 days. Running from 26 October to 24 November 2018, returning for its second consecutive year, DFC is the world's only inclusive multi-activity, month-long, city-wide fitness movement
This year the month-long campaign includes five themed fitness villages at DIFC, DMCC Park, Kite Beach, Al Khawaneej Walk and Palm Jumeirah with an incredible array of activities for all ages, abilities and levels of fitness. The villages will run for 26 days during DFC at locations accessible to communities across Dubai to make it even easier for everyone to build 30 minutes of exercise into their daily routine. There is something for absolutely everyone as the Challenge encompasses all forms of activity – from beach cricket, cycling and football, to paddle boarding, team sports, walking and yoga, as well as everything in between. All are encouraged to participate individually or together with friends, family and colleagues, enjoying new and exciting ways to improve their fitness levels.
The Dubai Fitness App is available to download from the Apple and Google Play app stores, allowing users to register and enjoy several new features for quick and easy tracking of progress, discovering fitness events, classes and activities, as well as encouraging friends and family by social sharing functionality. Further details are available on the official DFC website
This competition has ended and no more entries are being accepted.
The winners for this competition are listed below:
Mr.Abbas Bahoosh, United Arab Emirates
Maria Hozaifa, United Arab Emirates
Waqas Javed, United Arab Emirates
If you are a winner and we have not contacted you yet, please be patient and a member of the team will be in touch shortly. Due to the large number of competitions we run, there may be a short delay before your details can be processed, but you will receive an email with instructions on how to claim your prize in due course.
If you have any queries, please feel free to contact us at Read our Privacy policy & Terms of use