WIN! A Fabyland Game Card for Four Worth Dhs 250 Each
Fabyland, an indoor entertainment facility, is a vivacious and fun-filled destination that offers a vast selection of thrilling games, rides and activities for all ages. Four winners will stand a chance to win this prize
Closing date: Sunday, 30 September 2018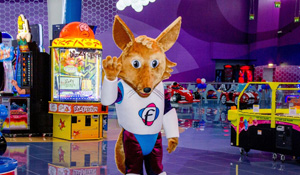 Fabyland is offering families a world of adventure that is complete with arcade games, soft play area, bumper car rides, trampoline, indoor climbing, Fabyland's official mascot 'Faby the Fox' and much more. In addition to the thrilling rides and exciting entertainment, Fabyland also features several state of the art gaming machines including arcade games, skill games and even redemption games where players are rewarded for scoring big. Adults and children can even gather up the tickets they have won and use them to collect gifts and prizes at the end of the day.

Fabyland first launched a 60,000 sq. feet location at Deerfields Mall, Al Bahia, Abu Dhabi in UAE in April 2017 followed by a second 75,000 sq. feet Fabyland venue in Dubai Festival City Mall, Dubai in June 2016. Fabyland is popular with both school trips and birthdays and also offers customized packages.

Masala! together with Fabyland is giving a shout out to all UAE kids and families to exchange a hot day outside with the perfect indoor treat guaranteed to keep the whole family busy and entertained all day long. Four winners will stand a chance to win this prize
This competition has ended and no more entries are being accepted.
The winners for this competition are listed below:
Mr.Saifus Sadiq, United Arab Emirates
Mr.Mahmood Ashkanani, United Arab Emirates
Ms.Miss.Cyril Fajardo, United Arab Emirates
mohammad alloush, United Arab Emirates
If you are a winner and we have not contacted you yet, please be patient and a member of the team will be in touch shortly. Due to the large number of competitions we run, there may be a short delay before your details can be processed, but you will receive an email with instructions on how to claim your prize in due course.
If you have any queries, please feel free to contact us at Read our Privacy policy & Terms of use