WIN! A Gift Card Worth Dhs300 at Ayur Mandala Ayurveda Center
Destress and relax by treating yourself to a body therapy at Ayur Mandala Ayurveda Center
Closing date: Monday, 30 July 2018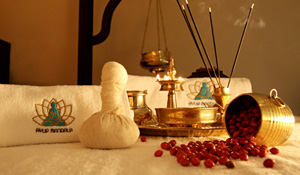 Ayur Mandala Centre is one of the latest wellness institutes In Dubai offering Ayurvedic treatments for physical and mental well being. The centre has several therapies based on the ancient principles of Ayurveda. For instance,
Abhyangam is an ancient Ayurveda massage therapy where special herbs infused oil is warmed and gently massaged into the skin. The massage deeply relaxes, detoxifies, strengthens and revitalizes the whole body leaving you stress free and relaxed.

Mukha Lepanam is an ancient Ayurvedic therapy where the face is massaged with herbal beauty oils or natural herbal cream. It is known to prevent skin aging and enhance skin elasticity. There are several other detox and beauty packages on offer here.

Masala! and Ayur Mandala Ayurveda Center have joined hands to offer you a body therapy. Enjoy a 60 minute full body Ayurveda massage or an Ayurvedic facial therapy, by answering the questions below.
This competition has ended and no more entries are being accepted.
The winners for this competition are listed below:
Conceptia DCunha, United Arab Emirates
If you are a winner and we have not contacted you yet, please be patient and a member of the team will be in touch shortly. Due to the large number of competitions we run, there may be a short delay before your details can be processed, but you will receive an email with instructions on how to claim your prize in due course.
If you have any queries, please feel free to contact us at Read our Privacy policy & Terms of use