WIN! This Gorgeous PANDORA Shine Bracelet Worth Dhs 895 and a Heart and Bee Charm Worth Dhs 245
Highlight Every Facet of You with PANDORA Shine!
Closing date: Thursday, 17 May 2018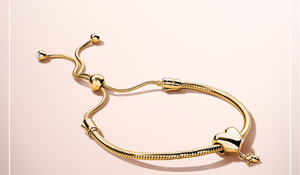 PANDORA makes gold accessible with an exquisite new precious metal, PANDORA Shine. Crafted in 18k gold-plated sterling silver, PANDORA Shine is the latest addition to PANDORA's selection of high-quality metals, building a fascinating story upon the best-loved sterling silver and PANDORA Rose jewellery. Inspired by the gorgeous glow of the sun, the beautiful golden tone of PANDORA Shine highlights the personality and uniqueness of its wearer, letting women feel creative in their self-expression and shine from the inside out.
PANDORA is giving one lucky reader a chance to win a Shine Sliding Bracelet and Heart and Bee Charm from this new collection. To enter, just answer the below questions and get a chance to win these amazing jewellery pieces!
This competition has ended and no more entries are being accepted.
The winners for this competition are listed below:
a m i e n e a ? Estrañero, UAE
If you are a winner and we have not contacted you yet, please be patient and a member of the team will be in touch shortly. Due to the large number of competitions we run, there may be a short delay before your details can be processed, but you will receive an email with instructions on how to claim your prize in due course.
If you have any queries, please feel free to contact us at Read our Privacy policy & Terms of use