WIN! A Lunch or Dinner for Two at The Coffee Club
Celebrate the launch of the new Spring Menu at The Coffee Club
Closing date: Wednesday, 20 June 2018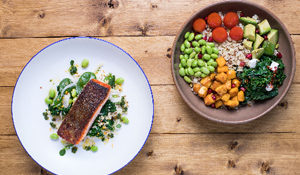 Spring began officially on March 20 and it's time to hit the outdoors like never before. Whether it's a weekend breakfast, a dinner treat, coffee with work mates or a break from shopping, the famous Australian brand, The Coffee Club has you covered. Their baristas serve up excellent blend of coffee and their service members deliver your familiar food favourites and newest creations directly from the kitchen. Enjoy the launch of the new spring menu at The Coffee Club with a plus one. All you have to do is answer the following questions.
This competition has ended and no more entries are being accepted.
The winners for this competition are listed below:
Mrs.Dina D, United Arab Emirates
If you are a winner and we have not contacted you yet, please be patient and a member of the team will be in touch shortly. Due to the large number of competitions we run, there may be a short delay before your details can be processed, but you will receive an email with instructions on how to claim your prize in due course.
If you have any queries, please feel free to contact us at Read our Privacy policy & Terms of use