WIN! Dhs 500 worth of Gastronaut stars
Enjoy delectable dishes at any of the Hotbrands International outlets across the UAE
Closing date: Sunday, 4 March 2018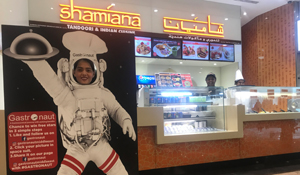 Gastronaut is a loyalty programme by Hotbrands International (HBI), the umbrella brand for the six much-loved quick-service restaurant brands across the UAE: Shamiana, Sugoi, Magic Wok, Santino's, Haru and Wok Chi.

Consumers can become Gastronauts and start earning their stars, by merely providing their mobile numbers at the point of sale, and registering their profiles online on www.gastronautrewards.com. The first Gastronaut level is Earth, where you earn 1 star for every Dhs 10 spent, and then continue making your way towards to the Moon and Sun levels.

Gastronaut is giving away 500 'stars' to ONE lucky Masala winner, valued at Dhs 500 to spend at any HBI outlet across the UAE!

To stand a chance, just answer the following questions.
This competition has ended and no more entries are being accepted.
The winners for this competition are listed below:
Ana Stojkovic, United Arab Emirates
If you are a winner and we have not contacted you yet, please be patient and a member of the team will be in touch shortly. Due to the large number of competitions we run, there may be a short delay before your details can be processed, but you will receive an email with instructions on how to claim your prize in due course.
If you have any queries, please feel free to contact us at Read our Privacy policy & Terms of use