WIN! An Evening Buffet For Two at Lakeview, Dubai Creek Golf & Yacht Club
Enjoy an evening of alfresco dining with picturesque views of the Dubai Creek
Closing date: Friday, 23 February 2018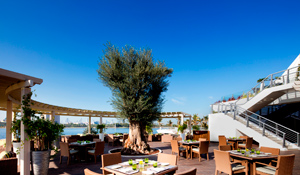 Lakeview offers a stylish and relaxed setting for a scrumptious breakfast, lunch and dinner as well as a perfect location to watch all the live sporting action on 10 state-of-the-art screens. The modern space, designed entirely in neutral earth tones, will offer guests intimate indoor surroundings as well as a stunning outdoor terrace, overlooking Dubai Creek and the championship golf course. A chic European influence runs throughout Lakeview with a historic 900-year olive tree transported all the way from Italy taking centre position, alongside the cider garden, which will serve 15 different brews. Located at the Dubai Creek Golf & Yacht Club Drop in any night of the week between 7pm and 11pm to indulge in their evening buffet alongside live entertainment.

Lakeview is offering ONE lucky winner the chance to win an evening buffet for two. Just answer these three questions:
This competition has ended and no more entries are being accepted.
The winners for this competition are listed below:
Fathima Sumaiyah,United Arab Emirates
If you are a winner and we have not contacted you yet, please be patient and a member of the team will be in touch shortly. Due to the large number of competitions we run, there may be a short delay before your details can be processed, but you will receive an email with instructions on how to claim your prize in due course.
If you have any queries, please feel free to contact us at Read our Privacy policy & Terms of use