WIN! A Free Return Ticket from Air Arabia!
Fly to your dream destination while indulging in some charity courtesy The Happiness Market
Closing date: Wednesday, 29 November 2017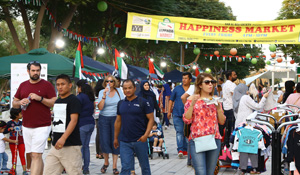 The concept of Happiness Market has been inspired by the vision of HH Sheikh Mohammed Bin Rashid Al Maktoum, Prime Minister and Vice President of the UAE and the Ruler of Dubai, to make Dubai the happiest city in the world, and the market is in alignment with the UAE's Year of Giving.

The Happiness Market is held every Friday at Zabeel Park Gate No. 1 from 4pm to 10 pm and at Mamzar Park Dubai every Friday from 10 am to 7pm. The ambiance is that of a fun fair where families spend quality time together and take part in games and competitions hosted for kids there. The primary purpose of the extended market is to generate income for the humanitarian activities of Dar Al Ber Society, an organization supporting the underprivileged section of society since 1979 by paying for their basic requirements such as medical expenses, schools fees, house rent and food.

Masala! is teaming up with Happiness Market to select ONE lucky winner who will get a FREE air ticket from Air Asia. The shortlisted winner should go to the Happiness Market at Zabeel Park and the winner would be given a confirmation letter for an Air ticket at Market.
For FREE access to this and other services, you must be a registered member of Masala
Sign In
Please sign in to your Masala account
or