WIN! A brunch for three at Hitchki
Enjoy Indian fusion cuisine at this lovely space inside Bazxar DIFC
Closing date: Tuesday, 7 November 2017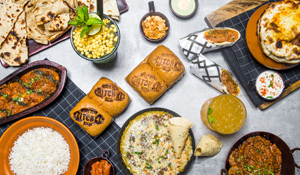 Inspired by the Hindi word for hiccup, hitchki suggests that someone is thinking about you. Hence lies the story behind plating food that creates a sense of nostalgia about home-cooked meals. Whether you grew up among these flavours or just looking for an innovative menu and appetizing bar bites, Hitchki serves them with a punch.

The menu has a strong focus on Indian street food mixed with eclectic international dishes and plenty of vegetarian options. The menu offers dinner dishes like Patrani Chilli Poppers, Charlie Chapli Kebab, Kadai Paneer Lasagna, Very Berry Biryani and more.

Currently located within the ever-so-popular and lavish, Bazxar DIFC, the Hitchki menu brings it flavors and impact to this trendy venue.

Masala! has teamed with Hitchki to give a fab brunch for three people. All you have to do is answer the following:
This competition has ended and no more entries are being accepted.
The winners for this competition are listed below:
Eric Patrao,United Arab Emirates
If you are a winner and we have not contacted you yet, please be patient and a member of the team will be in touch shortly. Due to the large number of competitions we run, there may be a short delay before your details can be processed, but you will receive an email with instructions on how to claim your prize in due course.
If you have any queries, please feel free to contact us at Read our Privacy policy & Terms of use