WIN! DHS500 to spend at the refurbished home of Asian Soul Food, The Noodle House
Fifty new dishes inspired by Asia's most popular taste hotspots have now landed at all The Noodle House's Dubai outlets and we want you to try them out!
Closing date: Tuesday, 24 October 2017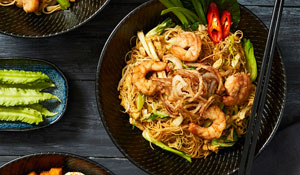 Dubai's leading homegrown legacy food and beverage concept has today introduced its 50 new dishes across five of its Dubai locations - its flagship Souk Madinat branch, The Dubai Mall, DIFC, Jumeriah Emirates Towers and Dubai Media City. The brand-new selection of Asian Soul Food keeps it street and casual with its new 'sticks-hands-spoons' mantra and as such, there's a total of 14 different varieties of noodle dishes and street-style buns, baos and sandwiches designed to eat with your hands, including Soft Shell Crab Steamed Baos and a Vietnamese Bahn Mi Sandwich. And not forgetting the signature Crispy Roasted Duck pancakes that now command their very own space on the menu. Here's your chance to win a meal to take your family and friends out!
For your chance to dine at this fab restaurant, just answer the following questions:
This competition has ended and no more entries are being accepted.
The winners for this competition are listed below:
Trace Viener, United Arab Emirates
If you are a winner and we have not contacted you yet, please be patient and a member of the team will be in touch shortly. Due to the large number of competitions we run, there may be a short delay before your details can be processed, but you will receive an email with instructions on how to claim your prize in due course.
If you have any queries, please feel free to contact us at Read our Privacy policy & Terms of use