WIN! Luxury Newby Teas' Diwali Silken Pyramid Selection Boxes
TWO lucky winners will win this special box of luxury teas that are apt for the festive season
Closing date: Saturday, 14 October 2017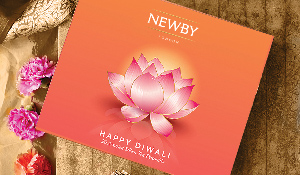 Newby Teas is the most awarded international brand in high-end luxury tea. The company is committed to the preservation not only of the character of tea itself, but also its history and culture. At Newby, quality is the number one priority. Using just the leaves of a single estate means standards can vary from year to year. That's why only the finest leaves from a variety of tea gardens, picked at their most prime season, are selected. Expert tasters sample thousands of harvests, with their recommendations sent to founder and tea specialist, Mr Sethia. Only after he has personally tasted and approved each tea will it be ready to bear the Newby name.

The Diwali Silken Pyramid Selection boxes include 4 different flavors, 5 sachets each for Dhs 250. The flavours are exquisite such as Rare Assam, Masala Chai, Kan Junga and Ginger Lemon. The teas are available at www.newbyteas.ae

Newby Teas is teaming up with Masala! to select TWO winners who can win this luxury tea box
For your chance at winning, just answer these simple questions:
This competition has ended and no more entries are being accepted.
The winners for this competition are listed below:
Mr.prakul tewari,United Arab Emirates
Joan Evert Gonzales,United Arab Emirates
If you are a winner and we have not contacted you yet, please be patient and a member of the team will be in touch shortly. Due to the large number of competitions we run, there may be a short delay before your details can be processed, but you will receive an email with instructions on how to claim your prize in due course.
If you have any queries, please feel free to contact us at Read our Privacy policy & Terms of use