WIN! A voucher worth Dhs 500 from Splash 'n' Party
THREE lucky winners will win a voucher to enjoy at this fun aqua park
Closing date: Tuesday, 10 October 2017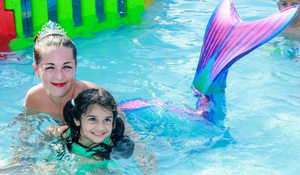 Dubai's most children friendly aqua park, Splash 'n' Party, is now open for a new season for enthralling kids of all ages with its unique fun-filled array of water-based play activities. Located at Al Safa, Jumeirah, Splash 'n' Party features a sizeable vibrant outdoors splash pad area along with water slides and water guns - all designed to engage the young in endless fun and exciting games. Adding further to the excitement, additional entertainment facilities can be found onsite along with arts and crafts activities for kids.
Compiling with the highest safety regulations Splash 'n' Party caters to the entire family. Grown-ups looking for some rest and relaxation can sit back and unwind at the juice bar with a refreshing made to order fruit juice, while a selection of plentiful fresh tasty snacks and light bites catering to all palates are also available. Splash 'n' Party has just launched Ladies Day; every Tuesday the park is open to only women with children assisted by an all-female staff. The park is open from 9am - 8pm (Sunday-Thursday) and 9am – 9pm (Friday & Saturday). Splash 'n' Party will be giving away vouchers worth AED 500 to 3 lucky winners.
This competition has ended and no more entries are being accepted.
The winners for this competition are listed below:
Sohel Siddqui, United Arab Emirates
nikita panchal, United Arab Emirates
vijay keswani, United Arab Emirates
If you are a winner and we have not contacted you yet, please be patient and a member of the team will be in touch shortly. Due to the large number of competitions we run, there may be a short delay before your details can be processed, but you will receive an email with instructions on how to claim your prize in due course.
If you have any queries, please feel free to contact us at Read our Privacy policy & Terms of use