WIN! 2 Buckets of Beverage at The Q, Sports Bar, Holiday Inn Al Barsha
Have a great time at this sports bar
Closing date: Thursday, 5 October 2017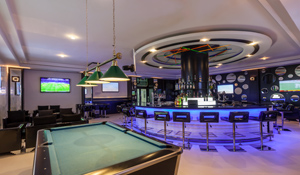 Qs Sports Bar at Holiday Inn Al Barsha is a fun place to spend a great evening with friends over a drink and some great bar snacks. Also, don't miss their daily 'lavishly luscious' happy hour called 'The Game Begins' which offers special discounted rates on selected beverages. ONE Lucky winner will win two buckets of beverage with this competition. All you have to do is answer the following questions:
This competition has ended and no more entries are being accepted.
The winners for this competition are listed below:
Ms.Miss.Cyril Fajardo, United Arab Emirates
If you are a winner and we have not contacted you yet, please be patient and a member of the team will be in touch shortly. Due to the large number of competitions we run, there may be a short delay before your details can be processed, but you will receive an email with instructions on how to claim your prize in due course.
If you have any queries, please feel free to contact us at Read our Privacy policy & Terms of use