WIN! A Kurta by Celebrity Designer Maheen Karim
The Pakistani designer will be showcasing at September's SoPritti Fashion, Glamour and Lifestyle Exhibition
Closing date: Tuesday, 19 September 2017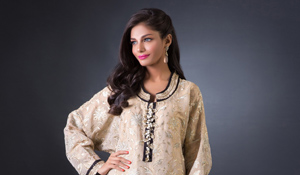 Renowned Pakistani designer Maheen Karim is exhibiting at Dubai's SoPritti exhibition on 23rd September and to celebrate, we're giving away this stunning embroidered silk net Kurta with a matching crepe silk slip. Exhibiting alongside the likes of Sarab Khanijou (whose designs are worn by the likes of Sidharth Malhotra and Arjun Kapoor), jewellery queen Queenie Singh (whose baubles have been worn by the likes of Naomi Campbell and Chelsea Clinton) and Rimple & Harpreet Narula, Maheen is a graduate of the prestigious Central Saint Martins College of Art and Design. She set up her own label following successful stints with western fashion houses, and her ready-to-wear line is the first to specialise in women's western eveningwear, commanding a niche market both locally and internationally due to her innovative silhouettes and use of opulent fabrics. What's more, her collection is worn by celebs including actress Mahira Khan so you know you'll be in good company! You can win by simply answering the question below:
This competition has ended and no more entries are being accepted.
The winners for this competition are listed below:
saima pervaiz, united arab emirates
If you are a winner and we have not contacted you yet, please be patient and a member of the team will be in touch shortly. Due to the large number of competitions we run, there may be a short delay before your details can be processed, but you will receive an email with instructions on how to claim your prize in due course.
If you have any queries, please feel free to contact us at Read our Privacy policy & Terms of use